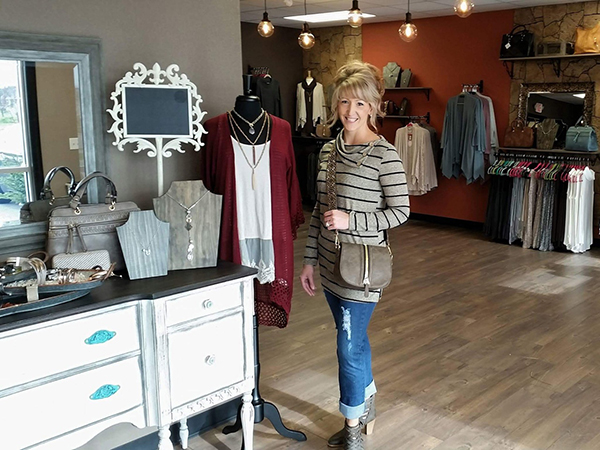 Photo: Art Sidner
Eagle Lake: Bella Nova
A year after Brenda Sanderson opened Sisterhood Inspirations in Lake Crystal, she has already expanded and opened another store in Eagle Lake.
"I selected Eagle Lake for many reasons," Sanderson explains. "First, I love the small town feel. Eagle Lake is similar in size to Lake Crystal, it's growing astronomically, and I love that it's literally a 3 minute drive from Mankato.
"I really wanted to access more of the Mankato population but keep that small town friendly feel, and I think Eagle Lake is the perfect area for that. The building is in a prime location, and the layout of the Boutique is very open and welcoming. It literally takes less then 4 minutes to drive from the intersection of Madison Ave and Hwy 22 to Bella Nova's front door!"
Sanderson is quick to point out that Bella Nova is an entirely different store than Sisterhood Inspirations.
"They have different inventory, different staff and a completely different layout and feel. They will both carry clothing relatively similar in price and quality, some of the labels are the same, but the styles are completely different. The stores won't carry any of the same inventory, as it is very important for me to still direct traffic to the Lake Crystal location, and to do that, I need to offer a different selection."
Opening the second store has also allowed her to expand her staff. She went from a staff of just herself and one part-timer, to adding a store manager and three more sales associates.
She says, "It's very exciting being able to offer other women a job in this amazing industry. I am a big believer in if you love your job then it's not a job! I have certainly found it."
Bella Nova
Address: 706 Parkway Avenue
Telephone: 507-530-6809
Facebook: Bella Nova Boutique