Heat Blowdry Bar and Wax Studio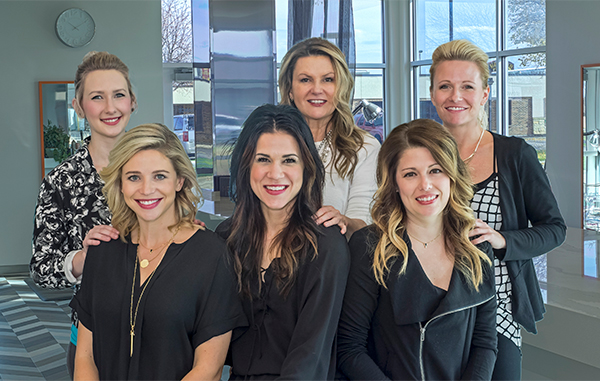 Photo: Art Sidner
Mankato: Heat Blowdry Bar and Wax Studio
Friendly, fashionable, forward thinking: three adjectives three friends came up with when they decided to open their own business. Heat is a hybrid salon specializing in blowouts and waxing, but also offers traditional salon services such as cuts, colors, men's cuts, bridal, updo's, and perms.
The three owners, Mary Kaus, Nicole Panko and Sally Weness each bring their own unique abilities and have an integral role in the business. Nicole is an interior designer at ISG and does Heat's graphic design and marketing. Mary, who is general manager of Cambria Mankato, provides the business acumen. Sally is the hair designer who inspired the trio to go into business.
Sally says, "Our biggest surprise is that people do not know what a blowout is! Blowdry bars are widely popular in all the major cities in the United States and we are a small town so I guess we should have expected it. It is trendier, but women used to get their hair done at salons long ago! Remember the days of rollers under the dryer? Our concept is similar but includes a round brush and blow dryer to blow the hair smooth and create volume."
Opening in June of 2016, Mary says the biggest challenge so far is getting the word out that they are open.
She says, "The interior of Heat is so beautiful (thanks to Nicole's talent) and we want people to walk through the doors. We have a style "bar" complete with Cambria countertops and herringbone floors. The space is very elegant and modern; a place you want to go to and hang out."
Another challenge is finding the time to focus on the business while they also have full time jobs elsewhere.
"So lots of time is spent at night and on the weekends," says Nicole. "We try to have consistent weekly meetings and quarterly meetings which include our husbands to stay on track and discuss important issues."
The trio says they are happy with the way sales have grown each month so far.
Heat Blowdry Bar and Wax Studio
Address: 1591 Tullamore Street #200
Telephone: (507) 387-5115
Facebook: Heat Blowdry Bar and Wax Studio