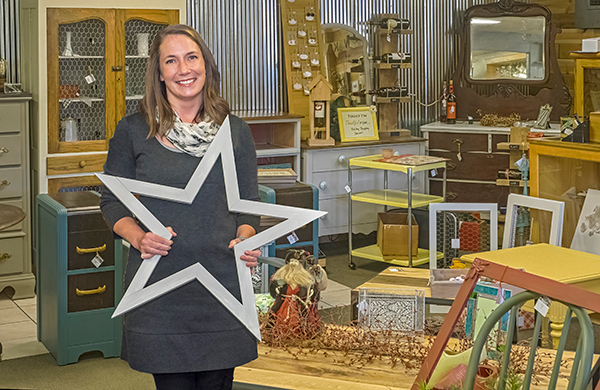 Photo: Art Sidner
Mankato: Mankato Vintage Market
Paul Rosenberg owned and operated The Bobber Shop Fishing store on Riverfront Drive for 15 years. When it came time to close the doors, his wife Kelly had a completely new idea for the location: an occasional store.
"Paul's mother has the occasional store, Back Porch Vintage, in Spencer, IA," says Kelly.  "And I've been flipping furniture for several years, so it was a good fit."
Dubbed, Mankato Vintage Market, it offers a wide selection of vintage furniture, handcrafted items and antiques. The store carries painted furniture, antiques, seasonal décor, handmade soap, Fusion Mineral Paint, hand painted signs, jewelry, Minnesota artwork, stained glass, wine bottle creations and actually, so much more. Kelly wouldn't be able to do it without her vendors that bring in items every month. "They are the best in the area!" she says.
"Saving old pieces of furniture has been a hobby of mine for several years," says Kelly. "It's so much fun to find something that is destined for the trash because it's not appreciated, repairing it (if needed), and updating it with paint.  People tend to think that newer is better, but it's not made with the quality wood or craftsmanship that they were using in the past. I've pulled chipped veneer off old dressers, and the wood underneath is prettier than anything you can buy in a store, and it was never meant to be seen!"
The Bobber Shop closed in March 2016 and Mankato Vintage Market opened in April 2016. The store is generally open the second weekend of each month, Thursday 5-8pm, Friday and Saturday 10-6 and Sunday 11-4.
"People say they've been waiting for years for a store like ours in town. Quality pieces at affordable prices," says Kelly. "We are just going to keep doing what we're doing. It's been a lot of fun!
Find them on Facebook for updated hours and for all of the event updates at Mankato Vintage Market.
Mankato Vintage Market
Address: 1630 North Riverfront Drive
Facebook: Mankato Vintage Market
Phone: (612) 756-0796