Kato Family Chiropractic
By
Lisa Cownie
• Mar 2017 • Category:
Hot Startz!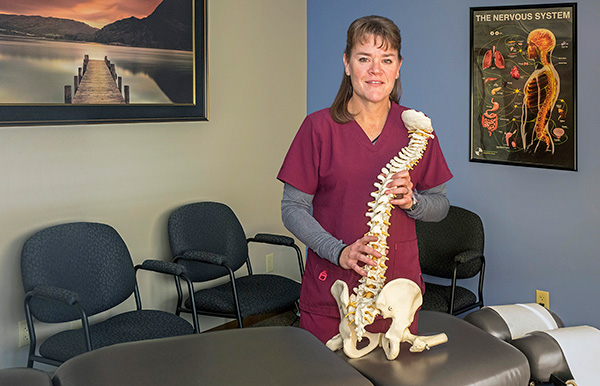 Photo: Art Sidner
Mankato: Kato Family Chiropractic
Growing up in Mankato, Dr. Paula Prybylla always knew that was the place she wanted to make a difference. After moving away and earning a bachelor's degree in adult fitness and athletic training from the University of Minnesota Duluth and her Doctor of Chiropractic degree from Northwestern Health Sciences University in Bloomington, she decided to come back home.
"When I returned to Mankato, I first worked for another chiropractor as an associate," says Dr. Prybylla. "But in February of 2016 I decided to open my own practice. I started in Lake Crystal, but in January 2017 relocated to Mankato."
Dr. Prybylla says she offers care to all ages, from newborns to those that are 100-years old. "Anyone with a spine can benefit in some way from chiropractic care," she says with a smile.
One thing she focuses on is individualized health care, because each patient has a specific need.
"Our mission at Kato Family Chiropractic is to provide patients with the highest quality chiropractic care in a friendly, informative and caring environment. Whether your problem is an acute episode of back pain, sports injury, car accident, extremity problem or chronic condition which requires a hands on approach to treatment, chiropractic care can often help," says Dr. Prybylla.
Kato Family Chiropractic offers services including adjustments and trigger point therapy and muscle work, acupuncture, instrument assisted soft tissue mobilization, kinesio taping, and cranio-sacral technique. Full service, yet Dr. Prybylla realizes health care is a holistic approach.
"We have the understanding that chiropractic care cannot help everything and willingly work with other healthcare providers for the best possible outcomes," she says.
Dr. Prybylla's biggest challenge so far has been handling the insurance processing and billing on her own. She worked for someone else who had staff to handle that aspect of running a practice. "I have learned a lot in opening and operating my own clinic!" she says.
Now that she is settled in Mankato, she plans to add a massage therapist to her team.
Kato Family Chiropractic
Address: 800 South Front Street
Phone: (507) 594-9100
Website: katofamilychiro.com

Lisa Cownie is Editor of Connect Business Magazine
All posts by Lisa Cownie