LBS (Labels, Badges and Signs)
By
Lisa Cownie
• Mar 2017 • Category:
Hot Startz!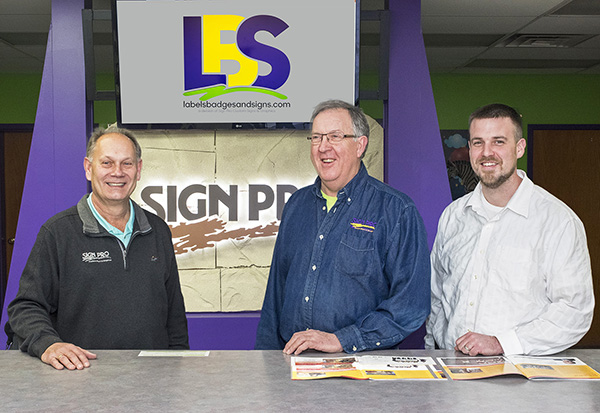 Photo: Art Sidner
North Mankato: LBS (Labels, Badges and Signs)
When a business partner and supplier for Sign Pro in Mankato decided to sell its engraving equipment, the owners of Sign Pro saw an opportunity.
"At Sign Pro Mankato, we have always supplied engraved and ADA signs for our customers," explains General Manager Randy Anderson. "With the recent purchase of this equipment we can now produce this signage within our building versus having a supplier do this for us. The end result is that we can offer better pricing and be more competitive to our customers that are looking for these types of signs."
They created a new company to operate that side of the business. The new company name is LBS, which is short for Labels, Badges and Signs.
"LBS is a division of Sign Pro Mankato, established to encompass our continuing business of engraved signs and badges, ADA compliant signage for businesses, and also clothing labels that are used mainly in the healthcare and assisted living industry."
It's that last piece, clothing labels, that has come as a surprise.
"That is new to us and we are surprised at the number of assisted living locations that are in need of these," says Anderson. "We print the labels as "sew-on" and "iron-on", and then ship them out to healthcare and assisted living facilities that use them to identify their resident's clothing when cleaned at a common laundry facility. It's a simple, low cost way to make sure that a resident gets their clothes back after the laundry process. There are other opportunities with clothing labels also such as applying a custom label to quilts and uniforms, for example."
LBS officially started in November of 2016, placing the equipment within the Sign Pro building in North Mankato.
After more than 25 years in business, Sign Pro Mankato currently has two divisions for sign specific work. Besides Labels, Badges and Signs, there is also Mankato Sign Service that focuses on boom truck installation of new signs and service and repair of existing signs. Sign Pro Mankato also specializes in all types of signs including business signs, vehicle wraps, trade show signage, banners and direct print signage.
LBS (Labels, Badges and Signs)
Address: 301 Webster Avenue
Telephone: (507) 345-3388
Website: labelsbadgesandsigns.com

Lisa Cownie is Editor of Connect Business Magazine
All posts by Lisa Cownie