Morken Eckberg Steiner LLC
By
Lisa Cownie
• Mar 2017 • Category:
Hot Startz!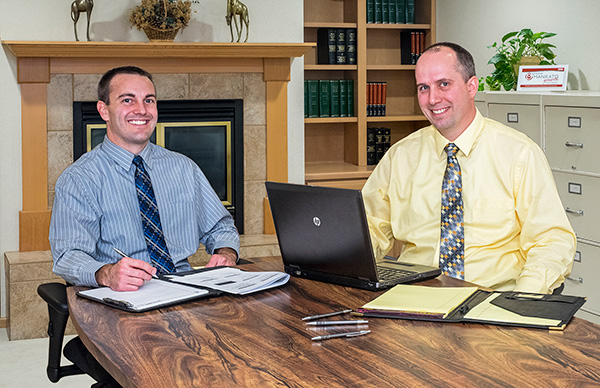 Photo: Art Sidner
Mankato: Morken Eckberg Steiner LLC
CPAs Joel Eckberg of Morken, Eckberg and Co. and Glen Steiner of Steiner Financial merged their two firms in January 2017 and are now operating as Morken Eckberg Steiner LLC.
"We enjoyed working with each other in the beginning of our careers and we knew it would be a good fit," says Steiner. "Our desire is to maintain the excellent reputation of our two firms and build on the groundwork for our new firm. We are grateful to our existing employees who have enthusiastically embraced the next chapter of our firm's existence."
The new firm will continue to offer a variety of services including tax services, compiling and reviewing financial statements, accounting and bookkeeping, payroll services, QuickBooks consulting as well as other consulting work.
"We are targeting local, small-to mid-size businesses," explains Eckberg. "We want to help them with all of their tax and accounting needs. As a member of the small business community ourselves, we have an intimate understanding as to how they function on a daily basis and value the impact each of them has on sustaining the health of our community and region. We genuinely appreciate each and every client relationship and continually look for new ways to improve both what we do and how we do it."
Eckberg says they are excited to have an opportunity to create a fun and positive work environment for their 13 employees.
"Not only do we focus on client needs, but our employee needs as well. We believe a happy team makes a strong team and feel there is no downside to this approach," Eckberg says. "Our commitment to maintaining both a positive atmosphere and attitude among our people assures continuity in the staff and thus, the services we provide. The result is greater efficiency on our end but, more importantly, helps us develop mutual trust and long-term relationships with our clients."
Steiner says now that they are up and operating, they'll work to increase resources and better utilize existing staff.
"We are different because we are small enough to provide individualized attention but large enough to have the resources to provide top-quality services to our clients," says Steiner. "We take a team approach to all aspects of our business and we work hard to allocate the proper resources to each client's needs. We are very excited about our new endeavor!"
The firm has offices in Mankato, Hutchinson and Winthrop.
Morken Eckberg Steiner
Address: 100 Madison Avenue, Mankato
Telephone: (507) 387-4417

Lisa Cownie is Editor of Connect Business Magazine
All posts by Lisa Cownie