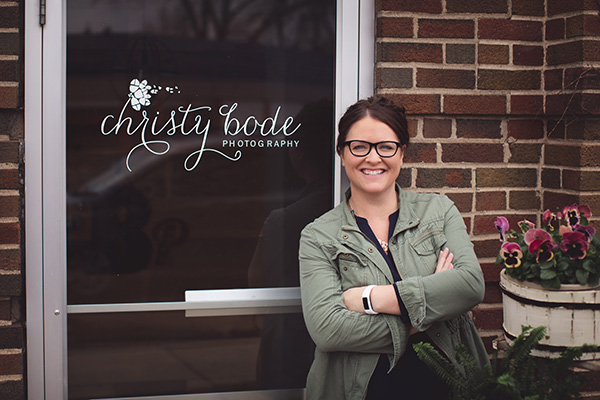 North Mankato: Christy Bode Photography
Nicollet native Christy Bode has always enjoyed taking pictures, capturing moments from big events but also just from everyday life. When her three boys came along, that love intensified. But it wasn't until she started taking pics of other people's kids that something clicked.
"A friend asked me to take pictures of her children, and the rest is history," says Bode. "I officially had my first paying client in February of 2012, went full time April of 2014 and opened my first 'real' studio in September of 2016."
Her studio is located in the historic Brandt Building on Belgrade Avenue in North Mankato.
"Moving my business into an official 'storefront' was a big decision," reflects Bode. "I had a great little spot in my home right inside my garage, and even though working out of the house was very convenient, the size of the space was limiting, I wanted to be able to do more full length portraits, etc., and also needed the space for prop storage. I have a minor prop purchasing addiction, from new headbands and bonnets for babies to painted chairs, and my husband was getting tired of props taking up his precious garage space."
Being a busy mom of three boys, nights and weekends were hard on her schedule. That's when she discovered a specialty and a passion photographing newborns.
"I started because moms are home on maternity leave, and can hold sessions during the weekday," she says, "Now newborn photography is my absolute passion and love. Second to that are maternity portraits and baby's first year. I love capturing these incredible moments, from a little babe growing inside a beautiful mama-to-be, to those precious newborn moments, to the big milestones that happen in baby's first year. Knowing that the photos I'm taking will make people smile for years and even generations to come, makes me so happy."
As she grows her business, she is excited to see referrals and word of mouth grow too.
"It is the highest and most amazing compliment to have past/current clients refer their friends and family to me," she says. "There are many talented photographers in the area and every time someone chooses me, I am so honored. I don't take that for granted."
Christy Bode Photography
Telephone: (507) 327-3487
Website: christybode.com