Kato Music Lessons
By
Lisa Cownie
• May 2017 • Category:
Hot Startz!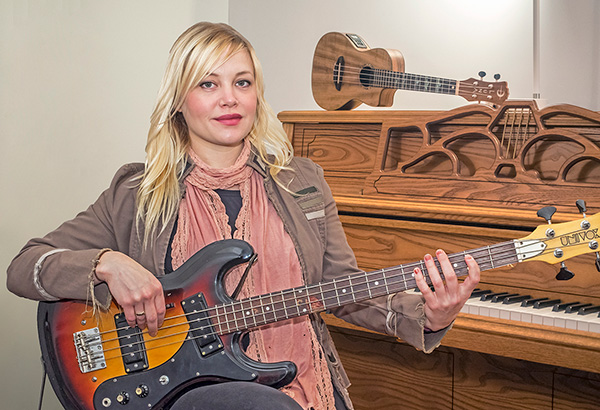 Photo: Art Sidner
Mankato: Kato Music Lessons
For Stacy Berkner, known as Stacy K, the art of music has been a life-long journey.
"My experience with music has alternated between educational and real-life training throughout the years," says Stacy K. "It was after my time playing in the Johnny Holm Band that I attended McNally Smith College of Music."
Shortly after that, her teaching career began. She taught at various locations in Minneapolis while playing in original and cover bands. She has even opened for Brandi Carlile and Grace Potter.
Then in 2016, she moved to Mankato and her dreams really started coming true.
"I had always envisioned myself owning my own space to teach and share the gift of music," she says. "This opportunity came to fruition after hearing a space was available in Old Town. I am so happy Kato Music Lessons is a part of the Old Town Mankato culture!"
Kato Music Lessons offers private instruction for any age and level in: voice, guitar, piano, ukulele, bass, performance, and songwriting.    
"I feel that music is a skill you can use in all aspects in life," says Stacy K. "I foresee Kato Music Lessons becoming involved with many community projects such as the Solstice Talent Show, student performances at local music venues, farmers market performances, and starting community youth, teen, and adult bands through Kato Music which will offer local performance opportunities as well."
Growing up in Sleepy Eye, Stacy K says there wasn't much opportunity for those who were interested in music. Now she strives to be an advocate and a mentor.
"I would like to involve Kato Music with local school music programs by being added to their curriculum as a professional musician guest speaker. With this I would like to inspire and educate students about the many benefits of music by telling my story and bringing in instruments and using our voices for interactive musical activities.," she says.
One of her favorite things is experiencing genuine excitement from her students.
"I once heard a student tell their parent, 'I was BORN to do this!!' These are priceless. Meeting and getting to know all of my students is such a blast and I am humbled and excited to be a part of their musical journey."
Kato Music Lessons
Address: 630 North Riverfront Drive, Suite B
Web: katomusiclessons.com

Lisa Cownie is Editor of Connect Business Magazine
All posts by Lisa Cownie