Pinnacle Business Solutions
By
Lisa Cownie
• May 2017 • Category:
Hot Startz!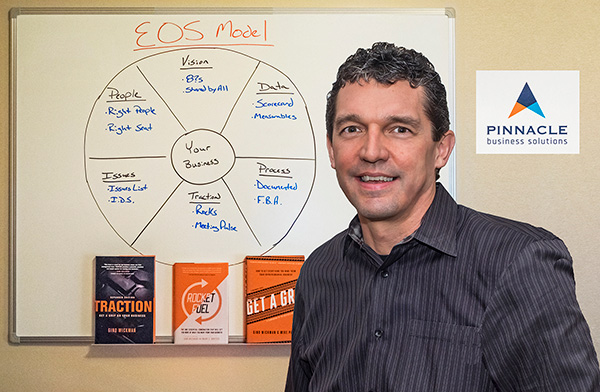 Photo: Art Sidner
Mankato: Pinnacle Business Solutions
After years of varied business experiences in his own professional life, Joe Paulsen was ready to help others. Partnering with his wife, Rita a CPA, he opened Pinnacle Business Solutions in 2016 with a mission of enriching the lives of entrepreneurs by enhancing their business experience. He's doing that with a tool called Entrepreneurial Operating System (EOS). A tool that helps businesses take stock of what they are doing by focusing on six main areas: vision, people, data, issues, process and traction.
"EOS is really the highlight of Pinnacle's offerings due to its surging popularity," says Paulsen. "This system is revolutionizing small businesses by providing owners and their leadership teams with a proven system that will reduce the amount of stress that is common to business ownership by giving them more control over their businesses. EOS began in 2005 and is becoming popular with small/medium business owners because it has given them a viable solution to regain control of their businesses. Over 3,200 companies are now using EOS to operate their businesses and that number is growing by over 30% per year."
While the tool is becoming more and more well known, Paulsen says his challenge is to get his name associated with it regionally.
"The biggest challenge has simply been to get my name out to area business owners as a local Professional EOS Implementer resource," he says.
With his wife's expertise, Pinnacle also offers Business Valuations. Both have their CVA (Certified Valuation Analyst) certifications and can provide business valuations to clients looking to buy or sell a business or for succession and estate planning.
"Our goal is to be a resource to area business owners at every stage of their business progression – EOS to assist them in improving their current operation and strengthening their leadership teams and Business Valuations to assist them when they are ready to sell or transition their business."
Pinnacle's target market is southern Minnesota and Sioux Falls, South Dakota with a focus on small/medium entrepreneurial businesses with 10-250 employees.
"The interest in EOS/Traction has been very positive. I am working with several clients in the area that have created a nice base of businesses Lindsay Window & Door, Blue Star Power Systems, Winnebago Mfg., Jones Metal Products and Exposure Creative," he says.
Pinnacle Business Solutions
Address: 301 Webster Avenue
Telephone: (507) 382-9610
Website: pinnaclesolutionspro.com

Lisa Cownie is Editor of Connect Business Magazine
All posts by Lisa Cownie