Adult, Child & Family Services
By
Lisa Cownie
• Jul 2017 • Category:
Hot Startz!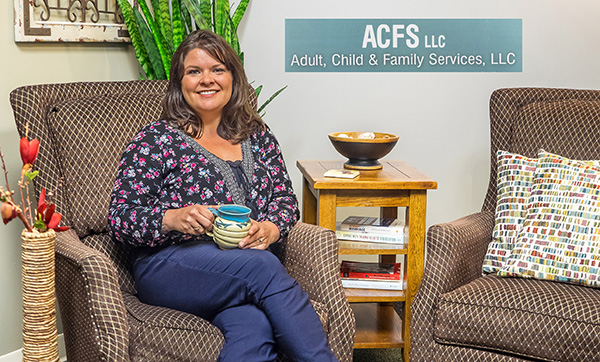 Photo: Art Sidner
Mankato – Adult, Child & Family Services
Owning her own practice was never really in Jessy David-Shouler's plans so she marvels now as her life has always been full of surprises.
"Had you asked me five years ago if I thought I would ever go into private practice and own my own mental health agency, I would have probably chuckled and made a sideways comment about your judgement in thinking I could pull something like that off," she chuckles. "But, here I am. The opportunity arose and for some reason, I just couldn't shake the possibility that I could do what I love, therapy, help others, and become an independent business owner to boot. I am a 'let's dive in' sort of person."
After interning at Adult, Child and Family Services in Mankato, David-Shouler bought the practice. ACFS is  a mental health agency offering comprehensive services to children, adults, and families struggling with mental illness as well as difficulties within family dynamics, parenting issues, relationship struggles, abuse and trauma, life direction, etc.
It is located in the Madison East Center. ACFS has four full-time therapists, three part-time therapists, a full-time mental health practitioner, many part-time mental health practitioners, and two full-time non-clinical staff. She also credits her husband to helping her practice succeed.
"My husband has graciously adjusted over the last year to the innate learning curve of business ownership, the risk taken in making something like this work, and the sacrifice of long hours and increased stress that comes along with business growth and change. I am humbled by the fact that I am here."
ACFS serves children and adults, families, couples, and individuals, from all walks of life.
"We also try to utilize each opportunity to work with other helping professional organizations in the community, so working with counties, other mental health and medical professionals, and now most currently, the REACH, which is a drop-in center for homeless youth. Lastly, we offer rehabilitative programming to adult men who have committed offenses and are required to attend treatment."
The office in Mankato services Blue Earth, Nicollet, Brown, Waseca and Le Sueur counties. David-Shouler also plans to  open a satellite space in New Ulm in order to better serve the Brown County area.
Adult, Child & Family Services (ACFS)
Address: 1400 Madison Avenue, Suite 610
Telephone: (507) 387-3777
Website: acfsmankato.org

Lisa Cownie is Editor of Connect Business Magazine
All posts by Lisa Cownie