Kitchenmaster, Klooster & Begalka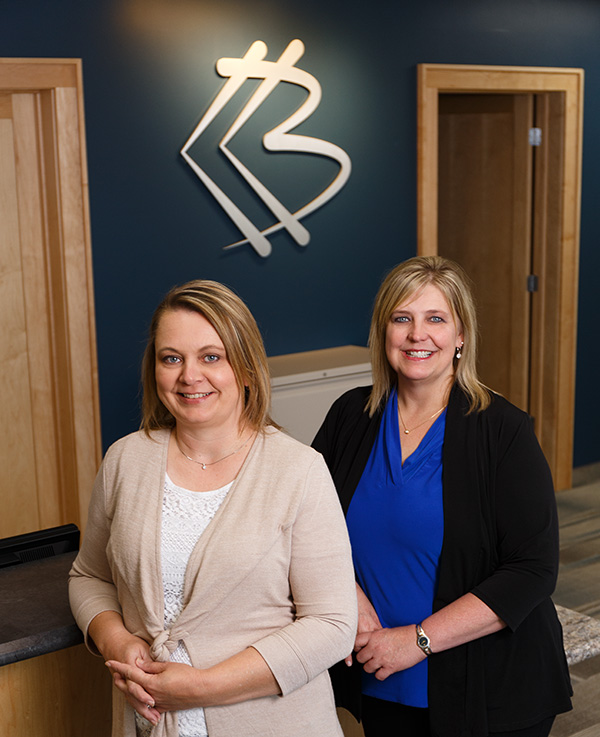 Jilliann Klooster (right) with a business partner, Kelly Begalka, in their North Mankato Office.
Number Cruncher, Relationship Builder
Jilliann Klooster, owner of Kitchenmaster, Klooster & Begalka, looks beyond the dollar signs on the ledger.
It used to be that for many individuals and businesses, an accountant was only thought about during tax time. And then, depending on the tax circumstances, not always a pleasant thought.
But in this day and age, with each new president and each new year bringing new tax laws, it's really become a year-round relationship. That's the basic premise of Jill Klooster's business plan. As majority owner of Kitchenmaster, Klooster & Begalka, her firm emphasizes the relationship part of the business.
"We are lucky that we get to help people work through some of the greatest times of their lives; getting married, buying a home, having a baby, going to college, planning for graduation and then retirement," Klooster says. "But we also help clients work through sad times from divorce or loss of a family member to some other catastrophic events like fire or illness.
"We are lucky and proud to be able to work through the financial end of these special times in our clients' lives. And that's why we build strong relationships so we can give the best advice possible for each individual situation and can help them plan for those times."
Though she is a Certified Public Accountant, a Quickbooks Pro Advisor, a successful business owner; Klooster is not your typical number cruncher.
"The clients are more than just a dollar sign to me," says Klooster. "They are my friends and my family. I really strive to build relationships with all the clients we work with. There are a million places out there to get your tax return prepared. But we are about more than just putting a number on a line. We build value while building a relationship."
It's those relationships that have kept her going throughout her career. She joined what was at that time, Kitchenmaster and Company in 2004 after working in banking and at another accounting firm in Mankato. She had heard about the value Bob Kitchenmaster placed on relationships built with trust and integrity. She knew she wanted that to be the foundation of her work. She wanted to put her expertise to work helping others succeed. So once she joined his staff, she started learning all she could from him.
"Bob has been an awesome mentor. I couldn't ask for anyone better to work for or with. He is passionate about what he does, cares for our clients, and is a great teacher," says Klooster.
In 2009, Klooster bought in to the business and in 2013, became majority owner, taking on another partner, Kelly Begalka, and formed Kitchenmaster, Klooster and Begalka. KKB is an accounting, consulting and tax compliance firm that strives to make the most of a person's assets by looking at not only the business but also the individuals behind the business. Although in a limited capacity, Kitchenmaster still has a role in the firm advising clients and assisting with buying and selling of businesses. Klooster strives to follow in her mentor's footsteps. She has always credited Kitchenmaster with being a pioneer in accounting by being among the first to start offering financial services. KKB's offerings go beyond tax returns as they also offer business consulting, entity formation, estate planning and succession planning. The industry trend now is for businesses to outsource their accounting department.
"Many businesses are finding that it is much more cost effective to outsource some or all of their accounting and bookkeeping functions," says Klooster. "Whether it is reconciling your month end, playing a part to enhance your internal controls, mentoring your controller, or stepping in as a part-time CFO, we can offer the right amount of support a growing company needs."
Kitchenmaster, Klooster and Begalka have a staff of 12 and cater to small and mid-size businesses. Their clientele is a diverse mix of young entrepreneurs, business owners and retirees. Start-up businesses are becoming a specialty.
"Structuring a start up from the very beginning is so important because that is going to dictate how you are taxed going forward and it's just much easier to set it up correctly from the beginning then to fix it down the road," says Klooster. "So we like to be in on those decisions: what structure a business will take, how to form it, and develop a tax plan as the business grows."
Growth is something Klooster has experienced since taking the helm of KKB. She has invested greatly in her own business, initially on technology.
"There was a time when records were just kept in filing cabinets in the back room of accounting offices," Klooster says. "But from my perspective that just doesn't offer enough protection of information. As a small CPA firm in North Mankato I can't spend enough money to safeguard those assets as well as a virtual system can. Tons of information and returns can be stored safely in a virtual office. We place major value on safeguarding people's privacy. So we put in place a cloud-based system because we were concerned about the protection of people's identities and social security numbers and personal information. It is more expensive, but we downsized our brick and mortar to compensate for that. We no longer need space to store physical files."
To reduce the brick and mortar, in 2015 Klooster built a new office building on Commerce Drive in North Mankato.
"Our building is wonderful," Klooster beams.
She does have one tenant to share the 4,300sf building, her husband Kenny Klooster who is an Edward Jones financial advisor. She says she intentionally designed a rental bay in the building because it would then cover some of the costs. It also offers some efficiencies as it is designed to help utilize shared spaces such as a conference room, bathrooms and a lunchroom. A bigger area than either one of them could have afforded on their own.

"We are substantially smaller than at our previous location, but we were able to design a building around our workflow that meets our needs. In the past we had substantial area dedicated to storage of tax returns because of retention guidelines. But we are 100 percent paperless storage now, so we don't have to have that dedicated physical storage space."
Besides security, technology has other benefits for KKB as well.
"We try to make sure our employees are not overworked during tax season," she says. "We don't have them working 90 to 100 hours a week. We've leveraged technology so that we can do more in a more efficient manner so that we don't have to work all those hours during tax season. Plus the efficiencies are good for the client's rates too."
Klooster is known to be nontraditional in her workflow and her approach with employees.
"We are different," Klooster admits. "I am passionate that as a firm we care about our employees. That means I am not necessarily traditional in how I use the employees. We try to make sure that KKB is a big family. If there is a special need for an employee we help them work through that. Because we care about the employees, the employees care about the firm and do all they can to make sure we succeed."
She is also nontraditional in her billing.
"We help our clients in need," Klooster says. "If they are having a situation and are struggling to pay our fees, we accommodate that. But we are not traditional in our billing methods for tax returns. It's not just about time or complexity of forms. The bottom line is we make sure there is value for the client. So our prices are very competitive. We work with clients in that regard."
Now fully settled into their new building, I asked Klooster what's next for KKB?
"I think my business partner would like to know that as well!" laughs Klooster. "Because the last few summers we've been busy buying the business and building the building so she, too, is wondering what I want to do next! I don't like to sit still for long. We are looking at expanding our business, whether that be within the Mankato area or potentially to surrounding communities. Maybe we'll take our awesome service to St. Peter or a community like that with a satellite office."
---
Klooster Up Close
Outside the office Jill enjoys volunteering, traveling, reading and family time with her husband and two sons, Chandler and Cameron. Chandler will attend Minnesota State University–Moorhead in the Fall and Cameron will be a senior Mankato West High School. It was her son Chandler's love of the sport lacrosse that spurred Klooster into community action in the last few years. She was instrumental in getting lacrosse in to Mankato schools as a recognized sport.
"I had a son playing lacrosse. It was one of the fastest growing club sports in the United States for many years. Then two years ago, a lot of the club teams in the state were all going to high school. So if Mankato hadn't started the process our club team here would have had no one else to play! So it was important to get that done so lacrosse could grow in stride in Mankato. It has been very popular in the school system here and offers something to kids in high school that weren't being serviced by other activities."
Klooster also loves to travel and feels fortunate she's been able to visit many spots around the globe. Her favorite: Iceland.
"It's just very natural there. In the United States if there's a beautiful waterfall you walk on a cement walkway with railing on both sides and stand 50 feet away and look at it. In Iceland you can walk as close as you want. There's nothing there to stop you from falling over. It's just a very natural and beautiful place."
Klooster's Core Values
KKB has established core values, which Klooster says drives every business decision she makes. They are:
Excellence – reliable solutions and quality service second to none.
Accountability – we stand behind our commitments and are willing to be judged by our performance

   

Innovation – bringing insightful ideas to complex areas

   

Integrity – saying what we believe, to our clients, our staff, and ourselves

   

Caring – about our client's success and the growth of our people
All About Community
Outside the office, Klooster has volunteered her time with Greater Mankato Rotary, Mankato Moondogs host family for 10 years, Rotary Foreign Exchange Student host family, Leave a Legacy, Salvation Army, Mankato Area United Way, March of Dimes, American Heart Association and numerous youth sports teams. She also served on the Board of Directors of One Bright Star. It's a giving attitude she passes down to her staff as well.
All of the team members at Kitchenmaster, Klooster & Begalka give back to their community in one way or another either through financial contributions, resources or volunteerism. Some organizations they support include:
Minnesota State University, Mankato
Mankato Rotary
History Fest
Mankato Kiwanis
Greater Mankato Growth Ambassadors
South Central College, North Mankato Campus Foundation
Salvation Army
YMCA
United Way
Mankato Area Lacrosse Association
Mankato Area 77 Lancers
Feeding Our Communities Partners – BackPack Food Program
Friends of Scouting
Children's Museum of Southern Minnesota
March of Dimes
Mankato Symphony Orchestra
THE ESSENTIALS
Kitchenmaster, Klooster & Begalka CPAs
Phone: (507) 625-4910
Address: 1660 Commerce Drive, Suite 1, North Mankato, Minnesota
Web: kloosterbegalka.com