Bronzers Tanning and Boutique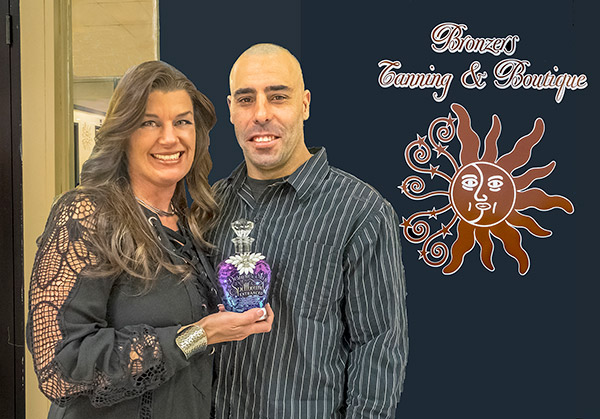 Photo: Art Sidner
Mankato – Bronzers Tanning and Boutique
Although Sue Carrigan had a good job, more and more she found corporate America dull and unfulfilling. Her partner Jamie Streett, who is an entrepreneur himself, told her "Maybe we should think about owning our own business. There's nothing like being your own boss. When you are ready, I'll help you."
The idea intrigued Carrigan, but she didn't really know what she wanted to do as a business of her own. Then one day she heard about a tanning salon for sale and felt right away that might be what she was waiting for.
"So we looked into buying it and here we are! Jamie and I are co-owners," she explains.
Formerly Ultra Tan in the Belle Mar Mall, her first order of business was to change the name and start mending the former's reputation. Now called Bronzers Tanning and Boutique, it offers UV tanning in four different levels of beds as well as sunless spray tanning. By adding on the boutique, she hopes to attract even more customers.
"The store has the space and we just figured why not add more?" says Carrigan. "The boutique gives customers something to do if they have to wait a couple minutes for their favorite bed. We hope to expand the boutique in the near future."
The biggest challenge, she admits, is trying to get Bronzer's name out there and reaching people from all ranges of ages and lifestyles. Opening in June, it was a slow start. But with the cold, winter months now upon us, Carrigan hopes business will pick up as the Mankato area becomes more aware of what they have to offer.
"Ultimately everything depends on a lot of variables," she says. "We enjoy making people smile and making someone's day because of our hard work. We like them smiling and having fun. We want to create a warm and welcoming environment where they can relax and leave with a smile and a healthy, bronze glow."
Streett adds, Carrigan's personality is another reason folks should stop in to Bronzers.
"She really adds to the experience with her funny demeanor and will have people laughing."
Bronzers Tanning and Boutique
Address: 201 North Victory Drive, Suite 327
Telephone: 507-344-0826