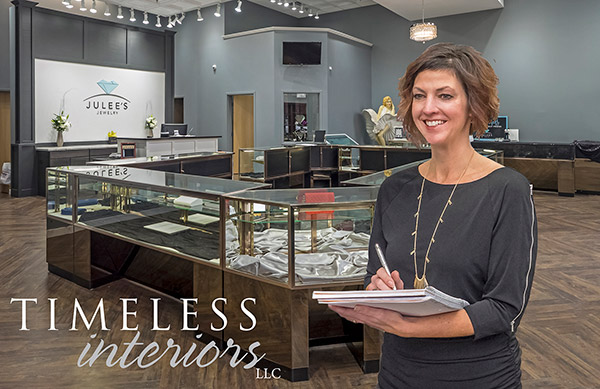 Photo: Art Sidner
North Mankato – Timeless Interiors
Beth Fasnacht has had many past business lives.
"My business journey began in the travel industry then moved into owning a retail store and finally landed on where my passion lies, interior design," says Fasnacht. " After going back to school and earning my interior design degree, I started as a commercial interior designer for a local architectural firm 10 years ago. Although I've done some residential design over the years, including helping to develop an interior design division for a local business, my heart lies in commercial design."
Following her heart, she created Timeless Interiors in August of 2017.
"I've always had an entrepreneurial bug and decided to make the leap and become my own boss. I like the flexibility of being able to work directly with contractors, architects and clients. I am able to have a nice variety of both commercial and residential projects," she says.
Her target clientele are business owners looking to renovate or build, general contractors who need help with finding finishes and materials within their set budget, and architects who do not have in-house interior designers. One specialty she brings to the table is proficiency in REVIT, an architectural drafting program.
"I can offer drafting services in addition to my interior design services," says Fasnacht. "The program gives me the capability of showing my clients 3-D views of their designs. This additional service helps my clients visualize their space before construction has even begun. I also offer cabinet drafting services for custom cabinet makers. Computer drafted cabinet layouts offer their clients elevations and 3-D views that they are not able to offer when hand-drawing the cabinet layouts."
Another specialty for Fasnacht is her ability to visualize right alongside her clients.
"My number one promise to my clients is to fully listen to their wants and needs. They have a vision in their mind of what they want the space to look and feel like, it's my job to figure out what that vision is and bring it to fruition. It is very important to me to be open and honest with my clients throughout the design process. I strive to make sure they are completely comfortable and in agreement with my design before moving forward with it."
Timeless Interiors
Telephone: (507) 594-8366
Web: timelessinteriorsmn.com