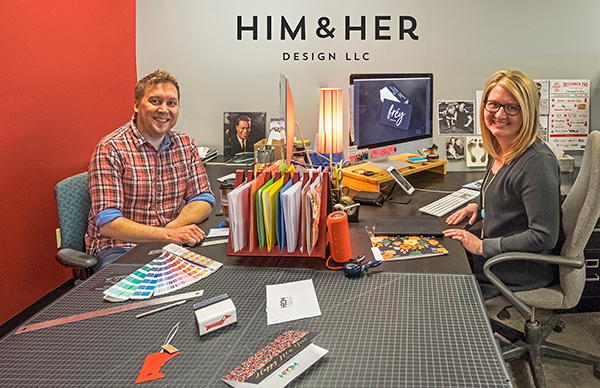 Photo by Art Sidner
North Mankato – Him & Her Design
It's just been a year since they started, but the him and her behind Him and Her Design Studio are already expanding their services. Retail products will be a big push for the duo in 2018. The design team of Brandon Reibeling and Michelle Isebrand opened their doors in North Mankato in Spring of 2017. They offer business and custom product design, but it's the retail products they plan to expand in year two.
"We are excited to be expanding this category in 2018. We currently offer Holiday Cards, Wall Art, Stationery Sets, Stamps, Vinyl and an Exclusive line of metal holiday ornaments each year. We are excited to be adding year round holiday cards, birthday cards & sticker sets, magnets and more," says Reibeling.
It's through the stationery focus, they have accomplished award winning achievements.
"We have landed 4 LOUIE Awards and are two- time LOUIE Award finalists. The LOUIE Awards are the acclaimed 'Oscars' for the stationery world held in New York," says Isebrand.
Reibeling and Isebrand have worked together for 17 years as professional product designers. They say their success comes from each bringing something a little different to the table.
"We each have our own set of unique skills that when combined have complimented our creative teamwork," says Isebrand.
Creative teamwork that sometimes produces more ideas, than time to get them all done.
"We have many creative projects we want to accomplish but the challenge is realizing that they don't all have to be accomplished in one day," says Reibeling.
While creativity shows in their products, their approach to business is traditional and one they know will be a key to success.
"Our business philosophy is simple, to produce a quality product that is unique, quality focused with customer satisfaction," says Isebrand.
They currently serve southern Minnesota and are looking forward to 2018.
"For 2018, we look forward to maintaining our amazing current relationships and developing new business and customer satisfaction! Him and Her Design will continue the creative passion; producing new innovative products and designs."
Him & Her design , LLC
Address: 1754 Commerce Drive, Suite 104
Telephone: (507) 382-4033
Website: himandherdesign.com