Connect TV is produced with True Facade Pictures | Photos by Kris Kathmann
The Frentz Factor
Developer Tony Frentz uses his passion to poise his hometown for the future.
I would like to share with you a little known fact about Tony Frentz. But, I have discovered, there are no little known facts about Tony Frentz. His reputation and personality, just like the buildings he has developed, loom large in Mankato. With Tony Frentz what you see is what you get; a man with a big, genuine smile and big, genuine dreams for his hometown.
"In late high school I actually started thinking, I'm going to buy some buildings in downtown Mankato!" Frentz reflects.
And that, of course, is just what he did. It took a few years, a few different business ventures and a few risks, but Frentz' impact is evident as you glance across the skyline of downtown Mankato; Emy Frentz Arts Guild, the Graif Building and US Bank Center among others.
"I love Mankato. In particular, the City Center is the most important to me. I just really believe if your city center is thriving and strong the whole town will benefit," says Frentz. "All cities when they get to a certain size have the same franchises and it's good to have them. But what is unique and what makes a city special, is the downtown, the city center."
With his professional focus on downtown, the greatest impact on his personal life happened along the hillsides of Sibley Park. Not while developing a business or designing a building, but rather while waiting in line during the People's Fair, 1996.
"I was there enjoying the music with friends when I saw this beautiful woman waiting in the next line over. I tried to strike up a conversation," he recalls. "But she was having none it! She gave me such a hard time! Even with her German accent, I should have gotten the message," he laughs. "My buddies told me she was not interested, but I told them right then and there that they were looking at the woman I was going to marry and I'm so thankful I did. My wife, Anne, has been a huge source of support. She believes in me and everything that I or we do. We are a great team. Our team also includes Bella (17), Mia (15), and Max (11)."
Once Frentz makes his mind up, he's all in. And that starts with being "all in" in his relationships, both personal and professional.
"In all of my business ventures, my experiences have proven to be better with a partner. You can run your ideas off of them, you have someone there when it's not so easy and you can talk it through with them. Truly, it's just good to know you are not alone. It's pretty valuable," he says.
Also not lost on Frentz, is the value of having a hometown and the importance of embracing it.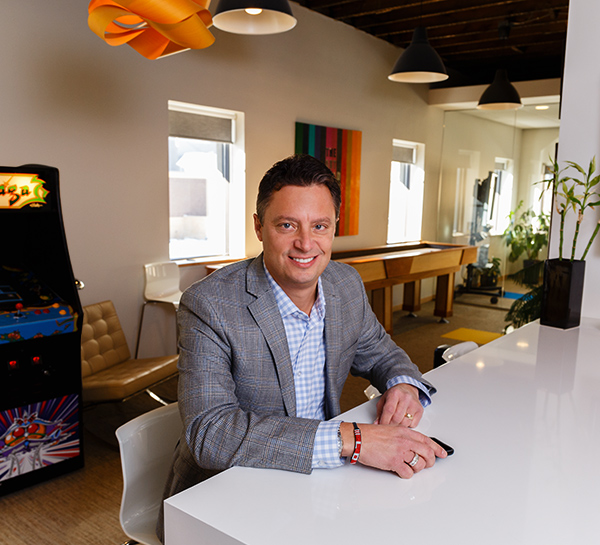 "My dad always instilled in us – and I truly believe in this too—'You have to live somewhere, why not live here where you have support and family that has been in this area for over 150 years'; in fact, my dad and uncle actually wrote a book about our family and their experiences here in Mankato. So he said, make a home and make a living here and then just visit other places if you want, travel."
Frentz remains in West Mankato not too far from his boyhood home and raising his own family there, but also seeing the world as much as he can.
"I've been to maybe 26 countries and all over the United States," he says. "I strongly believe that Mankato is the best town, in the best state, in the best country. So really, why live anyxwhere else?"
Location was one thing, there was something else he just never had a doubt about.
"I always knew I wanted to have my own business. So when I was graduating from college, I didn't interview for a job, or a position in a company somewhere else. I thought, I'll go and start my own thing in Mankato. The family business was law but I didn't want to be an attorney."
His own thing has turned out to be a variety of business enterprises…from bagel shops to towering buildings to underground fiber. But while his business interests shift with the trends, his heart stays in one place.
"I'm happy to have played whatever part I've played in helping with Mankato's City Center. I've tried to be very involved because I care. And I'm proud to be a part of it," he says.
In this interview, Frentz opens up about his companies that include Neutral Path Communications, a company that had big news right at press time: Zayo Group Holdings, a major industry player, announced it has entered into an agreement to acquire substantially all of the assets of Neutral Path for a significant amount. But read closely, within each answer you'll find nuggets of knowledge that will help give you a greater understanding of what makes this forward-thinking dreamer so successful and what he believes is the best investment a person can make in both business and in life.
I think an entrepreneurial spirit is part natural, but also part learned. You certainly have it! Where do you think it comes from?
A great deal has to do with my upbringing and my mom and dad. My mom was an artist and my dad was an attorney. But really his passion was business. So as I was growing up he was always telling me how great it was to be a businessman and particularly to start up your own business and be your own boss. My mom had a lot of spirit and charisma and said do whatever your heart tells you to do and you will be ok. Two of my great great grandfathers had substantial businesses in Mankato before 1900, as did my great grandfather, my grandfather and my father. In high school I tended to read books that were based on that. And I always had this voice in my head saying, 'I am going into business for myself, start my own business.' And I did.
What was your very first business?
My first business was a little golf ball business that I started with a buddy in 7th grade. I mean, it wasn't some big time deal but we would go into the woods and find all the golf balls and then sell them. It was called Golf Balls Inc. It was my first try at running my own business and I just caught the bug from there. That led into college where I had my own businesses selling t-shirts in the dorms and trips to Mazatlan. I would also host events and charge people to get in to them. I was making money. So I knew from an early age that what I wanted to do was own my own business. I didn't know what specifically, but I knew that is what I was going to do.
When you graduated college you graduated from golf balls and t-shirts to bagels!
Yes, my first big business, Bagel Brothers, I started with my brother-in-law, Keith Adams, in Mankato when I graduated in 1994. We gradually built it up to five stores; two in Mankato, and one in Northfield, Owatonna and Faribault.
So we built that up through the 90s and in about 2000 and 2001 I started seeing some signs I didn't like. Things like Panera moving to town, and the Atkins diet craze was getting huge, so I saw various things coming into play that made me nervous for that business. Plus by that time I realized my true passion was to create things, develop things, build them…that's the fun part for me. And that's where my passions still are today. If I don't have passion for something, I'm not going to be very good at it. So that's one of my core beliefs is that you have to love what you are doing and I loved building those stores.
In 2000 we made a decision we weren't going to build any more stores and that was it for me. I just lost all of my interest in the business because I don't have passion for just running something. That's not exciting to me. That's when I thought to go into construction because I had been the general contractor on all the bagel stores; I knew how to do that side of it. So through bagels, I learned that running projects, building things, that's what I wanted to do. My brother-in-law and I were equal partners in that, so I sold my half to him and formed Frentz Construction.
That was primarily residential construction?
Yes, I started only doing residential. Then before the 2007 crash came, I started getting a little bit into commercial construction which led me to start buying my own buildings and getting into development.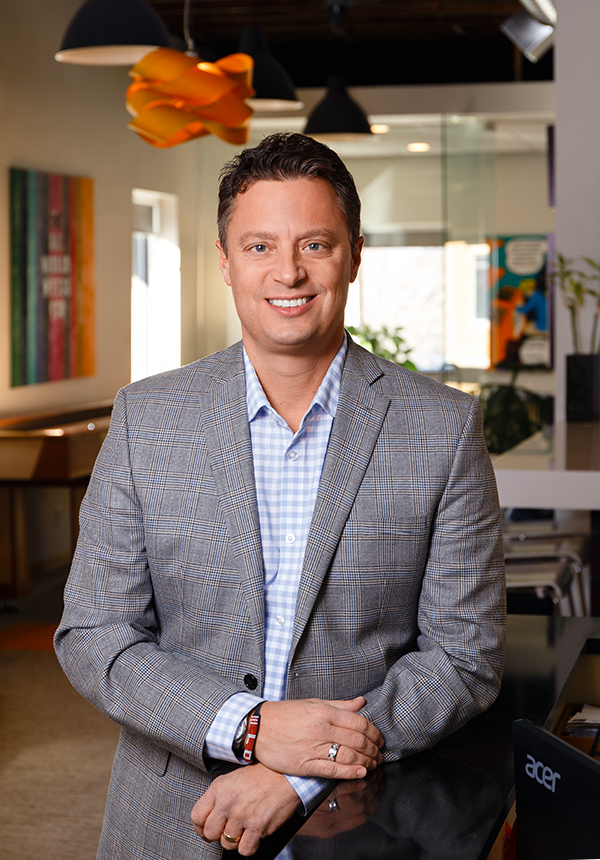 What was the first building you purchased?
The first building I bought was on Cherry Street on a contract for deed so it was the perfect first step and it really helped me start to build my knowledge of the process. I had already read a number of books on real estate. Real estate is a very good business to get into. You have tenants who pay you rent and allow you to build equity. That first building showed me exactly how it worked. I had a few tenants in there. The Emy Frentz Arts Guild was another big step. I had been on a trip with Mankato's InterCity Leadership group to Fort Collins, Colorado to see how that city enhanced their city center. We toured an arts building that had individual studios where the artists could work outside of their homes and interact with other artists. We learned how a vibrant arts community can add to the quality of life and economic value in a city. I really liked the idea and with the help of people like Shannon Robinson, I was excited to create Emy Frentz Arts Guild, which I named after my mother. It now houses the Twin River Council for the Arts, Mankato Symphony Orchestra and many artists' studios.
Not really that simple though, right? The risk comes in making sure you can find tenants! Do you work with a broker?
We really have not done that at all. Mankato is a fairly small town so we know most of the people. I just start talking to people. I'll approach someone I think would be a good fit for the building. I am on the transaction side and Rob is the board/operations person.
That is my passion. I love taking stuff that really wasn't that great and doing a renovation and making it something new. That's what I like about real estate and development in addition to creating equity. I started with the Cherry Street building and then I scaled it up, I just kept on getting more and more. And they've been getting bigger and bigger and the biggest one is coming!
Yes, you made quite a leap from the building on Cherry Street to tackling the Graif building. Was the larger scale of that project what made you decide to get a partner?
At the time it seemed like a pretty big undertaking. There hadn't been that many examples here of older buildings getting completely gutted and renovated up to a Class A level and then being able to rent them. There just wasn't that history here, but I felt it could be done. I was on a birthday trip with my friend Rob Else and I said 'hey, I'm going to buy this Graif building and I'd feel a lot better if I had a partner.' So ultimately, he said okay let's do it and we did it.
I really can't stress how much I appreciate partners. One thing that has happened throughout all the businesses I've done is that I've tried to surround myself with really good people. People that have deep knowledge in what they are doing. I've done that from the very beginning.
So with Frentz Construction, for example, I teamed up with a very good friend of mine from high school, Benji Duea. After school he went to Colorado and built multi-million-dollar homes and buildings. I knew he had that skill set that I needed, so he came back to work with me. I had the general contracting experience from doing the bagel stores so we complemented each other well. I've kept that theme going of surrounding myself with people and partners that are really knowledgeable and really good. My general manager, Torie Holden, has been with me for over 10 years. I think that is the key to success, just surround yourself with exceptional people.
It's all about relationships. It's part of our philosophy: surround yourself with great people. But, and this is a very big but, they have to be themselves. I don't want people to act differently depending on the situation or who they are with. Like myself for example, I am always the same. How I am with you, is how I am with Rob and with everyone. I don't have a different side, a fake side. And I want everyone around me to be that way. The relationships are everything. That's how you fill buildings, get deals done and build a solid reputation. People like you and they believe in you and they trust you.
And of course after with the Graif purchase you and Rob decided to make it a more permanent situation and not just one and done.
Yes, in 2007 we established Neubau Holdings. Neubau is German for building. My wife is from Berlin and we just like the sound of it.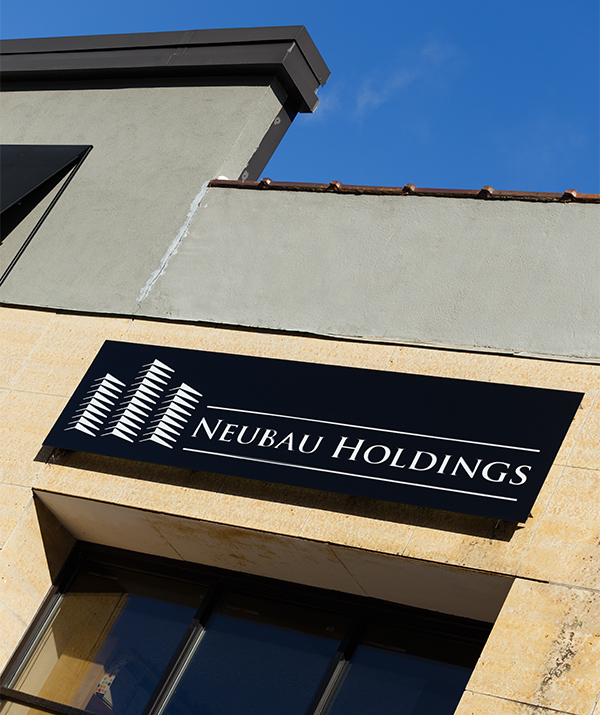 The Graif building was a great first project for Neubau and quickly led to more opportunities.
Definitely. We filled it pretty quickly with some great tenants. The construction on a building that age is very tricky though. We had a lot of hurdles to overcome with that project, a lot of sleepless nights. We weren't even done with it yet and we heard there was an opportunity with the HECO building next door, which is now the US Bank Center. Even that opportunity came from a relationship. I knew the family that owned it. They lived in Amsterdam at that time and wanted to get rid of it. So it was a good deal, but a little nerve-wracking because it came before we were even done with the Graif Building! I just thought…Do I go all in here or what? But we finally just said, let's do it. And it was a leap because we didn't have any tenants.
We paid 2.1 million for it but knew it needed a number of millions more invested into it to get it to look like it does now. But as I mentioned, once we decide to do something, we go for it! We moved quickly to get tenants secured. Once US Bank and ISG committed we felt a lot better. Of course, Todd Loosbrock and Chad Surprenant had a lot to do with this deal and we have always appreciated that. The thing about development though, is you can let that guide you. If we wouldn't have gotten those tenants, we probably wouldn't have done the renovation to the level we did. We had a decision, do we go big or go home. We went big. It was worth it and we have a beautiful building with great tenants.
That has given us the confidence to take on even bigger buildings…and risks.
Yes, that leads me to ask about your current project that's popping up on the corner of Main and Second Streets. That's going to change the landscape of the City Center yet again.
Yes, here's how that came about. We saw what Tailwind was planning to build on Front Street and it was extremely exciting; it was going to be transformational. Before their project, there was a metal shed and a wooden fence along Riverfront Drive. In Tailwind's example, the whole area has been completely rejuvenated, with different styles including new storefronts like the very cool hand-painted bee on the 410 Project building. That is now the exact kind of area young and old alike want to spend time in. So I talked to Rob and I said "we have to build a new building!" (he laughs) It inspired us to look around for other opportunities and there was the property on the corner of 2nd and Main that needed to be developed. Our hope was that it would spur the same kind of renaissance on this side of the City Center Core and be a gateway pillar. I knew the owner, Tom Holmstrom, so I approached him but it was a long process. I talked to him probably close to two years and finally got the deal done. I actually had talked to him a few years before also and at that time he had national brands looking at it so he knew it was worth some money. Ultimately we made a deal with him.
So we had the land, then the challenge was to figure out what to do with it! Because when you buy a whole property like that you are all in. You can't just leave it.
You bought without really knowing what you were going to do or who you would secure for tenants?
I believe if you are going to succeed in the type of career I have chosen, you must have a high tolerance for risk and stress because you are going to have plenty of both. So yes, that was a little stressful. But we got to work on drafting what the building could look like and it will be a 20 million dollar project once it is all said and done. Now we had to find tenants!
I had just met with Ben Ellingson of Eide Bailly and knew he was thinking about moving downtown. Which regardless of our building I thought was a good idea, so I encouraged him. Eide Bailly is a professional firm that should be downtown not on the edge of town as they are now. Knowing he had that in the back of his mind, I met with him again and told him we were going to build this great new building and if he wanted to move his 80+ employees there, we would call it Eide Bailly Center. With this project, we are bringing at least three new businesses to the Mankato region with all new jobs, increasing employment of existing employers, and relocating a major employer into the City Center. Also, after some input from friends, we decided to move the restaurant to the 7th floor roof top level along with the event center so there will be some amazing views.
When will that building open?
Construction is starting this spring 2018. The shell will be up in early summer 2019, with buildouts ready for occupancy in fall of 2019.
You have Neubau and Tandem, but we really haven't even talked about your main job yet! In 2011 you founded Neutral Path Communications. What is that and what is your role?
Neutral Path Communications is a wholesale broadband transport company, providing dark fiber, cross connect, Carrier Hotel and other services to providers of broadband services. We started this company from scratch and put our first cable in the ground between Mankato and Windom. It's a great example of the value of partnerships and shared skills. I knew absolutely nothing about fiber optics and telecommunications but I had valuable people skills and business experience. Plus I had a background with contractors, banks, government bodies, inspectors and more. Of the other two principals in the business, Scott Bergs had telecommunications and executive experience and Jay Hanke had extensive engineering, technical and strategic skills. I can't emphasize enough how much I respect these guys and my other partners. As we developed, I oversaw all of the main line builds of the fiber and headed up the business development in relation to its network development, operations, and relationships with our customers which includes marketing and sales. I also handled the construction management of main line builds. At the end of January, it was announced that Zayo Group Holdings is acquiring substantially all of the assets of the company.
All of these undertakings seem like they would be very stressful, how do you handle that?
That is a fact, they have been very stressful at times. As I've said, I have had many sleepless nights. During these times I keep going over and over the issue until the best solution comes forward. That solution is not always perfect but you have to keep going. An example is when we were building the Mankato to Minneapolis fiber route. Heavy winter had started and our fiber was not all in the ground. The city of Minneapolis almost daily told me that they were going to have to shut down construction for the season, and of course if you don't finish the last few feet then many hundreds of miles do not get connected. I did things like basically beg the permitting guy to let us have just a few more days. We did get it done.
As a business owner, do you experience the work force challenges that many others in our region are facing?
It's getting better, but there is a lot of talk about the 'brain drain'. Ten years ago in Mankato most of the students didn't want to stay here. They wanted to go to the city. But now we are to the point where they are looking around and saying, 'hey, it is actually pretty cool right here!' Mankato now has a variety of restaurants and entertainment venues, it's become a real city and it's exciting. That is the key. We have these universities here with all this talent, and if you can keep them, well, it's a very good thing for the region. And that's what is happening. We are now urban enough and cool enough that kids want to stay here. Large employers have to pull people from all over the country. So Mayo Clinic, for example, if they are trying to pull a doctor from the East coast, ten years ago that would have been much harder. But with the quality of life we are creating here, today it's much easier to recruit from the outside.
You have truly had success in many areas of life. What do you attribute that to?
Again, the people around me are key to making things happen. My wife, Anne and my dad, John Frentz, have always supported my visions and been great sounding boards for me when determining my next move. They, in one way or another, play a big part in each of my successes. My long standing partner and friend, Rob Else, has also been fundamental in so many undertakings; things I might not have moved forward with on my own. For myself, I just look at the big picture and say, okay that's what should be done. I decide what I'm doing and then I do it. Every year, I do a goal sheet and whatever I need or want to get done, I put on there. Once I write it down I know it's going to get done.
What's on that list for 2018?
I have some exciting things on the horizon…but let's just say, I'm continually looking for new opportunities and the people to help me make them a reality!
---
Frentz On Fun
In interviewing Tony, I realize he truly finds what he does professionally…fun. So I asked him what he enjoys outside the office.
"A lot of my free time off work revolves around Anne and the kids. I love going to their events, whether that's a game or a performance… there are a lot of them! Traveling is our favorite activity outside of Mankato. Most of the activities I like to do involve being outside. We have a cabin on Lake Superior and some land outside of Mankato and they are two of the places we love the most, being outside on walks with our puppy, hunting pheasants, hiking, downhill skiing, and just being outside. Most of the time I'm outside I am trying to relax although it is also the best place for me to figure out direction with work and personal items with my phone turned off."
Favorite Far Away Place
"If I had to name one place I've been that stands out as a favorite it would still be Salzburg, Austria. Right after I graduated from college I got to take a backpacking trip around Europe with a couple of friends. Prior to getting to Salzburg we had been in some countries that were extremely hot and humid and we were starting to get on each other's nerves. When we got off the train in the valley of Salzburg it was absolutely beautiful, exactly how it looked in the movie Sound of Music that I watched with my family a lot when we were kids and the weather was perfect, sunny and cool. We ended up spending a lot of time looking at the cultural sites listed in the Let' Go Guild and then in the beer gardens meeting other kids who were traveling around and had a blast."
Family Side of Frentz
Tony and his wife Anne have been married since 1999. They have three children: Bella, 17; Mia, 15; and Max, 11. Tony also remains close to his father.
"My dad is like a rock," says Tony. "He is one of my main advisors. I can go to my dad and bounce all of my stuff off him. Sometimes he doesn't say much, but it's just good sometimes to talk about it out loud. Sometimes he just gives me subtle advice. (Tony grins) So like if I come up with an idea he might shrug and say, 'Well, yes, I suppose you could do that'. He says it in a way that I know he thinks not the best idea."
Frentz' Other Business Interests
Ownership interest in Chankaska Winery
Tandem Bagels—owns with wife and other partners

Developer of Indian Lake Preserve, a residential

community in Mankato
THE ESSENTIALS
Neubau Holdings
Phone: (507) 387-6200
Address: 210 East Walnut Street #210, Mankato, Minnesota
Neutral Path Communications
Phone: (507) 387-6200
Address: 3 Civic Center Plaza #204, Mankato, Minnesota
Tandem Bagels
Phone: (507) 720-6533
Address: 200 East Walnut Street, Mankato, Minnesota
Website: tandembagels.com