Awaken Reiki & Soul Healing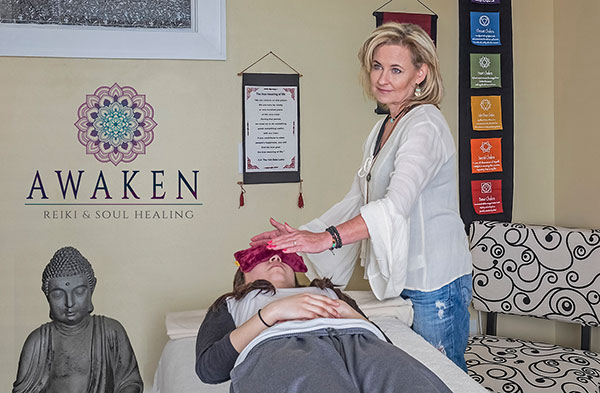 Photo by Art Sidner
Mankato – Awaken Reiki & Soul Healing
Deborah Monacelli understands the biggest challenge for her new business is going to be helping others understand what it is she is offering. Everyone understands what a life coach does. Many have never heard of Reiki.
"Reiki is a spiritual healing art with its roots in Japanese origin. Reiki treats the whole person, body, mind and spirit, to achieve balance and restore optimum health," she explains. "Reiki is simply a relaxing treatment whereas natural healing vibrations are transmitted through the hands of a Reiki practitioner to the body of the recipient. The purpose of a Reiki treatment is to relieve stress and pain, induce relaxation, release emotional blockages, and accelerate natural healing."
Monacelli believes the time is right for a business such as this in Mankato.
"According to WebMD, Americans are continuing to turn to complementary and alternative medicine. And, CNN reports that about a third of us are now using alternative methods to supplement the care we get from our doctors," she says. "By enhancing the flow of energy through the body, balance and health is acheived and we come in touch with our true selves."
Monacelli is a Reiki Master teacher and practitioner. She is also a certified life coach, qigong healer, meditation teacher and currently in the Yoga Teacher Training program at Sun Moon Yoga. Awaken Reiki & Soul Healing has a varied client base. Monacelli says her clients range from college students to business executives to the yoga enthusiast.
"The response and interest has been wonderful. When people get off the table they feel relaxed and rejuvenated, they can think and see more clearly, they feel more in control of their emotions and they feel a sense of lightness. They can go out into the world and be their best selves again. I am grateful to be able to assist people," she says. "It brings me such great joy to help others. Often, clients experience tears. If I were a dentist, that may not be a great thing, but these are tears of happiness, joy, connection to their self and a profound sense of release. However, being a life coach and healer, these tears are the reason I go to work every day and have such passion for my work. It is truly rewarding."
Awaken Reiki & Soul Healing
Address: 523 South Second Street, Suite 201
Telephone: (507) 353-0480
Website: awakenmankato.com