Connect TV is produced with True Facade Pictures  |  Photos: Kris Kathmann
This Ballroom is Booming
Owner Tania Cordes' business background, including an MBA from Harvard, reinvigorates the iconic Kato Ballroom.
Just 10 blocks from the heart of Mankato's Old Town district, the Kato Ballroom is nestled in the thick of an industrial zone, just off of bustling Riverfront Drive. But, you likely already know the spot. If you've lived in the greater Mankato area for any amount of time, you've probably been there yourself. Or at least heard tales of its whirling, dancing nights.
A Storied History
Herb Martinka, who opened the Ballroom in 1946 and operated it through 1982, kept the space packed with regularly scheduled dances and events that drew in a thousand or more patrons per night. This early success helped Martinka rebuild after the Ballroom burned down in a fire in the early 1950s.
Besides wildly-successful dances throughout the sixties and seventies (a local Facebook group dedicated to "Mankato Memories" contains hundreds of comments from residents reminiscing about the Ballroom's heyday, including things like "Oh the lies we told our parents to get to those dances!"), the Kato Ballroom is well known for its close brush with ill-fated musician Buddy Holly.
On January 25th, 1959, Holly, Ritchie Valens, and J.P. "The Big Bopper" performed at the Kato Ballroom as part of the "Winter Dance Party" tour. Eight days later, all three artists perished in a fatal plane crash near Clear Lake, Iowa, just one hundred miles south of Mankato. The incident inspired Don McLean's 1971 song "American Pie" and February third was deemed "The Day the Music Died".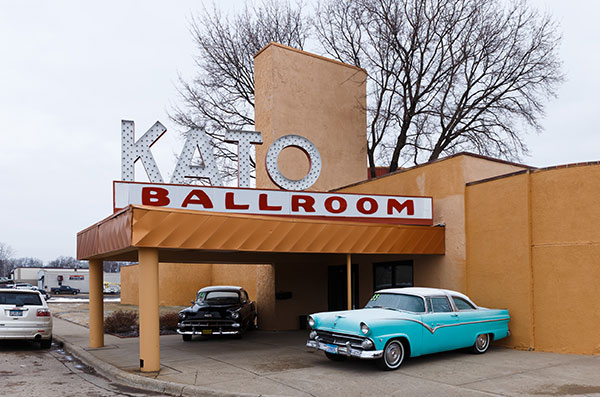 According to the Minnesota Ballroom Operators Association, a nonprofit organization supporting ballrooms, bands, and old-time music promoters, Minnesota has more active ballrooms than any other state. However, the number of these historic buildings still in operation (or even existence) is rapidly dwindling. Approximately twelve historic Minnesota ballrooms are still in operation, down from about 180 statewide.
Ballrooms like the one in Mankato used to be just a short drive for residents living in rural areas, providing a chance to gather, socialize, and meet friends and future spouses. The largest concert at the Kato Ballroom featured the Everly Brothers, drawing over 2,400 people on November 22, 1964. Whether polka, big band music, or rock 'n' roll, ballrooms have occupied a special place in the history of the Midwest—one that is quickly evolving.
Enter Tania Cordes, who purchased the 26,000 square-foot Kato Ballroom in 2014.
A Local Renaissance
The Kato Ballroom had been owned by Cordes' ex-husband's family for more than 30 years, but it wasn't until a conversation around 2012—when Janet Sell decided to retire—that Cordes set her sights on revitalizing the local hotspot.
"My career path is not really a 'training ground' to get to be a ballroom owner," says Cordes, when I ask her how she got here. "I've always loved to entertain. I love to cook. I mean, I've collected recipes since I was a kid. I used to throw huge dinner parties, and I'd always thought about starting some sort of catering/event planning business."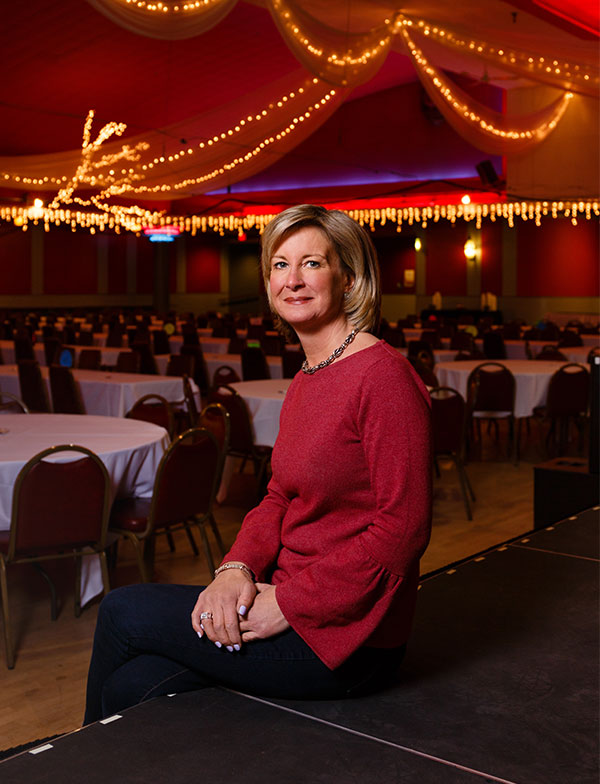 Cordes has a background in business, with a degree in economics from Colgate University and an MBA from Harvard Business School. Her past job titles include things like "Analyst," "Strategy Associate," and "VP Institutional Sales." In the late nineties she was part of a Chicago-based Internet start-up that offered insurance to small businesses.
After taking ownership of the Ballroom, Cordes leveraged her business skills and background to revitalize it. "I'm very careful about all of my margins—my numbers. I do all my own books, all my own taxes every month, so I know exactly where we stand all the time," she says.
Cordes' first task was to renovate the space—always being sure to maintain a balance between preserving the Ballroom's history and preparing it for future generations of customers. Two of her best friends flew in over Labor Day the September before she took over to help. "We literally painted and scoured everything," Cordes says, with a laugh that is half-grimace. "We spent a good 72 hours almost completely inside this Ballroom, painting and redoing things."
Cordes focused on transforming the space to an upgraded art deco look, keeping many of the Kato Ballroom's signature touchstones but making things more consistent, modern, and appealing to a younger crowd. "It doesn't look like the Civic Center or the Courtyard and it never will," she says. "But I think there is a place for the Ballroom in this town."
Kitchen and catering services were improved, rugs were deodorized, restrooms were updated, and Cordes then moved on to the next stage: booking, booking, booking. "My theory in the beginning was that someone in the Ballroom is better than no one," says Cordes. She focused on bringing in events of all kinds, and saw business spiral as more and more people moved through the space. "A lot of people didn't even know the Ballroom was still open," she adds. "Bringing in so many new and returning parties over the last couple of years has really helped spread the word that the Kato Ballroom is back in business."
A glance through the Ballroom's online calendar and social media posts reveals a lot about how the clientele has changed over time. While they still serve as a dance hall for big bands and polka nights, the Kato Ballroom hosts theatre performances, fashion shows, fundraising events, high school proms and formals, hip hop shows, album release parties, symphony performances ("Pops at the Kato"), class reunions, corporate lunches, and business meetings. Tribute shows have been particularly successful, including performances celebrating The Eagles, Pink Floyd, Elvis, Fleetwood Mac, and Queen.
Weddings are always on the schedule, and the Ballroom is booking more than ever. "When I took over, that first summer I think we had, maybe, nine weddings," says Cordes, adding that in 2017 they hosted over thirty. "I thrive on the energy. I thrive on helping people have fun. My biggest thing was getting people in here to have fun, and if they could get in here and have a good experience, the word would spread."

Cordes estimates that the Ballroom held about a hundred events last year, compared with around twenty the first year she owned the place. Some, like the Minnesota Pheasants Banquet and the Mankato Clinic Holiday Party, are repeat customers who have been booking with the Ballroom for years. Others are businesses that have come back to the Ballroom after opting for alternative spaces for one reason or another.
Cordes credits the Ballroom's success to the renovated space and food, but it is clear that her enthusiasm and personality have played a major role in bringing more business into the historic building. "I'm a huge extrovert so I get my energy from being with people. This business, to some extent, suits me perfectly," she says. In 2016, Cordes received the National Travel and Tourism Week Attraction Award from Visit Mankato for going above and beyond in providing outstanding service to visitors in the community.
In May of 2017, Minnesota Public Radio visited the Kato Ballroom to celebrate their 50th anniversary, featuring interviews, on-air broadcasts, and a live performance by Minnesota punk rock band, The Suburbs. Another highlight was The Buddy Holly Story Dinner Theater, presented by Merely Players in 2016. Over 1,800 people visited the Ballroom over four days for four sold-out performances. The musical would have normally been held at the Lincoln Community Center, but Cordes credits the historical significance of the Ballroom, and one of Holly's last performances there, with pushing the production over the edge in terms of success.
Cordes has already left her mark on another local tradition. KEYC's Bandwagon Show is one of Minnesota's longest-running locally-produced shows, featuring old time music and dancing. When she first took over the Ballroom, the free dance was attended by about 80-100 people, taped for two hours on the first Monday of every month, and shown on KEYC News 12 with a 4% market share. After the host decided to retire, and with no sponsor lined up, the station had plans to cancel or at least cut back on the program. Cordes took it upon herself to send out a survey to participants. "I asked them straight out—Would you come to Bandwagon if we charged? How much would you pay? Who would you want to see? What are your favorite bands?," says Cordes. She had her mother tabulate the data that Christmas. "And my mother says: 'Tania, 95 percent of the people will come. And they'll pay!"
At that point, Cordes faced some doubters, but she was armed with the survey data—a signature of her strong background in business. Bandwagon started charging a $5 cover fee, which people happily paid. The dance was extended to three hours, and a rotating menu was added. "I mean, I have people who call to find out what's on the menu now, whereas we used to serve the same meal every time," she says. The dances now bring in anywhere from 200-300 paying customers, with show ratings up to 16%.
What The Future Holds
It seems like bookings at the Ballroom are about to reach critical mass, forcing Cordes to think critically about the future of her business. "One thing I learned in business school is that entrepreneurs have a hard time letting go, letting their business expand," says Cordes. "They tend to hold on too tight because they like to control everything."
At the beginning, she did every job you could have at the Ballroom, from bartending, to cooking, to serving, cleaning restrooms, and handing out programs. And she's still willing to jump in wherever she's needed. "The question is, where is that line where you start to expand but not expand too fast?" asks Cordes. "You can't hire a whole bunch of full-time people and then not have the business to support them. It's tricky."
The Ballroom currently relies on a part-time staff of about 25-30 people who get called in based on the needs of different events happening in the space. Cordes estimates that she works around 70 hours a week, depending on what's scheduled. Her full-time Operations Manager Larry Bowers has worked at the Ballroom for 35 years, since about the time the Cordes family purchased it from Herb Martinka.
"I try to find time for my personal life because I've got four kids. That was one of the biggest adjustments—going from being a stay-at-home mom," says Cordes, who has children age seven, nine, fifteen, and seventeen. "I would say I feel a fair amount of guilt about leaving them and not doing what I used to do. It's taken me a while to get over this because I was raised by a mother who stayed at home… Six nights of dinner theater means that one of us—Larry or I—is here from before the first person arrives until the last person goes home. It can be stressful, hard to have work-life balance," she adds.
However, personal attention seems to be just one of the many benefits of working with the Kato Ballroom. Cordes has heard many a horror story from brides about venues upcharging or being unresponsive. "We're not a big corporation," she says. "Basically, if you ask me, I can tell you yes or no." Because she handles all sales for the business, customers speak directly to her from the beginning and throughout their event. Another benefit? The Ballroom doesn't have a lot of hidden costs. "We're straight forward with what we charge for and there isn't going to be a nightmare surprise bill at the end," says Cordes.
Once events hit a crowd of about 400 people, there aren't a lot of venues in Mankato or the surrounding area that will do the trick. Spaces like the recently-opened Verizon Center will get the job done, but don't have the same charm of a historic space like the Kato Ballroom. "It's not a hotel, it's not cookie cutter," says Cordes. "It's got a certain look. Now, that might not be the look that every single person is looking for, but it's unique and a lot of people really love the retro thing."
Best of all, Cordes focuses more on building authentic relationships than pushing the hard sell, which is important when you're operating in a tight-knit community like Mankato. "I can only sell what I really believe in," she says. "I can tell a bride why this is the best place to have their wedding. But that's because I really believe it." With her solid background in business, and infectious enthusiasm for event planning, Cordes is on track to restoring the Kato Ballroom to its former glory—and then some.
---
A Legendary History
Just a few of the hundreds of entertainers who have played at the Kato Ballroom:
Bobby Vee
Buddy Holly
Chubby Checker
Glenn Miller
Jerry Lee Lewis
Johnny Cash
Lawrence Welk
Louis Armstrong
The Beach Boys
The Everly Brothers
Bandwagon at the Ballroom
On the first Monday of every month, the Kato Ballroom hosts the KEYC News 12 Bandwagon Show. Doors open at 5:30 p.m. for a night of old time music and dancing from 6:30 to 9:30. An $8 cover charge will get you in and drinks, sandwiches, and snacks are available for purchase.
Kato Ballroom Spaces
Main Ballroom, maximum occupancy 1,686 — Built in 1946 and rebuilt in 1954, the Main Ballroom boasts three bars and the second largest dance floor in all of Minnesota. Perfect for weddings, corporate holiday parties, bands, and theatre performances.
Banquet Room, maximum occupancy 186 — Added in the early nineties with its own dance floor, bar, coat check, and entrance off the back parking lot, the Banquet Room can be used for a separate event while the Main Ballroom is in use. Ideal for corporate trainings, seminars, and smaller weddings.
Rehearsal Room, maximum occupancy 75 — This small room is off to the side of the Main Ballroom and can be used as overflow area or for parties under 100 people.
New Floor, Same Great Feel
In 2009, flooding caused water damage that forced Kato Ballroom owners to replace the original dance floor. After reportedly burning up four saw blades cutting the hard maple floor out, workers stumbled upon a well-preserved pack of Lucky Strike cigarettes left behind by the original floor layers. Over 7,500 square feet of new sub-floor and tongue-in-groove maple was put in, and the dancers kept on dancing.
The Essentials
Kato Ballroom
Address: 200 Chestnut Street, Mankato, Minnesota
Web: katoballroom.com
Facebook: The Kato Entertainment Center