Connect TV is produced with True Facade Pictures | Photos by Kris Kathmann
The Shape of Success
The Silhouette put the small town of Easton on the map…and on many wedding planner's itineraries.
The U.S. wedding industry hit the $72 billion revenue mark in 2016. Good news for the 300,000-plus wedding vendors operating in the United States. That industry's far reaching impact could even be felt in the small southern Minnesota town of Easton. Population 199.
It may seem an unlikely spot for a company, a retail store in fact, that attracts customers from all over the Midwest. According to data gathered by the U.S. Census Bureau in 2010, the city has a total area of 0.93 square miles, and right in the middle of it all, The Silhouette. The Silhouette has been serving wedding parties, prom goers, formal affairs, and other special occasions for almost four decades. Even though the town hasn't grown in that time, the business, now owned and operated by Joline Pearson, has seen steady growth over the years.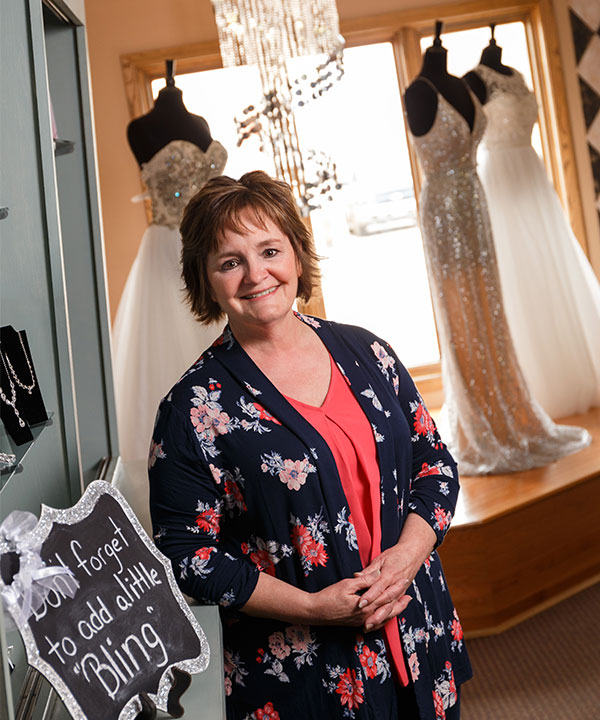 "The Silhouette is a family-owned bridal store that has been in business since 1981. My mom, Lois, started the business on our family farm, just outside of Wells," explains Pearson. "In 1987, we built an establishment in Easton, which is where we are still located today. But since that time, we have added on to our store and now cover 5,000 square feet."
At five thousand square feet it is the "centerpiece" of the town, surrounded only by a handful of other businesses including The State Bank of Easton, a U.S. Post Office, Loonan Insurance, Al's Bar, The Look Salon, Club 569 (supper club), Swehla Trucking, Little Pumper, along with two churches.
When people make the journey to Easton, driving past fields on country roads, they find it an unlikely spot for such a glamorous business. One of the first things they ask is, "Why Easton?"
"My mom chose Easton because our family is a member of the church here in town," says Pearson, who grew up in nearby Wells. "And we have stayed here because it is endearing to many. We believe that many brides seek the 'small-town' service. Because we are a specialty store, people will travel from many different areas to see what we have to offer."
They offer bridal gowns, bridesmaid dresses, prom dresses, mother of the wedding or special occasion dresses, as well as tuxedo rentals.
"Over the past two and a half decades our selection has evolved to become the region's best," says Pearson. "My sister Linda Johnson and I attend the Chicago Bridal Market each fall and meet with our manufacturer reps to see what's new for the upcoming year. Together we select the styles we feel will be most sought after in the Midwest."
Being fashion forward and following those trends, though, was just one challenge Pearson faced when she took over the operations.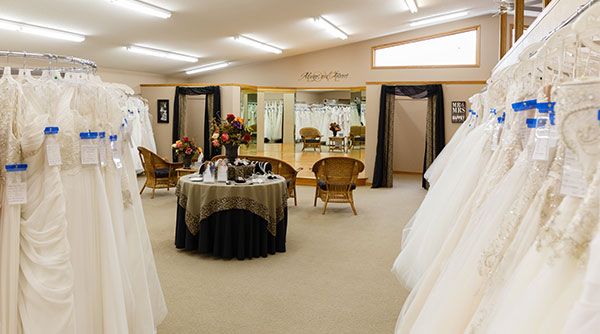 Pearson says, "I had to learn what price ranges, styles, and sizes work for the women in our area. I also do all of my own bookwork, so I had to educate myself on the accounting side of the business as well. When The Silhouette became well-known, we were in need of more space so we had to expand the store and inventory size."
While their store is massive in size, so is their web presence. Enabling The Silhouette to have an international presence.
"We outfitted a bride in North Africa," she says. "Her sister, who communicated through technology, picked the dress for the bride and delivered it to her prior to her wedding day."
Pearson says technology has opened many doors for the business, making its location virtually a nonfactor in business dealings.
"We have seen a tremendous amount of interaction on social media platforms such as Facebook and Instagram, which has helped expand our service area," she explains.
In fact, a 2016 American Wedding Study shows social media is the number-one way brides-to-be are connecting with wedding brands and products during planning, with 82% doing so versus 75% in 2014. A deeper dive into the stats shows 33% of brides are connecting with brands and products through Instagram.
Even with the technological tools of the trade, Pearson says there is no replacing the good old fashioned methods of promotion.
"We attend five bridal expos throughout the year. This notifies newly engaged brides about us and allows us to share our story with them," she says.
And, as with any retail business, The Silhouette relies on word of mouth.
"We believe The Silhouette has a well-known reputation because we try to ensure that each bride's experience is memorable in the most positive way. We listen to our customers' needs and wants and do our best to accommodate them. We often find women who have purchased prom dresses from us return for their bridal needs. Many of the brides we are servicing now are daughters of women who purchased their wedding gowns from us decades ago. We also have provided the formal wear for numerous members of the same family. We truly appreciate the customer loyalty we have generated over the years."
Creating loyalty is by design for Pearson and her staff as she says the high quality doesn't stop with the formal wear she sells.
"The Silhouette stands out from other stores because of our top-notch service, huge selection of styles and sizes, and years of experience, which is longer than all of the nearest competitors combined," she explains. "Our philosophy is to provide the above average level of service to create a positive emotional impact on the customer. Our reputation is our integrity and we do not compromise it."
While competitors in nearby, larger cities keep popping up, Pearson believes prom goers and brides to be will continue to make the trek to Easton, as they have done for the last 30 years landing The Silhouette on WCCO's top five bridal shops in Minnesota.
"The Silhouette sets itself apart from other competitors because we strive to provide exceptional service. The staff here also tries to be as caring and understanding as possible; each woman's story is different, and we want them to feel welcome and comfortable in our store. Because of our years of experience, I believe our knowledge of the bridal industry shines above all others. The Silhouette has built a well-known reputation for being a one-stop shop that also offers free alternations."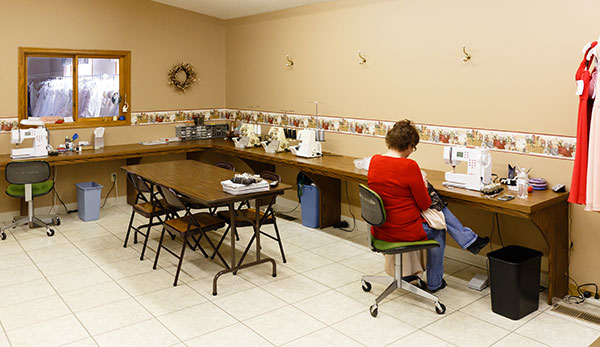 Pearson says The Silhouette can handle the ups and downs of the economy because people will always be getting married and attending prom…and many know where to go.
She says, "Many girls who have purchased a prom dress from The Silhouette have come back for their wedding needs-bridal, bridesmaids, mother of the wedding dresses and tuxedos-as well! We appreciate them all!"
---
Family at the Heart of the Operation
Pearson reflects, "Family reputation of strong values and work ethic early on gave people the confidence to come to the store initially, and I have strived to continue with the strong values and ethics for the customer to help them realize The Silhouette is the place to go for unparalleled service. I am keeping up my mother's legacy."
What did you learn from your mom?
"So much! I learned how to sew, positive attitude, striving to do anything I set my mind to. Always stay humble and kind toward people. Be honest, have integrity, and keep your word."
Prom Particulars
A recent study by Visa looked at how much U.S. households are spending on that most American of events — the prom.
Average spending in preparation for the annual ritual will hit $1,139 this year, Visa said, about $130 more than in 2012.
Households making less than $50,000 a year plan on spending almost 10% more than the national average.
Single parents plan on spending an average of $1,563, about 37% above the national average.
Married parents plan to spend just $770, one-third less than the national average.
On average, the most frugal families, prom-wise, are in the Midwest, and the biggest spenders in the Northeast.
Wedding Dress Deep Dive
According to the study, in true millennial style, today's brides are focused on making the wedding more enjoyable and meaningful for all involved. One way they are doing that is moving away from requiring bridesmaids to wear the exact same dress. In the study, 66% of brides only picked the color, allowing the bridesmaids to pick their own dress.
Other info from the study:
The average cost of a wedding dress is $1,517, up from $1,380 in 2014.
The average bridesmaids' dress costs $133.
Traditional white and off-white gowns are still the most popular, with 93% of brides selecting either color for their wedding dress.

However, more brides are looking to make a

splash by wearing something non-traditional

, with 11% opting for something "unique" (i.e., cocktail length, separates, jumpsuits, non-white).

About half, 54%, of all brides choose to wear a veil.
Selecting multiple dresses for the big day is a trend that continues to rise in popularity, with 10% purchasing a second look for the reception and another 7% for a separate dress for the after-party.
Source: The Knot
The Private Side of Pearson
"I grew up on a farm outside of Wells, Minnesota with my parents and six siblings. I graduated from Wells-Easton High School. Together my husband and I had two children and from them, four grandchildren. In my free time, I enjoy the outdoors, a relaxing bonfire, and spending time with my family and friends.
"My husband passed away in 2010 from Pancreatic Cancer. Since that time, we have proudly supported the Pancreatic Cancer Action Network. Right away a few members of my family, friends, and I started doing the 8-mile bike ride. Following the first year, we then decided that we would do 25 miles! We proudly support the PurpleRide each year and their cause of earning funds towards pancreatic cancer research."
About the Pancreatic Cancer Action Network
Founded in 1999, the Pancreatic Cancer Action Network (PanCAN) is dedicated to fighting what it refers to as the world's toughest cancer. In its mission to save lives, the group attacks pancreatic cancer on all fronts: research, clinical initiatives, patient services and advocacy. The effort is amplified by a nationwide network of grassroots support. The Pancreatic Action Network is a determined group. In fact they hope to double the survival rate by 2020.
To join their cause or for more information, please visit www.pancan.org.
Trends for Men's Formal Wear
Tuxedos remain the most popular style for grooms, with 54% of men wearing one for their big day. Another 36% opt for a suit instead.
While renting remains the most popular option (51%), 41% now purchase their formalwear (up from 36% in 2014).
Sources Bride.com and The Knot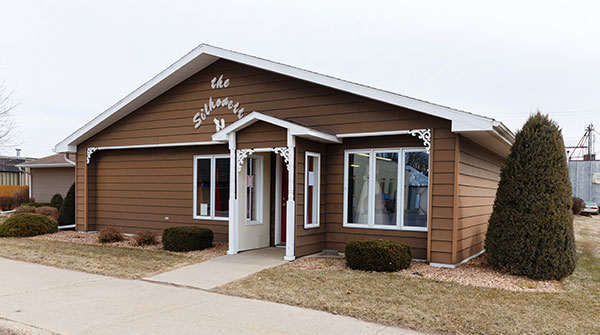 The Essentials
The Silhouette
Address: 55 Main Street, Easton, Minnesota
Phone: (507) 787-2211
Web: silhouettewedding.com