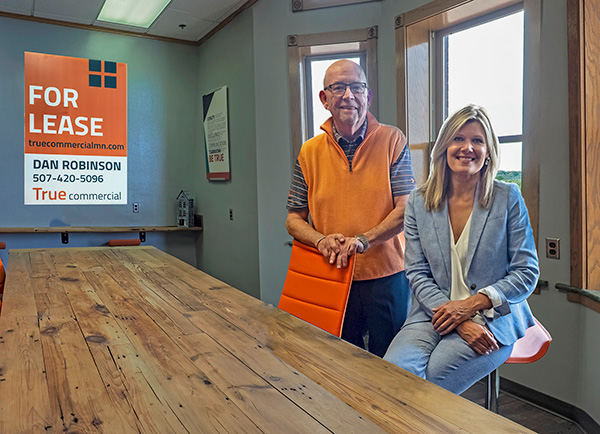 Photo by Art Sidner
Mankato – True Commercial
If there's one thing that is evident about Jen True, it's that she has a definite growth mindset.
"After 15 years as a local residential sales agent, I decided to open a boutique real estate brokerage called True Real Estate. After just 2.5 years in operation we have satellite offices in Henderson, Lake Crystal, and Saint Peter," she says.
When the opportunity arose to add commercial to her portfolio of business, she was intrigued.
"I decided to open True Commercial after George Massad and Bruce Tanhoff arranged an introduction to Dan Robinson," she explains. "Dan came on board when True Commercial was formed in January of 2018. Dan is a veteran in the business and helps oversee our Commercial division with training meetings and mentoring of our commercial agents at True. When we first met and discussed the opportunity of working together, I asked Dan if he was prepared to go back to school and obtain his Broker's license. He is doing just that. He is a wonderful addition to our team and I look at Dan Robinson as the face of True Commercial. He deserves a great deal of recognition for his involvement in our community and in our commercial real estate market. Dan brings experience and integrity to our office and I respect him greatly as a business man and friend."
And in January 2018, almost two years to the day after she created True Real Estate, True Commercial was born.
True Commercial offers sales, leasing and property management services throughout southern Minnesota with a focus on the Mankato, North Mankato and Saint Peter areas.
"The timing is right," True says. "I think our market was in need of a fresh approach to Commercial Real Estate. I look at competition and growth as a positive. It keeps the focus on providing excellent service to our clients."
True Commercial
Address: 112 South Riverfront Drive, Suite 122
Telephone: (507) 345-8783
Website: truecommercialmn.com