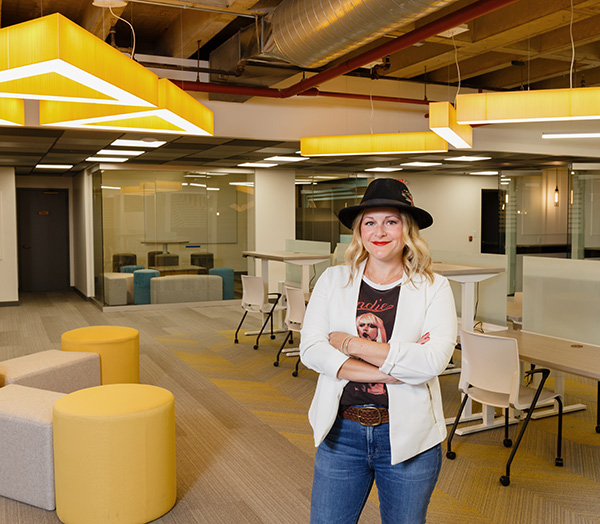 Photo: Kris Kathmann
Mankato – Mogwai Collaborative
The space is cool, the enthusiasm of the director is infectious and the concept behind Mogwai Collaborative is starting to catch on.
"We are not your run of the mill rentable office. We are a cool and inspiring atmosphere that you can use to come and work from for a day or monthly fee," explains Stephanie Braun, director of Mogwai. "Our day passes are $40 or monthly membership is $249 (that breaks down to about $8 a day). Our memberships are month to month so you are never tied down and we are always all inclusive."
Owner Dain Fisher opened Mogwai Collaborative in the lower level of the Hubbard Building in July. Already 10 businesses have become members, the goal is 48.
"We aim to provide an innovative, thriving and collaborative environment to meet the needs of the modern entrepreneur in our region," she explains. "There are many kinds of people who benefit from coworking. I have members that are millennials to retirees who are launching their own side business now. Typically, it breaks down into three categories: millennial, corporate partnerships and freelancers/home office/startups."
When building out the space, Mogwai was mindful of supporting others in Mankato.
"We used 17 local businesses to create our space," says Braun. "So when we say we are here to support local, we literally built our space on that motto.
"Also being located inside the Hubbard building gives us easy access to many resources. The Small Business Development Center is one floor above us. We have MSU's Strategic Partnerships and the Center for Innovation and Entrepreneurship, Social Butterfly, Bolton & Menk (who have a green screen video production here) Webytor, Pantheon Computers, Mankato Computer Repair (is coming this fall) and Belize Sotheby's International. So literally you can walk in the door, start working out of Mogwai Collaborative, go upstairs and meet with the SBDC for your business plan, hire your fresh talent from CIE, get your marketing done through Social Butterfly, build your website through Webytor, shoot a commercial on Bolten & Menk's green screen, have your lunch right outside at the HUB and then book a vacation through Belize Sotheby's International."
Mogwai Collaborative
424 N. Riverfront Drive, Mankato
310-922-1031
mogwaicollaborative.com