Farrell's eXtreme Bodyshaping, Mankato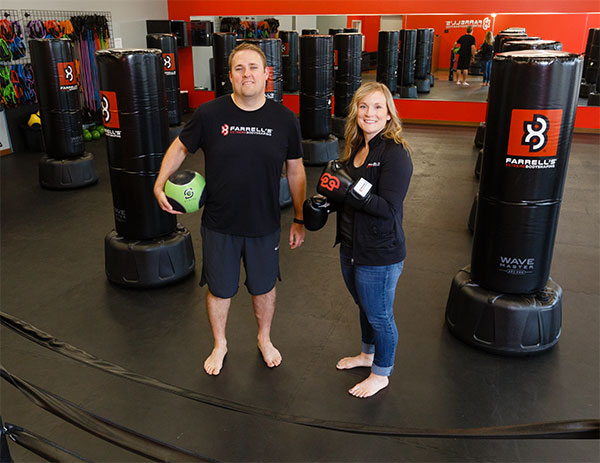 Photo: Kris Kathmann
Mankato – Farrell's eXtreme Bodyshaping
Jeremy and Jacque Whiteford met each other while attending college at Minnesota State University Moorhead. The two became partners in life, getting married, but didn't know at the time they would also become partners in business.
They were living in Denver, Colorado when they first came upon a Farrell's eXtreme Bodyshaping studio and it changed their lives. When the time came for them to move back closer to home in Minnesota, they knew it was their chance to own their own business. So they brought Farrell's with them.
"Mankato is a great spot for Farrell's because there was a gap here that Farrell's fills," explains Jacque. "There are some great fitness options in Mankato, but nothing that offers cardio kickboxing and strength training like Farrell's. Our students work hard together and hold each other accountable. Our students want each other to succeed and celebrate together when achievements are met. Mankato is such a great community. It has a lot to offer, but still holds a small-town feel, which we both appreciate and the Farrell's program thrives in that type of community."
The Farrell's program is built around 10-week classes. The Whiteford's began their first 10-week session in Mankato on May 12, 2018. And it's been growing ever since.
"We are much more than just another gym! Farrell's eXtreme Bodyshaping Mankato offers a unique program where we combine kickboxing with strength training and nutritional guidance, along with personalized coaching to help our students live life at Level 10," explains Jacque. "We try to help our students build confidence and create a healthy lifestyle and live life with power and purpose. We start every student with a 10-week challenge, where all students start on the same day and work hard together for 10 weeks. We build a community within our members and we all hold each other accountable to come to class every day and work hard. At the end of the 10 weeks, whichever student is the most transformed, they are awarded $1,000."
Farrell's eXtreme Bodyshaping
1170 South Riverfront Drive
Phone:  507-380-9624
Website:  mankatoriverfront.extremebodyshaping.com