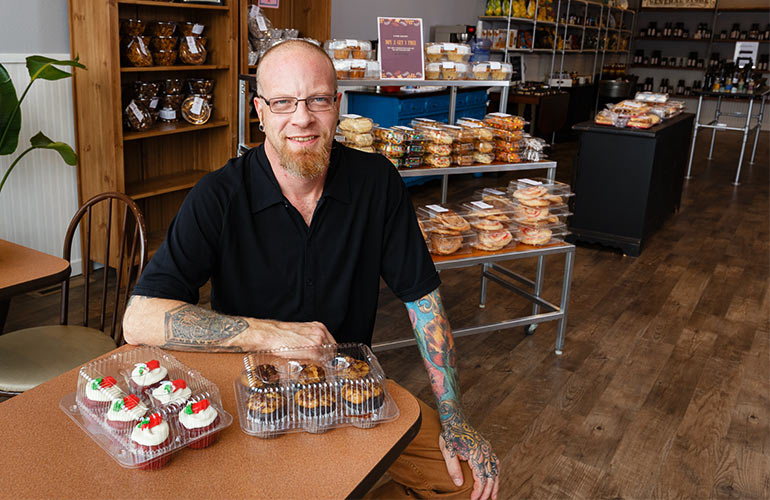 Photo: Kris Kathmann
North Mankato – 2 Pins Bakery
With the opening of 2 Pins Bakery, Tony Friesen has come full circle in a career that has spanned three decades.
"I've been in the baking industry for 30 years," he explains. "Starting in my father's shops, then at Hy-Vee and Friesen's, and finally now my own shop: 2 Pins Bakery."
2 Pins Bakery is a one-man show for Friesen. It opened in October on Belgrade Avenue in lower North Mankato. In his previous endeavors, he'll admit, he tried to do too much. Friesen is building on those lessons. 2 Pins allows him to focus solely on baking, his real love in the kitchen.
"We have many daily items, but special orders are my passion," he says. "Cake decorating excites me more than anything. From birthday cakes and weddings to office party treats likes cookies and muffins, if it's baking I'm all about it. 2 Pins is also allowing me to make amazing candies, snacks and breads."
While he is perfectly comfortable navigating recipes in a kitchen, he says running a business solo has been a bit of a learning curve.
"Things have been very exciting from the start," he says. "Figuring out how to run a shop solo may have had some initial challenges, but I'm realizing it is allowing me more time to focus on community development projects that I participate in, which is super rewarding."
Community is another passion for Friesen.
"The last year has been a whirlwind of changes for me and I can honestly say I am so happy with where I have landed, and that is thanks to my amazing community and their support," he says.
Friesen says the move to North Mankato's Belgrade Avenue allows him to continue to be creative in his offerings and to continue collaborating with businesses around him in his new neighborhood.
"I am very excited to have partnered with Arizona Olive Oil in Lower North Mankato," he says. "Coming across the river for me was super exciting, to be joining with all the excitement happening on Belgrade. This all just feels right."
2 Pins Bakery
237 Belgrade Avenue
Phone: 507-469-4850
Facebook: 2 Pins Bakery, by Tony Friesen