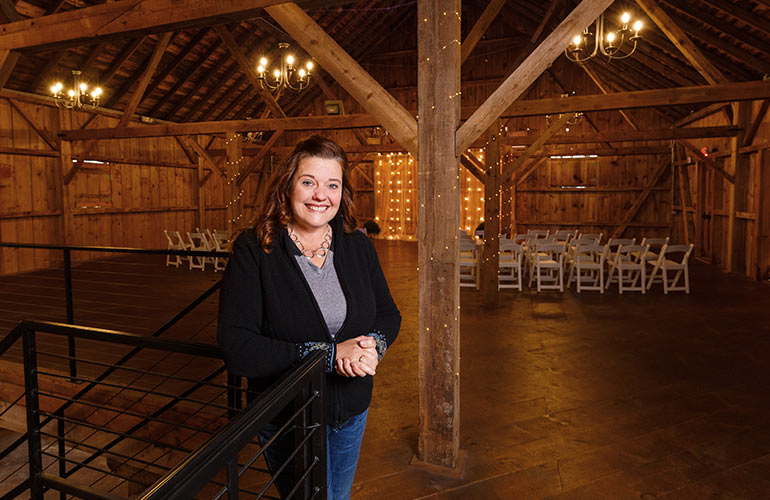 Photo: Kris Kathmann
Waldorf – JR's Barn
To some, the old, almost-burned-down barn looked like something that needed to be leveled and taken away. But Joel and Renae Groskreutz saw something else.
"It was a vision that God laid on my heart," says Renae. "For the barn to be a place for laughter and for memories to be made. That is when we decided to revamp not only the barn but the entire yard. JR's Barn does not only offer a barn but an outdoor beautiful location for weddings or just a place to have an amazing time together. Our intent is to bring joy and life to our community by offering a beautiful event farm for all ages to enjoy including weddings, family gatherings, proms, school reunions, and other events."
The Groskreutz's started renovating the barn in January of 2017 and held their first wedding in July. The venue is located just outside Waldorf, Minnesota, about a 30 minute drive from Mankato.
So far Renae says, JR's Barn has proven to be popular.
"We are so thankful for all of our wonderful couples that choose us," says Renae. "It is always so fun to see how unique every couple is. As well as hosting family reunions and proms! Overall our goal is not to 'make the dollar bills,' but to help each couple to have the day of their dreams."
The family is already making plans for more improvements and added amenities in the near future.
"We will be adding a heating source for early spring and late fall events. Expanding our time range is important as we are an original 1912 barn. Adding heaters will allow our guests to be comfortable," explains Renae. "We also are excited to be converting the corn crib into "Corn Crib Chapel" as an alternative for rainy weather. And we are looking forward to providing a Courtesy Shuttle Service that will allow couples to not worry about making it back to their hotel."
JR's Barn
21573 45th Street
Phone: 507-327-7047
Website: jrsbarn.com