BPOY Award
Nominations for the 14th Annual Business Person of the Year award are CLOSED
Nominate a colleague and see them featured on the cover of Connect Business Magazine's January 2017 issue. All nominations are confidential.
IT'S EASY TO NOMINATE!
Fill out the entry form below by September 30, 2016. Three important rules: You can't nominate yourself; the nominated person must work and live in either Blue Earth, Le Sueur, Martin, Brown, Watonwan, Waseca, Faribault, Sibley or Nicollet County; and the nominated person must not have appeared in a major Connect Business Magazine feature from 2014-16.
How the winners are selected
Connect Business Magazine will learn more about the nominees, and forward the information on to our judges, who are Minnesota State University business professors. Each judge will have up to three votes: five points will be awarded for their first choice, three for second, and one for third. The top vote-getter will appear on our January 2017 cover, and the two runners-up will appear inside the magazine. Judges will take into consideration the person's character, leadership abilities, community involvement, and business results. Business persons from any business — large or small, profit or nonprofit, large town or small — are eligible.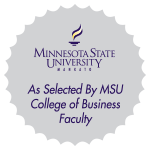 Previous Winners:
2017: Todd Reiman – MTU Onsite Energy
2016: Tom Ahern – Capstone/Coughlan Companies
2015: Steve VanRoekel – Ridley
2014: Mike Pinske – AmeriCare Mobility Van
2013: Wayne Kahler – Kahler Automation
2012: Dan & Angie Bastian – Angie's Kettle Corn
2011: John Roise – Lindsay Window & Door
2010: Pamela J. Year – MRCI
2009: John Finke – HickoryTech
2008: Jeff Thom – All American Foods
2007: Roxie Mell-Brandts – Jensen Transport
2006: Bob Weerts – Blue Valley Sod
2005: Milt Toratti – Riverbend Center for Enterprise Facilitation