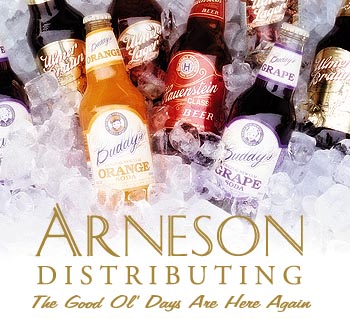 This story is a condensed version from Connect Business Magazine.
Al and Rae Ann Arneson seek their vision of the future where others rarely look – in the past.
They've dusted off historic labels and rescued long-lost recipes, freshening the tastes of thousands. Their searches led to 1919 Root Beer, Buddy's Orange, Buddy's Grape and Ulmer beers. Now they're returning Hauenstein beer to New Ulm, where it was brewed until the company folded in 1972. "We're bringing products back from years gone by, good products," Al said. "We're bringing back memories." Rae Ann adds that "what's fun about the products we sell is that good memories get better over the years. We're making good memories better."
When they bought a Grain Belt distributorship in Sleepy Eye 25 years ago and formed Arneson Distributing Co., they were one of Minnesota's smallest wholesalers. By their own admission, they are still one of the state's smallest, but their diligence, patience and sense of what's right for the market keeps their company thriving and their product line expanding.
It's all been accomplished through intricate relationships with other wholesalers, small retailers, breweries, brewery personnel and especially with the August Schell Brewing Co. in New Ulm, one of the most respected names in small-market brewing.
Ulmer Lager emerged from those discussions, brewed by Schell's under the Ulmer Brewing Co. label. It was the first joint venture with Schell's and the Marti family. "It's a very upscale beer, a nice full flavor," Al said. "They make the beer, we do all the marketing and distribution."
That beer opened new doors for the Arnesons. They not only distributed it to their own retail customers, but to other beer wholesalers across the state. It's a path they've been following ever since. "Over the years, I think where we've been successful is we've developed a positive rapport and reputation with hundreds of people in many facets of the industry. Distribution is the key. No matter how good your product is, if you can't get it to people, it won't sell," Rae Ann said.
Schell's and the Arnesons then introduced Ulmer Braun, their original brown beer, after Al noticed the acceptance of similar dark beers, Beck's and St. Pauli Girl. "We thought let's try this, so Schell's came up with the recipe," Rae Ann said. "Ulmer Braun is unique and a great beer with food."
She describes Al as "a pensive, thoughtful thinker," so it's not difficult to imagine him poking around in the Brown County Museum, studying newspaper articles which chronicled how breweries survived Prohibition by making candies, elixirs, soft drinks and near-beer. "Schell's had made a really good root beer during Prohibition, a true draft root beer, and Al asked if they'd make one for us," Rae Ann said. "They said they'd give it a try."
Thus was born 1919 Root Beer, named for the beginning year of Prohibition and introduced during New Ulm's 1985 Heritagefest celebration. "The first reactions were terrific. We knew we had a success in terms of quality and taste," Rae Ann said. "It was such a different concept, a true draft root beer that had to be put in a keg. It took off much faster than we thought."
1919 is unique because it's a draft root beer, and can't be canned or bottled without changing the recipe. It must be tapped from a keg like beer. "It's made with real granulated sugar, real vanilla, with a unique recipe, and that gives it its unique character and flavor," Rae Ann said. "But it costs a lot more and it's more labor-intensive."
Selling a product that needed to be served from a keg presented a challenge. "There are only so many tap lines in an establishment, so asking a retailer to take out a beer and put in root beer is kind of hard," Rae Ann said. Nonetheless, 1919 has found its way into restaurants, bars and Legion clubs. It's also served at special community events, from church picnics to state fairs. Supermarkets and liquor stores keep kegs on tap so customers can take home half-gallon and gallon jugs. "It's always fresh and cold. But the frustration and beauty of this is you have to drink it now, not the next day, because it loses its carbonation. Good retailers realize what a unique and special product 1919 is. Customers have to come into their establishment to enjoy it."
After the success of 1919, the Arnesons began thinking about the Prohibition-era orange drink made by Hauenstein. "I talked to a couple of former Hauenstein employees who gave me a bottle of the 'beginning extract' for it," Al said. That was in 1989. In 1992, the Arnesons launched Buddy's Orange.
With the bottle of extract in hand, Arneson tracked down the "flavor house" which produced it. (A flavor house mixes "beginning extracts," which serve as the basis for a drink's formula or recipe.) "They were still in business," Al said. Better yet, they had Hauenstein's recipes and records.
When the orange soda, also bottled for the Arnesons by Schell's, was ready, "we agonized and agonized over a name for it," Rae Ann said. They were ready to name it Rascal's, but a trademark search revealed another soft drink called "Razcal's," with a "z" instead of an "s." On the way home from a trade show in Wisconsin, "we kept rattling off names. I said 'how about Buddy's?' Al wasn't sure. But three days later, he agreed."
Four years later, in 1996, the Arnesons put Buddy's Grape on the market. It's another Hauenstein recipe, it's another success and it may not be the last word in soft drinks from the Arnesons. "We may be coming with another flavor or two," Rae Ann predicted.
But right now, the Arnesons have another a venture that's stirring a lot of nostalgia and more good memories in the New Ulm area. In 1996, after years of trying, they bought the Hauenstein label from G. Heileman Brewing Co. of LaCrosse, WI. It had been absent from New Ulm since the brewery closed its doors in 1972 and sold its name to Grain Belt, which continued to brew it in St. Paul. (Heileman's acquired the label when it bought Grain Belt.)
"We did it for two reasons," Al said. One was to protect the Hauenstein recipes they'd found at the flavor house. "The other was because Hauenstein always was a good beer. It had a good following. I said we should preserve it, we should bring it back to New Ulm," he said.
The Arnesons still "go slow," according to Rae Ann. "We get lots of calls from wholesalers interested in handling 1919 Root Beer. We weigh each one and decide if it's an area we want to go into. How would we deliver the product? Do we have enough kegs? Every time we expand, we have to buy more kegs and other expenses increase proportionately."
To minimize complicated licensing and legal requirements, the Arnesons have confined their growth in beer sales to Minnesota but are establishing a small foothold in Wisconsin. They've resisted the temptation to hire glitzy advertising agencies, sophisticated marketing companies and hi-tech laboratories. "If we were to have all that done, we might not have made a go of it," Rae Ann said.
Employees and good friends serve as taste-testers. Rae Ann writes the copy for newspaper and radio ads, table tents, tags, flyers and banners. She sketches the designs for packaging, which are then fine-tuned by a labeling company in Wisconsin.
"We love the marketing and advertising part," she said. "We plug along and do it all on our own. We want the package to correlate with the product. We make the package look like it's from a small brewery. (Which it is, of course.) We are what we say we are – small." That remark may be directed at big breweries and pop-factory copycats which produce specialty beers and so-called "old-fashioned" sodas and attempt to convey an impression the products are made by a small brewery.
By looking backward to find their future, the Arnesons seem to be industry leaders. "That's what people are doing now. Even Budweiser is bringing back beers they had years ago. What we have been doing all along, others are starting to do now," Rae Ann said.
©1997 Connect Business Magazine