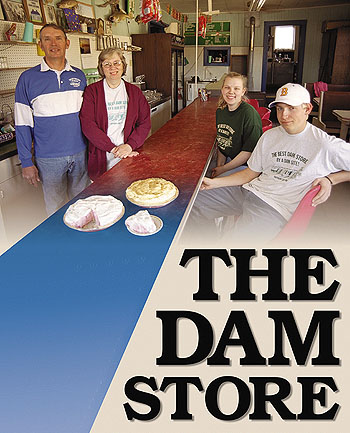 Photo by Kris Kathmann
Jim Hruska leaned across a table in his cafe replete with mounted walleye and tacked-up Polaroids of fishermen, and he smiled. Glancing over at his wife, Linda, he said, "Sure we work long hours, from seven in the morning until nine at night, seven days a week." When most small business owners would have burned out in months with such a demanding schedule, the Hruskas have lasted 27 years quite nicely. It's all in how they do it.
They bought The Dam Store near Rapidan Dam, which holds back the Blue Earth River five miles southwest of Mankato, from Al Sween in 1972. It's the oldest bait shop and cafe in southern Minnesota, Jim claimed, having begun the year after the dam opened in 1910.
Linda said, "My daughter, Jenny, and I, are usually here most of the time, but sometimes we switch off. That's when I go home, take a nap or wash the clothes and she works." She pivoted towards Jim and they smiled at each other. "I'm here before seven in the morning," said Jim as he turned away from Linda towards the cash register, "to put the money in the till, and start the coffee. I check the minnow tanks. About nine every morning I head into Mankato for fresh hamburger and buns. On the way I pick up pies from the lady who makes them for us. Then to the bank. I'm back by eleven to help with lunch rush." Large groups from places like Old Main Retirement Village keep them busy. "They are the nicest ladies," he said. While Linda washes dishes, Jim restocks the cooler, buses dishes and takes orders.
All this probably seems like the same daily routine many small business owners face. But the Hruskas, especially Jim, have broken the daily grind by successfully merging their business with a hobby. Jim was a river rat from way back, paddling and fishing and hunting the Blue Earth River as a child in South Bend Township. Even then he knew the stretch of river from the Dam to Mankato better than anyone. It's in his blood.
At 59, he spends two days a week "seining" minnows in private sloughs and creeks all over southern Minnesota, and then he sells the minnows as bait. The locations are a strict secret. His minnow seine, which is a net, is 50 ft. long by 6 ft. high. He wears chest waders. Back in 1972, they learned they could make more profit by catching their own bait rather than buying it for resale. "After 27 years I pretty much know where the minnows are," Jim said. He has begun highlighting the sites on a map so his son, David, who will inherit the cafe along with Jenny, can find them. Jim travels 80 miles east, and as far west as Marshall for minnows.
They operate the cafe only from April 1 through late November, after which Linda "crashes" for a month while Jim goes on extended hunting trips for deer, quail, and muskrat. They need the four-month respite. His favorite trip each year is to the Ochlocknee Plantation in Georgia where he mingles with such stars as Larry Hagman, the Mandrells, the co-star on Walker Texas Ranger, baseball's Bobby Cox and Ray Knight, and even a former Miss America. Many guests have personal jets. Entertainment has even included a live concert from the Oak Ridge Boys.
"I'm like a guide. I help people hunt down there," he said. "I work for free at the Plantation, just to be there, otherwise I couldn't afford it." He takes tips, sometimes rather hefty ones, and loves gabbing with former New York Yankee Bobby Richardson, who autographed his poster and cap of Rapidan Dam.
"I'm driving this Jeep and these four guys are in their captain's chairs behind me," he said with a wink, describing the average guest, "two are hunting quail, two are on the phone. One guy says to the others: 'We just closed on a big peanut deal with Smuckers, Planters and Hershey's.' This guy is talking millions of tons of peanuts." The group shot about four hundred quail that day at $7.50 apiece, Jim said, and their hotel charge was $300 each. That's $4,200 in one day for four and "it didn't even count food and drink."
Sometimes the Blue Earth River itself breaks the grind. One Sunday in the late '70s a man in an inner tube was caught in dangerous undercurrent below the dam. Jim grabbed a 100 ft. anchor rope and boat cushion, and saved the man's life. As it turned out, the man was a paramedic and skilled swimmer from Fairmont who was deeply embarrassed by his predicament.
Another time a biker knocked on the cafe door at 11:00 P.M. His buddy had broken a leg by the water below the dam. Jim called police and ran towards him. "He was in shock," Jim said. "The river was very high. The rescue squad prepped him, but couldn't get him up the steep hillside." Jim carried his canoe to the site and had to float the biker in total darkness at 1:00 A.M. to a waiting ambulance down river. "With all the air bags around his wound, if we had tipped over his head would have sunk like a rock.
How The Dam Thing Started
One day while in grade school, Jim was catching his share of walleye below Rapidan Dam. Even then he was an avid hunter and fisherman. On his way home, with the walleyes flung over his bike handlebars, a couple of men who'd seemed impressed with his catch, asked Jim to go fishing with them the next day. As it turned out, one of them owned the Kautzky fishing lure company, makers of the Lazy Ike. When Jim graduated from high school in Mankato years later, the Lazy Ike maker offered him a job. He accepted, and relocated to Fort Dodge, Iowa.
"I worked there a year, but moved on to a packing house in Fort Dodge called Gus Glaser Meats," said Jim. "I worked there ten years before it went bankrupt." The packing house paid six times Jim's salary at Kautzky's. With the extra money, he travelled to Florida each winter to fish with a friend, Jack Black, whom he'd met while fishing on the Blue Earth River.
Along the way, Jim met Linda through her brother, who also worked at Gus Glaser Meats. She was a secretary in Fort Dodge. And they married in 1968. "When we found out Gus Glaser was closing down, which was about 1971," Linda said, "we knew we had to find something else fast." The Dam Store, which was five miles southwest of Mankato next to the Rapidan Dam, was up for sale. Jim's mother, Gen, wanted her son nearer home, and Jim wanted nearer the Blue Earth River for the fishing. Gen promised to show them how to make her specialty: hamburgers. "We were coming up here every weekend from Fort Dodge for fishing anyway," said Linda. At the time, Jim was 31, Linda, 26.
From working at the old Junction Inn, Green Gables, and the Hilltop Tavern – a place known for its hamburgers – Gen had the experience the young Hruskas needed. "We didn't know one thing about the food business," said Jim, shaking his head. They purchased The Dam Store in 1972 from Al Sween, who had operated it the year before with his brother, Adrian. Al retained control of the campgrounds behind the cafe, and asked the Hruskas to manage it for a cut of the gross. Their first day, before the deal was even settled, the Sweens had them collecting money at the gate.
The cafe needed lots of work. The Hruskas quickly added indoor plumbing, restrooms, and a septic system that eliminated two outhouses. A bedroom was renovated into the current kitchen, and the dish sink was removed from the dining area. The Hruskas promptly moved the bait outside and made other repairs as well.
And Jim was making repairs in a hurry. "Linda, my mother, my sister and her husband all said they would help me ready the store so I could make the fishing opener, something that I'd never missed," he said. "We had everything ready Friday so I took off fishing. On Sunday night, when I came back, they were all dead tired and out of everything. We hadn't known what business would be like for the opener." That was Jim's last fishing opener, and he has missed them all since.
Early on they were commuting in from Mankato every day, and disliking like the drive. When the house next to The Dam Store came up for sale that summer, the Hruskas made the highest bid by $7,000. "We wanted it real bad," said Jim, referring to the sealed bid. The Adrian Sween family had lived there, and before them were the damkeepers.
One raucous event occurred "about 1975 or 1976," said Jim while massaging his forehead as if he were hoping the memory would go away. It was Rockfest, or called something like that, he said, and it was 10,000 young people tanked up on alcohol and drugs and grooving to rock 'n roll at Rapidan Dam. It was the "Woodstock" of southern Minnesota. One drunk mowed down four people in The Dam Store parking area, and Jim provided first aid. They couldn't sell beer fast enough. "We were open 24 hours a day for four days," he said. Traffic coming in from the west often stretched the mile to US 169. On the last night they had to turn away angry beer drinkers, who wanted yet more brew for the road. "But I wasn't about to do that," Jim remembered.
Rapidan Township ended it all when they passed an ordinance requiring a doctor for every 1,000 people at special events, and a nurse for every 500. The Hruskas were happy to see the event go, even though they'd made more profit in one weekend than what they normally would have made in three months.
What If The Dam Breaks?
How do they keep treading water through adversity?
"I guess we'll have to get a new name if they tear down the dam," said Linda with a slight shrug of shoulders and a smile. Tearing down the dam has been proposed, but Jim doesn't think it will ever happen. "They can't let all that silt go that's backed up behind the dam," he said. "They spent all that money cleaning up the Minnesota River and they aren't going to allow tons and tons of silt to flow into it. It's a 70-foot dam. The water is 20-foot deep. You have 50-foot of silt that has been accumulating since 1910."
Many people thought the new bridge, which spans the Blue Earth River and routed traffic away from The Dam Store starting in 1985, might hurt their business. But it has actually helped. "Now it's a dead-end road and safer for kids," said Jim, "and people can see us from the road anyway." Then many of the same naysayers said they might lose business after ending cigarette sales because of their fear of selling to minors, or when they ended beer sales because they feared a lawsuit. At the end of last year, due to government regulations, the Hruskas had to end gas sales at their two pumps. It would have cost them $20,000 to meet government standards. None of it has put much of a dent in their business, though.
Now the naysayers are forecasting doom if their pie lady ever stops making The Dam Store's scrumptious pies. (She's referred to as the "pie lady" here because she doesn't want the attention a Connect Business Magazine story would bring.) "Her pies are twice as good as [a well-known Mankato restaurant] and half the price," Jim said, who has bought pies from her for resale since 1984.
"She's so special and has so much energy," said Linda with a sigh that said she doesn't understand how her octogenarian friend could do it all. "Everything is fresh every day." After major surgery last summer, the Hruskas wondered whether their pie lady was done for good. A month later she was back at it. When she can't bake because of a previous commitment, Linda and Jenny do it for her according to recipe. Linda said, "We can follow the recipe, but nobody makes a pie crust like her. And she can work circles around three 50-year-olds." The pie lady bakes four to thirteen pies a day, and caramel rolls and cookies too.
More than a few well-known people have enjoyed "Dam Pie" over the years. Guestbook signees since 1994 include Jon Rippke, Maureen Gustafson, five Blue Earth County Commissioners, Brad Peterson, Pete Steiner, Don Amiot, Denny Maas, Bill Bassett, Eldon and Helen Jones, Marian Anderson, and Jack McGowan. Gov. Perpich showed up once, and so did the Pillsbury Marketing Team. Every Secretary's Day, said Jim, Curt Fisher jet boats his office secretaries up the Blue Earth River for the anonymous pie lady's Dam Pie.
©1999 Connect Business Magazine