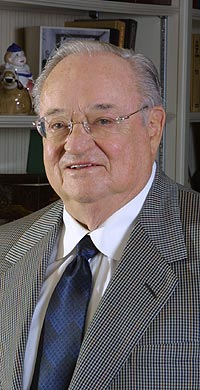 Photo of Lowell Andreas by Kris Kathmann
Lowell Andreas helped cultivate Archer Daniels Midland Company into a $22 billion corporate wonder, and he did it by using the ol' bean.
At 80, he's an American business icon. In 1947, he and brother Dwayne purchased a little soybean processing plant in Mankato, renamed it Honeymead, and rehabbed it into the nation's largest soybean plant of its type before selling out in the 1960s. Their success story could have ended there, with Lowell basking on a Florida beach, sipping iced tea through a bent straw, and playing endless rounds of golf on Bermuda grass. But it didn't: he and Dwayne would invest their cash to reinvent American agriculture.
Soon after they sold Honeymead and formed National City Bank in Minneapolis, the Andreas brothers were presented with the offer of a lifetime: join Archer Daniels Midland to manage the company and have the opportunity to buy a sizeable block of stock at a reasonable price. They embraced ADM's deal, and within a year Lowell would be its president. At the helm only six years, he retired at age 50, though he would leave his handprint on the organization through 1999 as a board member. Today, as "Director Emeritus" and a seasonal West Mankato resident, he maintains an office at the company's Mankato soybean processing facility, one of 350 ADM plants worldwide.
The Andreas (pronounced AN-dree-us) family, which owns a 5 percent stake, has helped cultivate the publicly owned ADM for more than 30 years, and their painstaking field work has yielded a present-day harvest of 22,000 employees, and $22 billion in annual revenues.
Lowell did his part by using the ol' bean: not only the soybean, which without question has been his favorite vegetable, but also the bean — the dynamic gray matter — between his ears. A University of Iowa graduate, Lowell is also passionately intellectual, and self-schooled in history and philosophy. He carries a smart pencil. But above all to him, he has diligently studied and learned the finer points of Calvinism, a theological doctrine, whence he derives the spiritual fuel for his life.
CONNECT: Your father started out in business in the early 1920s?
ANDREAS: He started in 1922, the year I was born, by moving into town from the farm to buy the grain elevator. Gradually, he entered the animal feed business, named his company Honeymead in 1936, and in 1939 built a soybean processing plant in Cedar Rapids. Soybeans as a crop were just taking off, and rather than buy soybean meal for feed my dad decided to make it himself. At the beginning of World War II he had several strokes, and, fearing his sons would all go into the Army, sold his business to Cargill before retiring. He didn't sell the "Honeymead" name though, only its fixed assets.
When he sold I enlisted in the Army, and my brothers scattered: Dwayne went to work for Cargill. Glen went into banking. Albert went into the cement business, and Osborne became a concert pianist, and later played for the Washington Symphony Orchestra.
I was in the Army for four years, spending the entire time inside the continental U.S. because of physical problems. Out of the Army for a year, I adjusted losses for our family-owned turkey insurance company. Basically, I counted dead turkeys. (Laughter.) We owned the turkey insurance business to complement our turkey feed business. It was one company Cargill hadn't bought.
In 1947 we heard of a little expeller soybean plant in Mankato up for sale, and Dwayne and I decided to buy it. The "expeller" process extracted oil out of beans by putting them under pressure. I put in $50,000 borrowed from my dad; Dwayne put in $50,000 of his own money; and together we borrowed $50,000 from a bank. At the time I was only 25. The seller agreed to let us pay the balance of the purchase price over a five-year period, but we paid it off in two.
The plant burned down in the mid-'50s. Instead of hiring an engineer to rebuild it, I had the burnt mess cleaned off the cement floor, measured footage with a yardstick, and designed a new facility myself.
CONNECT: What was your role, and Dwayne's, in your plant?
ANDREAS: Dwayne worked for Cargill while I ran the business. We hired Clive Marshall as president to help me manage it, although I was really making all the decisions. I knew the industry better than my age of 25 belied. At home as a child, the Andreas family didn't discuss sports, the latest radio show or politics, like most American families would. Rather, we talked about grain, hedging, and weather. Clive had been in Mankato six years when I took over for him as president.
There was one time I thought Clive was hedging wrong, and after the staff had left for the day we had a huge argument. Clive had a temper, and he fired me.
CONNECT: He fired you?
ANDREAS: Yes. I said, "Hold on, Clive. Who hired you?" He said, "You did, but you hired me to be president." I said, "Why don't you just stop right now, go home and think this over, and we'll talk again tomorrow." He must have thought over what he'd done long and hard because the next morning he changed his hedging practice. (Laughter.)
We built the plant into the largest solvent soybean processing plant in the nation. Solvent processing extracts the oil by using liquid solvent; it gets more oil.
Then Farmer's Union Grain Terminal Association dropped by one day and told us that they were either going to build a plant across the road or else buy ours. They told us to put a price on our plant. So Dwayne and I talked it over for several days, and we put a price on it that we were sure they would never accept. Except they did. And so we sold the plant and the name in the mid-'60s to Farmer's Union, and I ran the business for them.
The sale left Dwayne and I with a handful of cash. So we decided to start a bank with some of the money, which became National City Bank, of Downtown Minneapolis. Then the task came about to hire someone to run the bank.
When we had owned Honeymead, the company had lines of unsecured credit of a million dollars each with five banks: three banks in Chicago, one in Minneapolis, and one in Mankato. Each quarter I went around to the banks to give them our financial statements, and to tell them in person how the company had performed. And every time I went on these trips I would purposely insert a ridiculous inaccuracy somewhere in our operating discussion, just for fun, just to see if any banker would catch the wild error. I guess I had a strange sense of humor. (Laughter.) Only one banker consistently caught it: Bernie Jacobs, of Continental Bank in Chicago. So when we formed National City Bank I hired Bernie Jacobs to manage it because I knew he paid attention to detail.
About 1968, Bud Archer, of the Archer Daniels family, offered us a block of stock at a reasonable price if Dwayne and I would agree to run their company. Dwayne was the visionary, and my specialty was management, so our styles fit well together. Dwayne and I discussed ADM's offer for two days before taking it.
However, I had five years left on my management contract with Farmer's Union, which meant I couldn't join ADM right away. It took me six months to negotiate the cancellation of the contract. In the meantime, Dwayne had joined ADM's board of directors. When I joined him, I became President of ADM.
Immediately, I had some tough decisions to make. ADM had a money-losing chemical division, and nobody in the company really understood chemicals. It had a Peruvian whaling operation to make whale oil, and no one understood whales. My first months as president were spent selling those and other nonagricultural companies in order to get us refocused onto agriculture.
In addition, ADM had a research lab with 70 Ph.Ds that it really didn't need. The company headquarters in Minneapolis was overstaffed to the extreme, occupying five entire floors in the Minnesota Gas building. We had a personnel manager whose delight in life was hiring people. The headquarters had no idea how the plants ran, so I decided that the only way to solve that problem was to move the whole company to Decatur, Illinois, home of our biggest soybean plant, and construct a new headquarters building next to it. In that move we were able to eliminate more than 200 positions because only 180 out of about 400 decided to move with the company. By moving, the office staff, particularly accountants, could better understand the plant's operations and problems. After shedding these companies, we began expanding into agriculture, only. Agriculture was what we understood.
CONNECT: Many companies diversify across a number of industries in order to protect profits when one sector is down.
ANDREAS: Yes, diversification works for some companies. But I think there's an even more important principle, and that's being in businesses you understand.
CONNECT: You are asked to speak on occasion to schools. What do you say?
ANDREAS: When asked to speak at a Minnesota State business school graduation many years ago, I was told that I could speak on any topic. So I spoke on this topic: "Don't major in business administration if you want a career in business." (Laughter.) The mechanics of any business can easily be learned if one has good reasoning skills. I told them that a better major for a business-minded person would be philosophy, history or English, because these subjects train a person to think. And I still believe that. Most business schools don't require much in the way of liberal arts.
During a speech at Gustavus Adolphus about the move of ADM to Illinois, a student stood up during the question and answer period to say, "My dad was one of those who chose not to move to Illinois." Instantly I thought, Uh-oh, here comes the rhubarb — a sour response. But he added, "And he said that nobody was more fair than you."
CONNECT: You stayed on the ADM board until 1999?
ANDREAS: Yes, and now I'm a director emeritus, and attend every board meeting along with my brother Dwayne, who is also emeritus. We can still talk but we can't vote.
When Dwayne and I went to ADM, I told him then that if I could afford it I would be retiring at 50. And then six years later I was ready to retire, six months before my fiftieth birthday in 1972. I had already hired Don Walker from Ralston Purina to run our soybean division, and I had him in mind as a successor. Dwayne said, "You aren't really planning to retire, are you?" I said, "I meant it when I said it, and I'm going to do it." So at age 50 I retired, and built a home in Mankato, but stayed on with ADM's board of directors until 1999. Dwayne and I began our effective control of ADM in the late '60s, and today our family still owns about five percent of its stock.
CONNECT: What went through your mind on January 23, 1963?
ANDREAS: That's an interesting story. One of our soybean oil tanks ruptured in the middle of a brutal winter in Mankato. Apparently, one door on a tank had been improperly welded, the cold weather froze it, and that is what caused the tank to rupture. It was twenty below at the time. The oil solidified to become just like snow, and we had to scoop it off the area's streets with snowplows. To safeguard the river and surrounding homes from a similar accident, we constructed a dike or floodwall.
In the weeks following the spill I received a number of letters from an elderly lady, who was complaining about all the frozen soybean oil that had made its way onto her street in Sibley Park. A few years later, the Minnesota River flooded Mankato. Soon after the flood, I received another letter from this lady, but this time she said, "Dear Mr. Andreas: I want you to know that I am happier with you now than as I was mad at you a few years ago." Though Mankato had flooded, because of our dike she had no water in her home.
CONNECT: Through your seat on ADM's board, you've met some interesting people. I'm going to mention a few of them, one at a time, and I'd like you to tell me your thoughts on each. First: Brian Mulroney, former prime minister of Canada.
ANDREAS: He's a very bright person who understands business, unlike most politicians, who don't understand business. He brings our board insight into the broad picture of the economy.
CONNECT: Robert Strauss.
ANDREAS: He is a friend who chaired the U.S. Democratic Party for years. He guided us with political insight. He was a former ambassador to the Soviet Union. ADM is now in Russia, with a soybean processing plant.
CONNECT: Al Andreas.
ANDREAS: He's my nephew, Glen's son. He's a very bright man, a lawyer, who understands the legal and financial technicalities of business. For years he was in charge of our finances in Europe.
CONNECT: Andrew Young.
ANDREAS: Andy Young — we've known him for years. He has helped with various investments of ours in Africa, particularly in cocoa. He is dedicated to helping Africa, and we have been involved with relief efforts through him.
CONNECT: Your brother Dwayne.
ANDREAS: He's the visionary who sees the big picture, and he's not a manager or operator.
CONNECT: On to other matters. Tell me about your relationship with Hubert Humphrey?
ANDREAS: We were close. Dwayne's family and mine used to spend Christmas with his family. One Christmas we couldn't find any of the kids. Eventually we found them all in the basement family room, sitting on the floor around Humphrey, who was seriously explaining to them how government was run. (Laughter.)
CONNECT: (Laughter.) What every kid wants to do on Christmas day.
ANDREAS: (Laughter.) Another story about Humphrey was told to me by Jared How, former publisher of the Free Press. Humphrey had throat cancer. He was giving an address to the Minnesota Newspaper Publishers Association around 1970, and said, "My doctor has told me that I'm not allowed to speak more than five minutes because of my throat problems. Maybe if he had told me that two years ago I would now be your President." (Laughter.)
Another interesting story: Our daughter's wedding reception in the late '60s was going to be here on our property in Mankato. At first we didn't think Humphrey was coming; he was Vice President at the time. We had sent him an invitation, and he had sent back his regrets. The day before the wedding the Secret Service arrived, checked everything out, and ran a special phone line into the house. He had said "No" earlier, he said, because he'd been told to do that. The Secret Service hadn't wanted anyone to know where he would be. Not too many people can say they had two vice presidents at their wedding reception: Hubert Humphrey and Walter Mondale.
CONNECT: I've heard you own race horses?
ANDREAS: We have five thoroughbreds running this spring at Canterbury Park: Soybeaner, Thatsusintheoldbean, Machobean, Soyabeanthere and Top Secret Affair. We don't often see them race. Thatsusintheoldbean, if he had won one more race one year, would have been in the Kentucky Derby. Until last year, we had had five straight years of paying income tax on our horse operation, which meant we were making money. That's highly unusual in that industry.
CONNECT: How do you go about buying a race horse?
ANDREAS: We buy ours by telling our trainer to pick one out. (Laughter.) Honestly, we give him the limit on money, and he travels to Keeneland Race Track in Lexington, Kentucky, where he has purchased four of the five.
CONNECT: What do you like about horse racing?
ANDREAS: Actually, it's my wife who likes it. She thinks horses are beautiful animals. And I've always liked riding horses, and we used to have four or five in our barn.
CONNECT: Now to present-day ADM. ADM sales since 1996 have been relatively flat. Now that the company is finally over $20 billion, what do you think it will take to move revenues to $25 billion.
ANDREAS: Consolidation will occur yet in certain industries, especially in oilseed and milling. Those consolidations should expand sales. But I'm not really concerned with gross revenues. As a matter of fact, I don't pay any attention at all to sales figures. They don't mean a thing. The only number that means anything is each division's net margin. Our sales figures can fluctuate as much as five billion dollars either way because of commodity markets. Assuming we don't have an atomic bomb dropped on the U.S. or an increase in terrorist activities, the future is bright for ADM because it's in the right commodities and because everyone has to eat. When we owned Honeymead the company averaged 20 percent net profit on beginning net worth. Unfortunately, ADM today can't do 20 percent because of all the competition.
CONNECT: Are federal ethanol subsidies necessary?
ANDREAS: They're necessary if we're to use ethanol, because the price of ethanol is higher than the cost of gasoline. Without subsidies the price of gasoline with ethanol would go up considerably. Of course, I do have a conflict of interest in saying that America should continue on with ethanol. (Laughter.) It makes us less reliant on foreign products, and it's better for the environment. I have the same opinion about biodiesel.
CONNECT: ADM's operations can be broken down into four sectors: wheat, oilseeds, corn and cocoa. Which sectors have the brightest futures?
ANDREAS: This is more of a "Dwayne" question, but personally I see oilseeds as having the brightest future, with corn, wheat and cocoa next, in that order. As the world is fed, oilseeds become more important, through soybean meal for animals, and the oil for cooking. Corn means ethanol.
CONNECT: Could you comment on why you have donated large sums of money to a high school in Iowa; a seminary in Philadelphia; and to Minnesota State University.
ANDREAS: Lisbon High School in Iowa, my alma mater, called me one day to say that it needed money for folding chairs. I said, "Why, that's ridiculous to call me for folding chairs. You can raise money in Lisbon for that. Call me back when you have something more important." I should never have said that. (Laughter.) They called back asking for a donation for a building addition for computer operations, and Dwayne and I decided to help. I was there for the building dedication. I told them that I'd learned my lesson, and from that day onward would never turn down anyone asking for donations for folding chairs. (Laughter.) All of our family went through that school. The school needed money for expansion, and didn't want to float a bond issue.
As a matter of principle, Dwayne and I give away the IRS maximum amount allowable to charities every year. Except for Lisbon High School, we have different projects. He has his preferences, and I tend to donate to places like Westminster Theological Seminary in Philadelphia.
CONNECT: Why give to that particular seminary? It's affiliated with the Presbyterian Church in America, and that denomination doesn't even exist in southern Minnesota.
ANDREAS: It's my belief that Westminster teaches the true word of God. There is no church in this community that has a seminary I agree with. (Laughter.) I was on the board at Westminster for years, and will be going there next week to the dedication of another Andreas building.
CONNECT: And MSU?
ANDREAS: Minnesota State isn't a church-related school, like Westminster, but I have given money there to fund projects such as Andreas Theatre, and also the observatory. With the observatory, I was on the board of what is now Hickorytech years ago when the president of MSU came to one of our board meetings asking for a donation. The board turned her down. When she walked out of the office, I walked out behind her and said, "They won't, but I will." (Laughter.) So we built it.
CONNECT: The telephony industry certainly has changed from when you were on Hickorytech's board, hasn't it?
ANDREAS: I was the owner of Mankato's first-ever cellular telephone, and had it installed in my car. An ambulance service operated in downtown Mankato at the time, and it had a loudspeaker in there to broadcast ambulance calls. I had the phone in my car, and I always parked my car near the ambulance service. After about a week with the telephone, I pulled in one day and the ambulance company owner came out to talk with me. He said, "Lowell, I really hate to tell you this, but every conversation you have on your telephone comes over our loudspeaker." (Laughter.) The telephone was tweaked that day.
CONNECT: One last question for you: In the mid-'90s, some ADM employees were convicted of price fixing on certain corn products. As it turned out, Mark Whitacre, an ADM employee, was feeding inside information to the FBI. What was your take on the incident?
ANDREAS: This is what I think happened: Initially, the FBI had asked us to hire one of their own agents to work as a mole on the trading floor of the Chicago Board of Trade. Mick Andreas, my nephew, wouldn't allow it. The FBI was furious at him.
I think the FBI wanted to get even with Mick. An employee of ours, Mark Whitacre, I knew was angry at us. When he was hired he gave a lecture to the board, and afterward I told Mick, "That guy can't be in charge of his division because he simply doesn't understand business. He's a chemical engineer." Mick agreed, and Whitacre was demoted, which irritated him to no end.
Whitacre then made contact with the FBI — or else they made contact with him, one of the two — and from that he tried to get Mick into compromising situations, by following lessons from the FBI as to how to lead Mick into making a deal. On one occasion Mick made a mistake. He should have known better. However, no one in the industry lost money on the "deal" because a "deal" was never consummated. Mick said he had no intention of ever consummating the deal; he'd said it, he said, just to get the meeting over with. It sure taught him a lesson.
Spiritual Guidance
Lowell Andreas is a steadfast believer in Calvinism, also known as the Reformed faith, which was a system of belief espoused during the Protestant Reformation, primarily by John Calvin (1509-1564). While Luther emphasized God's grace, and Roman Catholics the Holy Sacraments, Calvin emphasized God's sovereignty. While at least two historically "Calvinist" denominations, the Presbyterian Church (USA) and United Church of Christ, in general no longer actively promote Calvin's tenets, a number of U.S. denominations with Calvinist roots do yet: Christian Reformed, Reformed Church in America, Reformed Baptist, Reformed Episcopalian, Presbyterian Church in America, Orthodox Presbyterian, Evangelical Presbyterian, and Protestant Reformed.
© 2002 Connect Business Magazine. All Rights Reserved.