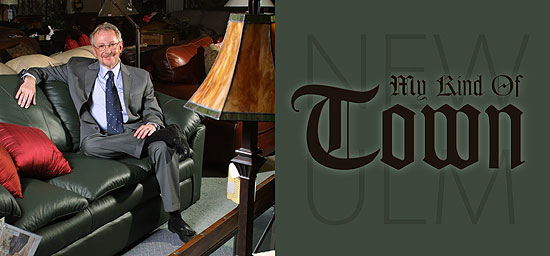 Photo by Kris Kathmann
Ben Pieser's American-born grandfather settled on the shores of Turtle Lake, Wisconsin, in the late 1800s, and ultimately started a Ford dealership there. He later owned Royal Food Market in Mankato. Ben's father Dick, who had worked at Royal Food Market after graduating from Mankato High School, followed in his father's footsteps by cofounding New Ulm Furniture in 1945. And finally, Ben Pieser, the current owner, has helped grow New Ulm Furniture into "The Furniture Giant."
Thus, Ben Pieser is carrying the torch of owning a retail business — as are hundreds of other sons and grandsons of retail business owners all over southern Minnesota. What makes his story so special, though, is its context. Nearly all second and third generation Jewish retail-owning families left small-town America for other business challenges. But Ben Pieser has chosen to remain in New Ulm.
WHEN Dick Pieser first trudged up New Ulm's Minnesota Avenue in 1945 to open New Ulm Furniture, he must have been scratching his head in utter confusion.
He spoke only English. In New Ulm he soon realized the importance of hiring an interpreter in the form of a truck driver in order to communicate to his German-language customers. Only Ben's mom, Sara, could understand the language.
There were only a handful of Jewish families: besides the Piesers, New Ulm had the Biebers, Aronsons, and Frisches. The Biebers managed the S&L Store, and the Aronsons owned Raleigh's and the Frisches a salvage business. In addition, at about the same time that Dick Pieser was jumpstarting New Ulm Furniture, Ben's uncle Louie Kitsis was beginning Shari Candies in Mankato.
Paralleling so many other Jewish families over the centuries, the Piesers joined hands to work together as one unit. And they remain close today. Ben's mother, 85-year-old Sara Pieser, works every day at New Ulm Furniture as a salesperson. Ben's wife Vicki helps with inventory. Son Joshua, 18, moves furniture.
Opening New Ulm Furniture was a logical move. "About the time Dad was discharged from the service, a furniture store in New Ulm closed," says Ben, 56, from a sales office inside his German Street facility, one block north of the Minnesota Avenue business district. "My uncle Jay Pieser owned a furniture store in Fairmont. He had taught my dad the business. Then they opened a store in New Ulm to fill the void left by the 1945 closing of Buenger's, then the town's furniture store."
Jay and Dick Pieser purchased adjoining buildings on Minnesota Ave. and began remodeling the two properties into one large "New Ulm Furniture" showroom.
Postwar furniture came in three colors: maroon, brown and blue. "You didn't have to be much of a salesperson back then," says Ben, recalling the color selection. "In addition, after the war it was difficult to get some kinds of furniture. Furniture came without springs because of the metal shortage. Strollers had wooden wheels. My mom used to walk my sister in a stroller across the bridge to Mankato when we lived there, and every time she walked across the wooden wheels would fall off."
Born in 1946, Ben grew up in the shade of New Ulm Furniture's thick forest of recliners, sofas, chairs, lamps and bedding. As a boy in the '50s he began tagging along with his dad on trips to the wholesale furniture market in Chicago, then the nation's largest. (Now it's High Point, North Carolina.) The elder Pieser would spend a full week trolling for furniture inside the market's noisy 18 stories, and young Ben took mental notes.
"It was an overwhelming experience for a small-town boy," says Ben. "The building was packed to the gills with furniture. You had to wait in line for a salesman. There were hundreds of showrooms, and each was like a little shop. My dad would tediously go through all 18 floors, keeping track of what he wanted along the way. When he was done he'd go back one floor at a time and eventually buy what he wanted."
To infuse their Jewish heritage into her son, Sara enrolled Ben in a Hebrew school in Minneapolis. He was put on the Greyhound Friday nights. The bus dropped him off at a gas station in Minneapolis to meet his aunt, who housed him for the night. The next day was Saturday, the Jewish sabbath, on which he attended school. When school ended, he dutifully boarded a city bus for the Greyhound station downtown, and from there Saturday night made the return trip to New Ulm.
The Piesers were seasoned by several negative experiences. A fire broke out in an apartment over the store in the early 1950s, marring its inventory with smoke and water damage. The blaze couldn't douse the enthusiasm of the city's citizens, who queued in line over more than a block for the ensuing "fire" sale. New Ulm police were ordered in for crowd control, to let customers in one at a time. A new fire-resistant, concrete and steel building was built in 1959 on German Street, one that could likely survive a nuclear blast, not to mention another fire.
A few years later thieves broke in to "peel" their safe, a technique police used to describe the process of blowing it up. The criminals in the dark absconded with a small sum of cash and were never found. "We haven't had any break-ins since then because we installed an expensive security system," says Ben.
Ben graduated from New Ulm High School in 1964, and met his future wife, Vicki, a Texan, when both were attending the University of Colorado. They married in 1967, in Ben's junior year. The University of Colorado was a great experience for the promising businessman, who had "majored in marketing and finance with the express purpose of coming back to help with the family business," he says.
He had been growing impatient in Colorado, though. "When Vicki and I finished college I refused to wait around for the graduation ceremonies. I didn't want to walk down the line. Instead, I was anxious to get back to Minnesota to work. It would have been a waste of time to wait there," says Ben. Back at New Ulm Furniture, he "did a little of everything," including sales, buying and bookkeeping. And he worked the aisles alongside his dad for 17 years until December 1985, when the elder Pieser died suddenly. His father had been a shy and trusting man, often offering the generous terms of payment on a bedroom set of just five dollars a week.
TODAY 80 percent of New Ulm Furniture's revenues are in furniture sales, with the rest split between window treatments, such as blinds and drapes, wall coverings, all types of flooring, and interior design services. Eighty percent of its business is residential, and the balance commercial, which includes remodeling and outfitting new offices. The business covers 45,000 square feet, has three warehouses, and employs 18, including 7 salespeople. They deliver to a number of loyal customers in the Cities, Rochester and Mankato.
Though he advertises using the slogan "The Furniture Giant," in truth, in comparison to many national furniture retailers in terms of gross revenue, his business isn't all that much of one. But his word does have a "giant" influence: Ben has been a National Home Furnishings Association (NHFA) board member the last three years. Its board has about 35 members, and Ben is the only member to own just one store. NHFA, like most professional associations, lobbies governments for laws favoring the home furnishings industry, and tries to raise the level of awareness Americans have toward furniture. The industry competes indirectly with others, such as the boat, jewelry and automobile industries, for a consumer's expendable income.
One long-running issue of concern to the industry has been rectified: some not-so-reputable furniture outlets were deceitfully promoting "going out of business" sales in order to generate foot traffic. Laws have been enacted to limit the practice, which was seen by many consumer watchdogs as unfair to the consumer. A furniture store today has about three months to "go out of business," and in doing is limited to the amount of new merchandise it can bring in during the sale.
"At the very beginning of my first board meeting with NHFA, all new members were asked to introduce themselves and to tell how many stores they owned," relates Ben, with a wry smile. "The presidents of some very large companies were there, including those of Gabbert's and Slumberland. The first person stood up, said his name, and said he owned 21 stores. The second person did the same, and he owned 32. Another said 6 stores. Others stood up. Then I stood up to say that I owned just one store in New Ulm, Minnesota."
The number of independent furniture retailers is dwindling each passing year. Years ago, says Ben, nearly every small town had a furniture store, but today the industry is dominated by the Levitts' and Slumberlands. In like fashion, the number of furniture manufacturers has also dwindled, as national firms gobble up smaller, regional ones. When Dick and Sara Pieser began in 1945, even Minneapolis had a few furniture manufacturers. The industry has since consolidated to perhaps a half dozen large ones based in the South and California, with the largest, La-Z-Boy, owning about six major companies of its own. Other "big" names are Broyhill, Sealy, FlexSteel, Lane and Norwalk.
"Every region of the country has its own specifics on what the people want in terms of furniture," he explains. "Midwesterners, in particular, tend to be conservative and practical. They want furniture solid and sturdy, made of leather or heavier fabrics. They buy it for the long haul. And they buy darker colors that don't show soil or wear. In contrast, Southerners tend to buy lightweight furniture, lighter woods, and lighter colored fabrics."
To stay competitive with bigger, national retailers, Ben buys from a select group of top name brands to receive the best bracket pricing possible. It makes sense for another reason. "Manufacturers don't like furniture retailers who buy only one or two sofas at a time," he says. "They prefer selling in truckloads, such as 50-100 or more at a time."
Styles change, fabrics change, he says. In the late '60s velvet furniture was a hot retail item; he and Vicki purchased on their own a lime green velvet sofa along with two yellow chairs for their living room. But who has velvet furniture today?
The chief difference between consumers of now and those of yesteryear are the former's awareness of their surroundings. It's not uncommon for people now to see furniture styles on soap operas, movies or sit-coms, and then ask Ben to replicate the "look" in their own home. "Often they will see on a TV show a white sofa and a green stripe, for instance, and come to me wanting one just like it," he says. People of the '00s are also special ordering — the way they would special order their new cars — thus choosing less floor stock.
The terrorist acts of September 11 apparently have turned the hearts of Americans toward their home, a trend known as "cocooning." They are travelling abroad less. And they are buying less furniture for their seldom-used formal living rooms and more of "liveable" furniture such as reclining sofas.
New Ulm Furniture's sales have not decreased at all since September 11. In part that is due to the salespeople Ben has cultivated, with most having been with him 15-20 years. "The store couldn't survive without them," says Ben. One salesperson actually commutes each day from Bloomington, and another from Mankato.
"We certainly want to be competitive by offering low prices, and we do, but there is far more to the furniture business than just offering low prices," he says. "The service that occurs before, during and after the sale is perhaps the most important ingredient for success in furniture. If you have a problem with your sofa three years from now you will expect us to take care of it. Certainly we will. But not all furniture sellers do."
SARA CAN SELL WELL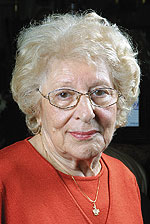 Sara Pieser, Ben's mom, has been active in New Ulm Furniture since 1952, the year her husband suffered his first heart attack. Now Sara, 85, is one of the furniture company's best salespeople, claims Ben.
Sara relates one unforgettable selling experience, a lesson learned: "This woman comes in dressed in mink and the finest clothes one day. And she picks out tables, and lamps, all very expensive stuff. She took the two brass lamps home along with her. I don't know why I never took a deposit from her or even wrote down her name. It was the first time I had even forgotten to do that. Apparently I must have looked at her dress and deduced a deposit wasn't needed. Now she has two expensive lamps in her home. We never received a penny for them. We don't have a clue who it is."
WHAT'S WITH THE NAME
When Ben Pieser's great-grandfather arrived in America in the late 1800s from Germany, he altered the spelling of his last name from Peiser to Pieser because most New Yorkers were calling him "PEE-ZER" rather than "PIE-ZER," the proper German pronunciation.
When Dick Pieser (no longer Peiser) moved to heavily German New Ulm in 1945, many of its citizens naturally pronounced his name PEE-SER. Rather than revert to the original spelling of Peiser, Dick, and now Ben, decided to stick with their great-grandfather's change.
ALL IN THE FAMILY
Ben's son Joshua has worked at New Ulm Furniture, but won't be taking over the business. He is 18, autistic, developmentally delayed, and a part-time MRCI employee. He was adopted as a nine-month-old infant from an agency in Colombia, South America. "Sometimes he puts on a tie to come into work like his father, and he does move some furniture, but more often than not he ends up watching videos," says Ben of his son. "There were signs of autism before the adoption, but the agency failed to mention it."
Which brings Ben to the joys of living in New Ulm. He feels totally accepted there, and believes the small-town atmosphere contributes to his son also being accepted. Ben says, "Joshua likes to bicycle. And sometimes he just sits in a corner and watches the cars go by."
The Piesers have two daughters of their own: Andrea, a Harvard-educated teacher in Texas, and married with two young children; and Betsy, an events planner at the Minneapolis Hilton. Ben says that if one of the two returns home to run New Ulm Furniture, it will "certainly" be Betsy, who is "very business oriented."
© 2002 Connect Business Magazine. All Rights Reserved.