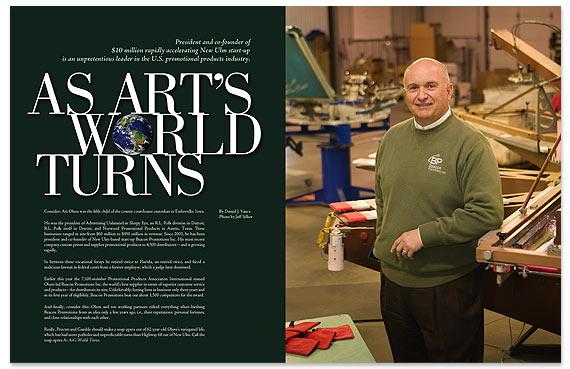 President and co-founder of $10 million rapidly accelerating New Ulm start-up is an unpretentious leader in the U.S. promotional products industry.
Photo by Jeff Silker
Consider: Art Olsen was the fifth child of the county courthouse custodian in Estherville, Iowa.
He was the president of Advertising Unlimited in Sleepy Eye, an R.L. Polk division in Detroit, R.L. Polk itself in Detroit, and Norwood Promotional Products in Austin, Texas. These businesses ranged in size from $60 million to $450 million in revenue. Since 2003, he has been president and co-founder of New Ulm-based start-up Beacon Promotions Inc. His most recent company custom prints and supplies promotional products to 4,500 distributors—and is growing rapidly.
In between these vocational forays he retired twice to Florida, un-retired twice, and faced a malicious lawsuit in federal court from a former employer, which a judge later dismissed.
Earlier this year the 7,100-member Promotional Products Association International named Olsen-led Beacon Promotions Inc. the world's best supplier in terms of superior customer service and products—for distributors its size. Unbelievably, having been in business only three years and in its first year of eligibility, Beacon Promotions beat out about 1,500 competitors for the award.
And finally, consider this: Olsen and ten working partners risked everything when birthing Beacon Promotions from an idea only a few years ago, i.e., their reputations, personal fortunes, and close relationships with each other.
Really, Procter and Gamble should make a soap opera out of 62-year-old Olsen's variegated life, which has had more potholes and unpredictable turns than Highway 68 out of New Ulm. Call the soap opera As Art's World Turns.
Where were you raised?
In Estherville, Iowa, and I graduated in 1967 with an accounting degree from Minnesota State. I was the youngest child of five. My dad worked as the custodian at the county courthouse in Estherville and my mother took care of us at home. Money was tight in the 1950s. My dad had a little acreage, so we had a couple of cows, chickens, and hogs. We all worked soon as we were old enough, and I received my work ethic from my parents. We didn't know we were 'financially challenged'—and looking back, I'm not sure we were. We had plenty of food to eat and dressed fine. Four of us ended up graduating from college and one of my brothers even earned a Ph.D.
Do you still keep in touch with anyone from your 1967 MSU graduating class?
Unfortunately I haven't. My wife Kathy and I married at age 19, and I didn't have time to participate in campus social life. I was there to get my education and find a well-paying job.
Between 1967 and 1978, what were you doing?
To me, accounting has always been a door opener. Once inside a company, I have always been interested in the larger scope of the business. I've never really been an accountant, although I use my accounting skills every day. At my first job at Walker Manufacturing, which made mufflers and oil filters, I did cost accounting and product pricing before moving on to purchasing. I have always been interested in using my accounting skills to do bigger things. Everything we do in business somehow always comes down to numbers, whether that means productivity, margins or costs. In business, you have to understand the numbers.
You started in the printing industry with Advertising Unlimited in Sleepy Eye in 1978. What was the company like then?
It was a small public company. The major stockholders were members of the Myers family of Mankato. Richard Myers had been president of Mankato Citizens Telephone Company, which had founded Advertising Unlimited (AUI) in the early 1960s. AUI started as a company selling Yellow Page advertising for independent telephone companies across the nation. They had a sales force that was underemployed during certain times of the year, so they started selling promotional products. Soon this company in Sleepy Eye called Haas Press became available and they bought it. In 1978, AUI corporate offices moved to Sleepy Eye. Chuck Flood, who had helped found Advertising Unlimited in 1963, was just retiring when I started with the company in 1978.
The company culture?
AUI was an over-the-counter $5 million in revenue public company. The main pressure we faced revolved around the company not performing well because it was doing $5 million a year and not making money. The outlook wasn't good. Robert Seibert was named the president and he hired Dale Uphoff as the CFO and me in production control and purchasing. I was only thirty-two then and didn't know much about running a company. Dale, Robert Seibert, and I went to work organizing the company. The company made money that first year and never lost money again.
How did you all turn around the company —besides "organizing the company"?
We made sure product pricing was right, because the pricing had been too low. Also, Dale Uphoff, Ruth Hoffmann and I headed up the team that installed the first computer at AUI in 1979. This put us on the map. The computer enabled us to handle orders faster, respond to customers and manage inventory better, and efficiently purchase raw materials. Promotional products is a very personal business. It's not like we're making bottles of shampoo for someone to stock on a grocery shelf. At Beacon Promotions, we receive a large number of telephone calls from our distributors—it's a highly personal business and we have to have the right information at our fingertips when customers call to eliminate the need to return telephone calls.
Highly personal? Can you give an example?
In January 2007, Beacon Promotions won the top industry award for companies our size, the Supplier Star Award, from the Promotional Products Association International. We were pleased even to be nominated, but to win was totally unexpected. The promotional products industry has more than 1,500 companies in our category size.
As for this business being highly personal, one difference between our company and others is our customer service. When you call Beacon Promotions real people answer the telephone. A number of companies offer a long menu of options that you have to go through before reaching a real person. We have chosen not to do that because it tends to frustrate customers.
What else makes Beacon Promotions different?
We have a business philosophy of trying to make it easy for customers to do business with us. We start with our catalogs. We think a lot about how our catalogs are organized, and how the options in the catalog are presented to customers. To simplify pricing we build features into the pricing rather than offering many options. Also, in our catalog we have discount codes. Some companies in the industry will ask for different discount order codes based on various quantities. We believe those codes are difficult for our customers to remember, and can cause order confusion, so our items all have the same discount code. Therefore, it doesn't matter whether it's for fifty or five hundred pieces, the order code is the same.
What else?
To our larger Beacon customers we transmit electronically at least twice a day the current status of their orders. The information goes directly from our computer to theirs so their employees can look at the order status and respond to serve their customer inquiries.
Given what you do, I'm guessing you don't ship orders on full trucks or even LTLs, but via UPS?
Yes, most of our shipments go out via United Parcel Service. UPS computers transmit our shipping data to us electronically, which provides the tracking numbers. That information is tied directly into our computers, and we can turn that around and send it to our customers twice a day. Another thing that sets us apart is if you need something tomorrow and we have it in stock, we can help. We have not shipped an order late in more than three years.
You must carry a massive amount of inventory?
Currently more than $2.5 million worth, which means our inventory out-of-stocks are low. Our inventory strategy is not to have ten colors, but only have four and carry a sizeable amount of inventory on them. So if you want something in orange, we may not have it. But we will have 20,000 in red, blue, white and black. Our strategy is to have deep inventory on the best-selling products and colors.
Your company culture now?
The basis for the culture was developed over the last twenty-five years. We have a unique way of engaging our employees, and marketing, selling, and engaging customers. When you walk through a factory—and I have been through many—you can tell the mood of the people. It's like when you and I walked through the plant today, Daniel. I asked some employees, "How many SKU's do we have in the warehouse?" "We got a lot," they said jokingly. They responded cheerfully and didn't feel at all intimidated. It's a friendly culture, but one focused on taking care of the customer. And everyone knows it. We have fun, but we also are serious about business.
How do you sell differently?
We sell to more than 4,500 distributors. The mechanics of our selling isn't so different, but our execution is. For example, like our competitors, we don't write any orders at our trade shows. Those shows are "closed," meaning the only people present are distributors—no end-user customers. We market at a hundred shows each year and have only three salespeople covering them. At the larger trade shows, such as in Las Vegas, where we have forty feet of booth space, six of us from our New Ulm offices will join the three salespeople in order to handle the larger crowds.
I would imagine that's your prime spot to get customers. Promotional product distributors certainly aren't going to be talking among themselves about their suppliers, and spreading your praises via word of mouth, because they are all competitors.
That's right, they are all competitors. At these shows, customers come by your booth and you show them new products for the coming year. They will then ask us to send them ten or twelve samples, for instance, and maybe fifty catalogs. What we do then is different: Our sales people send the requests back to New Ulm that evening, and we ship the samples out the next day before the show is over. Our samples will be waiting for the distributor when he or she returns home. Fortunately for Beacon, a number of our competitors don't share that same sense of urgency.
From my personal experience as a former buyer, I know that salespeople aren't usually good at follow-through. So you are telling me you've taken "follow-through" out of their hands?
We try to have the salespeople turn the sample order over to us immediately so we can do the follow-through here in the office. We try to remove them from the direct loop enabling the customer to have a contact person inside to get answers quicker. Doing it this way makes the salesperson's life easier because they can count on us. For instance, Gary Haley, our senior vice president of sales—he doesn't have to ask if the samples went out. He knows the samples went out. We then need to be prepared here in New Ulm, because the customer receiving the samples from the show will then want to order.
You helped sell AUI in 1987 to R.L. Polk of Detroit?
Yes I did. At the time I was vice president of operations, and knew of the impending sale early in the process. I've been involved in selling Advertising Unlimited twice: in 1987 as a public company, when we sold AUI to R.L. Polk; and in 1999, when R.L. Polk sold AUI to Norwood Promotional Products. As a stockholder, I was part owner in 1987 when R.L. Polk bought AUI and tendered for all the shares of stock. Everyone had to surrender their shares when AUI became a wholly owned subsidiary of R.L. Polk. When Polk bought AUI in 1987, AUI President Robert Seibert retired, and I became president and CEO. At the time of the sale AUI was a $60 million company.
What were some of the difficulties selling such a large business? You helped do it twice.
There is always a great deal of anxiety because rumors will fly around on any kind of transaction. For instance, people were saying R.L. Polk was going to move or close the Sleepy Eye plant. I was on the inside of the transaction because of my position. I began having town hall meetings concerning the pending sale. I had been having town meetings for a while anyway, to review our accomplishments and discuss any changes with benefits, for instance. This practice of holding town meetings began long before 1987, and we also have them at Beacon Promotions.
Were some people really upset at these meetings?
I wouldn't call them upset. AUI was a relatively small company in a small rural town, and virtually no one there had ever been involved in a company sale like this. Employee anxiety was expected. One act that helped calm the anxiety was when I was named president/CEO. People in Sleepy Eye considered me a local person because I had been there from 1978-87. I was a known entity, and they had confidence in me.
AUI went from being a $60 million company in 1987 to $120 million in 1999 when it was sold to Norwood Promotional Products. Was there anxiety involved in that sale?
The company had become a little more sophisticated by then, but I don't think those fears ever go away, Daniel.
In 1994, you were promoted to a new position at R.L. Polk corporate offices in Detroit. You were taken out of Sleepy Eye.
I was president of AUI and ran it for R.L. Polk from 1987-94. After moving to Detroit in 1994 I was still the chairman of AUI. R.L. Polk back then had a vastly different culture. For one, Polk held its financial information much more close to the vest. To be honest, because of that practice, I don't know exactly what their total revenue was, but estimate it at more than $250 million.
My first assignment at Polk was being president of the directory division, which published and manufactured city directories, but the intention of CEO Steven Polk was to make me company president. The directory division was losing lots of money and I was brought in to fix it, and we made some changes to stop the bleeding. About eight months after getting there, in August 1994, I was made president and COO of all R.L. Polk. Besides AUI and city directories, Polk then was involved in the automotive statistics business and in direct marketing.
Polk's culture was different from the one we'd created at AUI. It was founded in 1860 to publish city directories and the company didn't develop any other products until 1920. Its industry was a man's world. Detroit was dominated by automotive companies, which for many years had been a male-dominated industry. A number of Polk's practices were foreign to me. For instance, in Sleepy Eye we always had an annual Christmas party in which we would invite all the employees and their spouses. R.L. Polk had never done that for its employees. Only the top male executives would get together and never with their spouses. I started the first gathering ever where the company executives included their spouses. And to think this was only thirteen years ago.
At Polk, I began using financial information to motivate. My management team created incentives plans based on information employees could monitor, because I didn't want to just send a bonus check at the end of the year and have the employee not know what it was for. I was looking to motivate the employee all year long. Polk didn't have a company newsletter, so we started one. At AUI, we had a newsletter called "The Grapevine." Every place I had ever been had a company newsletter. We don't do one at Beacon Promotions yet because we are still small and can gather everyone together easily for the distribution of news and information.
As president of R.L. Polk, you were directly involved in selling AUI to Norwood Promotional Products in 1999. Yet you stayed with R.L. Polk?
Steven Polk had known for a while that I'd be retiring at age 55 in 2000. He said he didn't want to retain Advertising Unlimited after my departure because he didn't know anything about the promotional products business. The company sold for more than $150 million. I essentially had built the whole upper-level staff at Polk. I had thirteen people directly reporting to me from all over the world, including Europe, Canada, and Australia. The total employment at Polk was approximately 2,100.
How did you build that staff?
First, I hired the best human resources person I could find. Then to recruit, we first had to decide what we were looking for in potential employees. I was looking for people—and still do to this day—who first and foremost had business acumen, and secondly, who were experts in a particular area. For example, I can find a lot of great accountants, but I want to find a great accountant that is first and foremost business oriented. The same goes for engineers. When saying "business oriented" I mean people focused on how to make money. We exist primarily to make money—sure, we deliver great service and quality at a fair price, but we need to make a few dollars for ourselves and for the people working for us in order to build the business and have a future.
Again, I look for people that are business-focused. In recruiting we tried flushing that out by looking into their backgrounds for experience pointing to decisions that helped save their prior company money, for instance. And we would ask them how they did it, and if they were the leader of the team and where the idea originated. We were sophisticated in our recruiting and hiring. Sometimes, testing was used.
For top jobs, I paid fees to a recruiter and cast a wide net. I have hired people for jobs in the U.S. from Europe, and a Chinese individual to manage Polk's office in Beijing, China. Remember, we were looking for people that had a business sense first, and an area of expertise, second. Polk was a $400 million company when I left, and yet the man I hired for my CFO wasn't a CPA, though he must have had a dozen CPAs working for him.
So what brought you out of retirement a year later to be president and chief operating officer of Norwood Promotional Products?
Frank Krasovec, Norwood chairman and CEO, was a good friend of mine for many years. Norwood then was a $300 million company when buying AUI, so the purchase sent it well over $400 million. Frank had an opening and offered me the president and COO position of all Norwood Promotional Products. I moved to Norwood corporate offices in Austin, Texas.
In June 2002, the New York-based investment group that owned Norwood worked out a deal in which Frank retired from the company. Frank had been my boss, and since I was associated with him the handwriting was on the wall. One man in particular in the investment group wanted Frank out, and so he personally recruited a new CEO, who became my new boss. This individual wasn't interested in me, or in what my team was doing. He had his own ideas. I'd had a written employment agreement with Frank, and through it exercised my exit clause and retired a second time to Florida.
What brought you out of retirement a second time to begin Beacon Promotions in 2003?
Unfortunately, the new CEO of Norwood created an atmosphere many of my former associates didn't like. He wasn't treating people well. So a number of people simply quit. I left, Gary Haley left, Kevin Poirier left, Dave Paulson quit—these are all people working at Beacon Promotions today. They were all dissatisfied, unhappy, and looking for something to do. I began talking with Gary Haley first, who had been the senior vice president of marketing for Norwood. Then Kevin called. Gary wanted to start something right away, and I said to him, "You just don't know how difficult starting up something from scratch can be." With all my years of experience, I had never started up a business from scratch, and I was apprehensive. In time, Gary, Kevin and I began formulation plans to start Beacon Promotions.
We began by developing a business plan, and picking the name Beacon. I was living in Florida, Gary in Texas, and Kevin in Minnesota. We met together in New Ulm with Brian Tohal of New Ulm Economic Development, who showed us available property. We initiated the idea in February 2003 and incorporated two months later. Our business strategy was to acquire one or two existing companies to generate revenue immediately. So we purchased with our own money companies in Roseville, Minn., and Pella, Iowa, and moved them to New Ulm beginning in September 2003. We made arrangements with Citizens Bank Minnesota.
And then Norwood Promotional Products sued you?
Norwood filed a lawsuit in early 2004, which was finalized in January 2007. They sued us for copyright infringement of their calendar catalog and trade secrets having to do with customers and the designs on certain kinds of equipment. In addition, they charged that Beacon had hired people from them. As it turned out, the judge dismissed all the charges as totally unfounded without the lawsuit ever going to trial. On behalf of Beacon Promotions, our lawyer filed for and the judge awarded a sizeable portion of our costs. The lawsuit was dismissed in federal court after we filed for dismissal. We were elated and felt we had been vindicated. Unfortunately, it took two and a half years to settle.
My former boss at Norwood—the one brought in by the New York investment group—he and his team were the ones responsible for filing the lawsuit. They are no longer with Norwood. They were terminated months ago due to their performance and practices.
Could you say that if Norwood Promotional Products had embraced rather than shunned you in 2002, there wouldn't be a Beacon Promotions employing 68 full-time employees in New Ulm today?
That's absolutely true. If only the equity firm from New York could have joined forces with Frank and I. All the people here today as investors with Beacon Promotions, all ten of them, are people I hired at Advertising Unlimited. They eventually moved up through the ranks and at one time were running a majority of Norwood Promotional Products.
Beacon Promotions has eleven owners, and you all have a piece of the pie. What sort of dynamics does that create? I would assume they are all at board meetings.
While Kevin Poirier and I have operating control of the company, because we are the two largest shareholders, all shareholders are included in the development of company strategy. We are a very compatible group. It may seem an unwieldy group to outsiders, but the fact that we have worked together for years makes it work. As for the board, it's just Kevin and me because we are so small. We have monthly shareholders meetings in which all the shareholders review the company's financial performance and report for all to hear of happenings in their respective areas.
You are 62. You have retired twice. What is your new exit strategy?
When you are 62 you think about retirement more. I enjoyed being retired and received some much-needed rest. I played golf. It was wonderful. I got my batteries recharged. At this time I don't have an exit strategy. I'm thinking now about going forward as long as my health is good. As time goes on, I'd like to take more time off and vacation with my wife and family.
What do you enjoy about this industry?
For me, it's about creating and making a business grow. Again, ours is a very personal industry. Gary Haley, Kevin Poirier and I can pick up the telephone and call the president of just about any large distributor in the nation and they will take our call. We have been around a long time. We have always been reputable and tried helping the distributors. In essence, we are their factories. They can't sell anything unless they have people like Beacon Promotion to deliver the products.
What else?
People have asked, What has been your most important accomplishment in life? Having a great family is first, but after that has been building teams of responsible people focused on building a business and satisfying customer needs. I have been fortunate to have built a team of people at Advertising Unlimited, another at R.L. Polk, and now another at Beacon Promotions. I am proud of being the catalyst. After the team building, another accomplishment would be helping develop people into solid business people in the cultures we've built.
Fast Pitch
Beacon Promotions President Art Olsen said, "We think we will achieve gross sales of $13-15 million in 2007, up from $10 million in 2006. This would be an increase of 30 to 50 percent. We have 68 full-time employees, another dozen part-time employees, and we use people from MRCI for certain jobs.
"As for product categories, we have four: calendars, plastics, fabric, and corporate gifts. Each category represents roughly one-fourth of our total sales. Plastic products includes promotional mugs, tumblers, flying discs, sports bottles for drinking, and ice scrapers. Fabric promotional items include oven mitts, potholders and aprons. Corporate gifts would include products like Waterford Crystal, which are used as sales incentives or premiums for buyers. Our largest sales month is November, primarily because of calendar sales, and we do approximately half our business the last four months of the year."
Getting To Know You: Art Olsen
Born: June 17, 1944
Education: Estherville High School, and Minnesota State, B.S., 1967.
Wife: Married 43 years to Kathy.
Children: Brett and Kara Allen; and three grandchildren.
© 2007 Connect Business Magazine. All Rights Reserved.