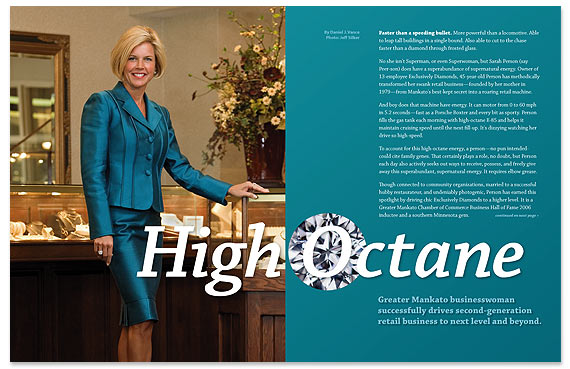 Greater Mankato businesswoman successfully drives second-generation retail business to next level and beyond.
Photo By Jeff Silker
Faster than a speeding bullet. More powerful than a locomotive. Able to leap tall buildings in a single bound. Also able to cut to the chase faster than a diamond through frosted glass.
No she isn't Superman, or even Superwoman, but Sarah Person (say Peer-son) does have a superabundance of supernatural energy. Owner of 13-employee Exclusively Diamonds, 45-year-old Person has methodically transformed her swank retail business—founded by her mother in 1979—from Mankato's best-kept secret into a roaring retail machine.
And boy does that machine have energy. It can motor from 0 to 60 mph in 5.2 seconds—fast as a Porsche Boxter and every bit as sporty. Person fills the gas tank each morning with high-octane E-85 and helps it maintain cruising speed until the next fill-up. It's dizzying watching her drive so high-speed.
To account for this high-octane energy, a person—no pun intended—could cite family genes. That certainly plays a role, no doubt, but Person each day also actively seeks out ways to receive, possess, and freely give away this superabundant, supernatural energy. It requires elbow grease.
Though connected to community organizations, married to a successful hubby restaurateur, and undeniably photogenic, Person has earned this spotlight by driving chic Exclusively Diamonds to a higher level. It is a Greater Mankato Chamber of Commerce Business Hall of Fame 2006 inductee and a southern Minnesota gem.
You didn't start Exclusively Diamonds. Your mother did. You then purchased it from her in 1998. She began by selling diamonds out of the trunk of her car?
No, from an attaché case on our dining room table. She absolutely loved selling diamonds and making people happy. In 1979-80, she started selling diamonds out of her home, but it got to the point where there were so many people coming to our home we didn't know. It became a security risk. At the same time she was a special education teacher in Waterville. Finally, she chose to quit teaching and opened a jewelry store in the Graif Building.
What were you thinking when your mother was doing this? You were in high school at the time.
I thought it was great. My dad has always encouraged my mom to do whatever she wants. The women in our family are driven, and he has always backed us. My senior year in college I started selling for my mother while in Eau Claire, Wisconsin. I would bring diamonds back to school in my sock and sell to people getting engaged. My first sale was to my marketing professor. He bought a one-carat diamond, and later a half-carat diamond. It mushroomed from there.
Eventually, I returned to Mankato and married my high school sweetheart, Chris Person. At that time, the jewelry store wasn't busy enough for me to work there full-time. So I worked 20 hours a week helping Chris with his "Corner Malt Shop" on South Riverfront, only a block up from what is now Neighbors Italian Bistro, which he co-owns today. I helped manage and train employees.
Eventually, all three of us Nelson women, including my sister Betsy, combined forces and Exclusively Diamonds grew about 85 percent that first year together. Betsy is talented with her hands, so she was our bench jeweler, and mom and I sold.
As a special education teacher she no doubt learned patience over the years. It must have helped in serving customers.
Absolutely. She is patient, and passionate. Back in 1980, not many women in southern Minnesota were running their own businesses. Gold was over $800 an ounce and interest rates were 21 percent. It was probably the worst time possible to start a jewelry business. Also, we were hidden on the fourth floor of the Graif Building. We had absolutely no walk by traffic. But being in the Graif Building was the closest spot to the action at the time, which was the downtown mall.
In the entire U.S., Rolex has only three women dealers. Sarah Person is one of them—one of three women among 800 men.
Let me clarify. There are 800 U.S. Rolex dealers. I was the first of what would become three women owning and operating stores to receive a Rolex dealership. However, there are many women dealers who co-own a store with a man.
We moved to our new hilltop location on Tullamore Street in 2000. When I turned 40, I wanted a Rolex watch and I didn't have a Rolex dealership. So I went to a jeweler friend, loved the watch, and wanted the line. So I went after it. I didn't realize at first how hard of a line it was to get. First, I wrote a letter telling them about my store, and noted the similarities between Rolex and Exclusively Diamonds. Both wanted product excellence, high quality, and had a good reputation. They wrote back saying they weren't opening any new dealerships. At that time they had just gone from 2,400 dealers to 800, and wanted only dealers that would embrace and move their product. I wrote back saying that Mankato was the perfect spot for a Rolex dealership. Our store had a loyal, upscale clientèle and our area was hungry for a quality watch. I said Rolex fit the bill perfectly.
I didn't hear back from them. Then one day a customer asked if we carried Tanzanite. One of our sales people said we did, and she took him around the store. He shopped the store, and then asked if we also carried watches. Our salesperson said our owner had been trying to get Rolex. After he said, "Oh, she is?" another customer, who just happened to be standing nearby said, "If she carried Rolex, I'd buy one from her."
It was divine intervention. How often does that happen, when the customer says that and it isn't staged? The man said, "I'm a Rolex representative and I'd like to meet the owner." Even with that introduction we still went through a tedious process. I have known jewelers who have worked 10-20 years to get that line and still don't have it.
Just this morning, I received two junk emails from a company claiming they had Rolex watches at a discount. How is that possible?
It's unfortunate, but whenever you have a coveted product, people make knock-offs. Nine out of ten Rolexes sold on the Internet are counterfeit. To know for sure you're receiving a true Rolex you have to buy from a dealer. They only sell to dealers. One of their missions is to make the best watch humanly possible. The second is to protect the brand.
Many times people buying a "Rolex" off the Internet will bring it here for repair and find out it's not what they thought. Often it will have Rolex outer parts, but the inner parts are a regular Swiss movement. They find this out six months later when the watch stops suddenly. And they have no warranty.
If you buy a "Rolex" and one part isn't genuine, and you send it in for servicing, the company won't touch it. Rolex controls the quality so much—they even extrude their own gold, which is mined specifically for the watches. They also use only 904L steel—the only watch in the world using that high-grade steel. NASA uses it for its rockets. Rolex magnifies the steel up to 100x to make sure it's perfect. The movement alone has 220 components, and Rolex makes each one in Geneva, Switzerland. It takes more than a year to make one watch.
When being interviewed 11 years ago for Connect Business Magazine, your mother said one key to her success had been the "private" nature of her location, which was on the fourth floor of the Graif Building. People wanted to buy diamonds in relative privacy, she said. After you purchased Exclusively Diamonds, in 2000 you moved to a location on Tullamore Street. Why?
I wanted to grow the business. There were drawbacks to the other location. For one, we had a parking issue downtown. Whenever an event came in at the civic center, parking was blocked off all around. On Mother's Day one year, during an MSU graduation ceremony held at the civic center, all our customers had to walk almost three blocks to get to our store.
Besides, we needed more space. I remember one Christmas Eve in the afternoon an hour before closing. There were 20 men standing in that tiny store shopping for presents. In 2000, to preserve a level of privacy for our customers, I chose to move here rather than a busy mall. Our sales increased 30 percent the year after moving. Our location is still off the beaten track.
What you did reminds people of what Todd Snell did. He moved from downtown to the hilltop like you. He was the son of the founder. He had just purchased the business, like you, and at about the same time. Were there doubts running through your mind when you made the move?
There are always doubts, but they were overcome when I realized my loyal customers would follow us. There was an opportunity to get into more of the community and get more of the action on the hill. I worried about paying for the building, but I could actually own my own building, have my own parking lot, and pay less rent than if I was in the mall. It just made so much sense.
How does a diamond get from South Africa to southern Minnesota?
It used to be we bought from wholesalers who in turn had bought the diamonds from sight holders. Now as jewelers we buy directly from the sight holders. Ten times a year the Diamond Trading Company in London distributes an allotted number of rough diamonds to sight holders around the world. The sight holders can't turn down what they are given. Then the sight holders cut and market them. We buy diamonds from the sight holder.
In 2000, the DTC shook up the number of sight holders. They wanted each sight holder to raise the industry to a new level by being part of the marketing branding effort. So the DTC cut the number of sight holders from 126 to 84. They did it because diamonds were being sold as a commodity. But diamonds aren't a commodity—each is unique. The industry had been slow to brand its diamonds. If you look at other industries, such as the fashion industry, you have branded purses and clothing. Brands are what people buy. In the diamond industry it wasn't happening that way.
So you get your diamonds from one sight holder?
From several, but one in particular. Africa produces 65 percent of the world's diamonds. We buy from FestDiam/SAGems, a sight holder in South Africa. We are in partnership with them through our South African diamond program. With my sight holder, I'll look at a hundred different diamonds, for instance, and out of that hundred may choose only a few because our Exclusively Diamonds standards are so strict.
You've been to South Africa?
Twice.
What are some of the sights, smells, and sounds?
South Africa is an amazing country to visit. Its diverse geographical regions of desert, bush land, mountains and oceanfront to its melting pot of cultures, tribes and languages, it is by far one of the most fascinating places to travel. Johannesburg is like many other modern cities except extreme poverty skirts the highways. Shanties, which are homes to millions of illegal immigrants, have no running water or electricity. Unskilled, un-educated, many with AIDS, these people flee from surrounding countries where conditions are worse.
Here Johannesburg has all this wealth from diamonds and gold, and that wealth is right alongside such poverty. Quite a juxtaposition.
The diamond industry is a major economic pillar providing roads, sanitation systems, health and educational facilities, but the problems are severe. South Africa has the highest concentration of AIDS in the world. There are millions of orphans, largely due to the AIDS virus. The diamond cutting factories provide high quality jobs, however the high unemployment rate makes this area a target. Armed guards carrying machine guns surround the diamond district.
What went through your mind when first thrown into that?
It's hard to imagine that somewhere so beautiful with all its natural resources could have so many problems. To help combat some of South Africa's issues, Exclusively Diamonds is part of a team of 38 jewelers that have raised more than $100,000 last year for sanitation projects and AIDS educational programs. The diamond mines in Kimberly are 3,000 feet deep. It was a thrill to wear a special suit, survival pack and experience the vibrations of the blasting of kimberlite ore. Mining went on around the clock and was considered one of the area's best jobs.
How about paradigm shift?
Although there is poverty, the people seem warm and welcoming. In the village we visited, people lived in 10×10 concrete homes with dirt floors. They were Christians. They had nothing by comparison to American standards, yet offered us food, hospitality and huge smiles. This village was right next to where we experienced South Africa's exotic treasure—the wildlife. We went on a three-day safari in an open camp where animals are free to roam. The bush becomes alive at night with sounds of wild animals. It is exhilarating to be watching lions, elephants, and Cape buffalo just a few feet away from an open Landrover. I fell in love with South Africa.
I've known a few businesspeople who give others the appearance of having faith, but it is primarily for show and their walk doesn't reflect their talk. You are upfront about your faith. How do you express your faith in your business dealings and in life?
I know this—my belief in God is such a part of me. It's not only in my business, but reflected in my personal life. I wake up every day at 4:30 am for prayer and meditation. A strong faith has pulled me through some major trauma. I believe in the power of prayer. Prayer has changed my life, this business, me.
How has it changed you?
I grew up in a Christian home. I've always talked with God throughout the day, but my faith grew stronger after I went through some difficult situations. A few years ago, one was the attempted armed robbery and abduction involving me here at the store. Then a few months after that my husband, Chris, was airlifted to Rochester with a type of massive blood clot that Rochester Mayo had never seen before. Emotionally it became too much to handle alone. Sometimes in life we are broken down to the point where we are hanging on by faith alone. But those times forever change who we are in Christ.
When I reached Rochester with Chris, the doctors said to me, "We don't know if there is anything we can do for him. We have never seen anything like it before. He'll probably be paralyzed and may not even make it through surgery."
I started praying right there, and called my friends and family that I knew would pray for Chris. Six days later he walked out of the hospital after being in intensive care. The doctors say he is a miracle man. They have no medical explanation why he is walking or even alive. God can do anything. He did that through the power of prayer.
In 2006, I had the opportunity to go to Nicaragua with Heaven Sent Ministries. Our job was to go with a medical team into the most remote parts. I went with doctors, nurses, a dentist and a chiropractor. My job was as a dental assistant. None of the people had ever seen a dentist, so many had rotted teeth. We did oral surgery without electricity.
On the second day, a woman was brought into the clinic, crying, screaming, in pain. The clinic stopped working at that moment. A doctor and nurses went over to her. For three days she hadn't been able to walk, stand, do anything. The doctors looked at her, and said, "We think your back is broken, and there isn't anything we can do. You need to have it x-rayed." We were nowhere near an x-ray. So she started crying.
We had to keep the clinic going, so we moved her aside. Then a woman nurse, a chiropractor, and two interpreters began praying over her. The chiropractor was icing her back. As they were praying, their prayers were getting louder. I was standing there with my dental patient, watching. Suddenly, the Spanish interpreter started yelling at the woman in Spanish. Then miraculously, the woman stood up and started walking. I had never seen anything like that in my life! I asked the interpreter, "What did you say to the woman, and what did you pray?" She said, "I prayed to God saying, 'You are the almighty God. You have all power to perform a miracle. If it is in Your will, heal this woman. In Jesus' name, heal this woman.'"
The interpreter said she knew the woman had been healed. I asked her how she knew. She said that she had felt the burn of the Holy Spirit through her own body, and because of that had known. I saw that with my own eyes. How many times do you see that? I tell that story because it shows the power of God.
You've been doing jewelry retail most of your adult life. No doubt you've picked up over the years the body language of potential buyers that would lead you to believe they are serious and not just "tire kickers." Can you share some of your insight?
I can see the excitement. An interested customer leans forward. They want to try it on. If it's a couple, they look at each other, smile and nod their heads. They see themselves wearing the ring or diamond necklace.
Your husband Chris, with his brother, owns three independent restaurants in Greater Mankato: Tav on the Ave, Neighbors Italian Bistro, and Dino's Pizzeria. What business advice have you given him over the years, and what has he given you?
We talk about business. I am their official product tester. I enjoy eating at their restaurants all week. He keeps teasing that he might have to open a fourth restaurant just so I can have more variety. (Laughter.) I probably eat at Tav on the Ave most because it's closest to Exclusively Diamonds. I love Neighbors Italian Bistro because of the pasta and fresh fish. Dino's Pizzeria has amazing New York-style pizza.
Do you give other advice?
We talk about marketing. This last year we decided to share a full-time marketing person between our businesses. Chris and I talk about ways to get customers in the door. Whenever I have an event at the store, he caters it.
Has the Internet affected independent jewelers?
It has been a big challenge to independent jewelers. In 2006, about 800 independent jewelers closed nationwide. So we had to sit down and think of ways to counter a lost sale—to get people to come through our doors. The first thing we decided on was to improve our repair service. Exclusively Diamonds now has three bench jewelers that size, set, and solder. We also added a laser welder. The last few months we've increased our shop work 40 percent. People can't get their diamond rings set or repaired on-line.
Have we lost sales to the Internet? Yes. But how much we don't know. Have we gained sales because of it, from dissatisfied people? Absolutely. What you lose on the Internet is the expertise and guidance of the jeweler. I've been grading and studying diamonds for 20 years. When you buy a diamond from me you are buying one I've personally hand-selected from a whole allotment of diamonds. We also carry larger products. For instance, here you can see and try four-, five- and six-carat diamonds, and other larger pieces of jewelry. You can't do that on-line.
We've also been having special events. For instance, in October we brought in a diamond cutter from FestDiam/SAGems, our South African sight holder. She is one of the few women master diamond cutters in the world and came to give our customers an experience they can't get anywhere else.
One of your employees came up with a novel idea to raise money for cancer research?
Rita Willaert is a seven-year ovarian cancer survivor. A couple years ago she decided to make a difference in the lives of other cancer survivors. She came up with the idea of selling jewelry in the shape of a butterfly, which is symbolic of new beginnings. One day while she was sitting on her back deck contemplating the idea, a butterfly lighted on the railing next to her. She took that as a sign she was supposed to do the butterfly jewelry. A portion of the money sold goes to cancer research, and we have sold over 450 pendants in our store alone, and have over 150 dealers nationwide. They sell for $100-$600. Wearing one gives you an opportunity to share your personal journey—and cancer is a journey. Our selling the pendant often creates a special bond between the customer and us. We have hugged and cried with customers.
You've been involved with the YMCA board and you helped Fellowship of Christian Athletes promote its event featuring Tony Dungy, the head coach of the Indianapolis Colts.
As for FCA, I wanted to help bring people to the event. I believe in the mission Tony Dungy talks about. FCA in Mankato had been trying to get Tony Dungy as a speaker for a long time. It just so happened that Mankato was his first speaking engagement after his team's Super Bowl victory. Tony Dungy said something I'll never forget. Talking about the difference between goals and purpose, he said that goals are things you try to achieve, and purpose is your mission in life. He said that his goal had been to win a Super Bowl, but his purpose was to glorify God. He said, "Imagine if my purpose had been to win a Super Bowl. For 26 years I would have felt like a failure. But that wasn't my purpose."
He said he used to coach the Tampa Bay Buccaneers. He said that with all the accolades and messages he received after his Super Bowl win, it was nothing compared to the number he received after he was fired as head coach of Tampa Bay. After his firing he publicly thanked the owners of the team for giving him the opportunity to be part of their organization, and how much he had been blessed by the opportunity. Nobody could believe he could be so grateful at such a time of disappointment. He was more of a witness for Christ then than after the Super Bowl. It's easy to be grateful when you're the winner. It's harder to be grateful when you're disappointed.
You have a holistic approach to life, which explains in part your interest in the YMCA and FCA.
I'm interested in body, mind and spirit. I trained with a YMCA trainer 18 months so I would know how to properly work out. I eat very healthy. I rarely eat processed or fried foods. As for other areas, I am always striving to learn more. I have a compelling desire to be the best I can be. I get up early, pray, meditate, and exercise to start my day. I am so refueled by six-thirty in the morning. I have so much energy and passion for life. I continually keep feeding my soul by reading and learning.
My job here at Exclusively Diamonds is to come in full of energy and passion so I can motivate and create momentum here. I expect a lot out of my people, but they expect a lot out of me, too. I am the one that gives them the vision. They are the ones that make it happen.
Humorous Debate
I've heard you were high school friends with Jean Taylor, president of Taylor Corporation.
Yes. At Mankato East we were in the debate and speech clubs together. Jean is brilliant, a leader, witty and clever, and has a great sense of humor. I just remember laughing a lot being around her. As for running Taylor Corporation, she is highly qualified, works and studies hard, and is all about excellence—all the things that make a company great and strong.
Getting To Know You: Sarah Person
Born: Austin, Minn., September 19, 1962
Education: Mankato East High School; University of Wisconsin-Eau Claire, marketing and business administration; graduate gemologist degree, Santa Monica, California.
Husband: Chris Person; children are Carter, 16, and Maria, 14.
Additional community involvement: InterCity Leadership Visit planning team (Bellingham and Fort Collins).
© 2007 Connect Business Magazine. All Rights Reserved.