Brunton Architects, RE/MAX
Photos: Art Sidner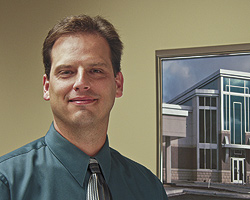 Mankato:
Brunton Architects
Brunton Architects, an architecture and interior design firm, opened in February 2008 in the Community Bank headquarters building in Mankato.
"I knew I wanted to be an architect when I was seven," said 39-year-old Brunton in a telephone interview. "I've always enjoyed looking at buildings and have had a fondness for sketching and drawing."
In 1987, he went off to North Dakota State to pursue his dream of owning a business. After he worked in Albert Lea for seven years with an architecture and engineering firm—and becoming an owner—a Greater Mankato firm in 1999 hired him as its director of architecture. Of his experience there, Brunton said, "I think (that company) definitely helped broaden my knowledge base with regard to the engineering side of the business and the incorporation of those services into building design. Having been an owner now with two previous architecture and engineering firms, I think I have an affinity for the architecture and engineering disciplines. I really try to make sure they all mesh together in a fashion that's aesthetically appropriate and functional."
The firm just completed $5.7 million and $3.5 million projects in Buffalo, Minnesota. Currently, the Brunton Architects-designed Commerce Plaza strip mall near Taylor Corporation in North Mankato is under construction. Brunton Architects has four employees, including Brunton's wife, an interior designer. He said, "I also have an interior design degree. It's nice working side-by-side with my wife in the company, one interior designer with another. We don't always agree, but we keep each other in check."
As for his own style, he especially enjoys using different types of glass, such as reflective and tinted, on projects. While with another company, he designed the Community Bank building, where he now has offices.
Contact: bruntonarchitects.com Telephone: 386-7996.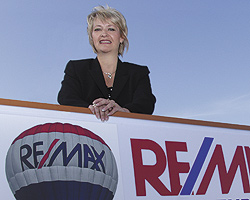 Mankato: RE/MAX
Patti Schuch opened a RE/MAX franchise a year ago at 1635 North Riverfront. Before getting there, she had quite the experience growing up.
At age 20, in 1983, the rural Janesville native had the opportunity of a lifetime to purchase a Waseca men's clothing store. The owner, from Colorado, was thinking of retiring. At the time, Schuch was a Brett's intern and a Wisconsin-Stout student majoring in fashion merchandising and business administration.
"It was The Casual in Waseca," said 46-year-old Schuch in a telephone interview. She added on a children's clothing store.
After seaven years, she and her husband had their first child, and she soon realized her regular retail hours were not conducive to raising a child. So she stayed home for six months, but was bored, and returned to work. Three years later, she closed the clothing store and rented out the building. In 1994, she earned her real estate license, and four years later started with RE/MAX.
"No one had a clue what RE/MAX was back then," she said. "Now everyone sees the balloon (on the sign) and knows right away it is real estate. RE/MAX is run on the idea that an agent has to be in business for yourself, but not by yourself. RE/MAX is more a support network for experienced agents who know how to conduct their business, but with the advantage of a national company to help with marketing and resources."
Last year, a second Mankato RE/MAX franchise became available, which Schuch purchased. Today, her office has eight agents. She believes having two RE/MAX franchises in Mankato offers both franchises advantages: "We have twice the agents, exposure, brand identification, and twice the production," she said. "But we are separate entities."
Schuch emphasized her business donates a portion of every transaction to the Children's Miracle Network, which benefits Gillette Specialty Healthcare and its Mankato prosthetic outreach. Contact www.ps-homes.com Telephone 387-7077.