Spinning Spool Quilt Shop, Midwest Horse Digest, Sven and Ole's Books
Photos: Art Sidner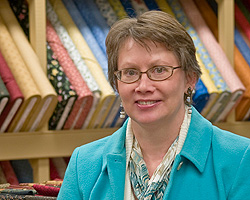 New Ulm:
Spinning Spool Quilt Shop
"I was sewing by hand with my grandmother and mother when I was little, making doll clothes, for instance," said Val Besser, owner of Spinning Spools Quilt Shop, which opened March 3, 2008, at 106 South Minnesota. By age 10, she was using her mother's sewing machine, and six years later was earning money hemming pants, making blouses, and doing alterations for people in Wells. She eventually married, and moved with her Air Force husband in 1979 to Tacoma, Washington, where she took tailoring classes and worked in a men's clothing store.
While pregnant with her second son, in 1982, she and her family moved to New Ulm. She took a community education class in quilting. From then till now, she became more interested in quilting and developed a home-based sewing and alterations business, and learned designing and making bridal wear. The home-based business and hobby became full-time on March 3.
"I still offer alterations, replace zippers, and have industrial equipment enabling me to sew on leather and canvas," she said. "With the quilt shop, I offer classes for beginning and advanced quilters. I have monthly clubs for people wanting to work on projects with others. Some of the clubs involve coming in monthly to pick up a pattern and packet to work on at home. One club involves coming here for three hours to work on a project. I also organize a three-day quilting retreat at Bingham Hall Bed & Breakfast on weekends in January and February."
She loves interacting with people and using her creativity to help customers choose fabrics, patterns and colors. She has spoken to school groups and emphasized the importance of learning math and geometry to quilt. She writes many of the patterns her clubs use, and also sells those patterns. "It's fun meeting people, including those just beginning to sew who may need handholding and also others more experienced," she said.
Contact: spinningspoolsquiltshop.com Telephone: 507-359-2896.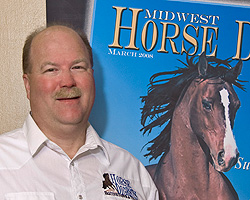 Blue Earth:
Midwest Horse Digest
Rahn Greimann's grandfather and mother owned horses, and his godparents owned a pony farm where children could ride for $1. From the early '90s until recently, Greimann was the general manager of three horse publications. With all this experience with horses, it seemed natural last March for 49-year-old Greimann to start Midwest Horse Digest, a monthly horse industry magazine published in Blue Earth.
"I've always been interested in marketing and sales," said Greimann in a telephone interview. "My educational background is in agricultural sales and management. I was a national sales representative for Tafco Equipment in Blue Earth, and spent four years with my brother leasing combines from Texas to Montana. I've sold and worked in most of the U.S."
Greimann went through a "life change" a year ago, when he lost his brother and had to take over his brother's businesses. At age 48, he decided then was the time to make a career change. So he started the magazine.
"Midwest Horse Digest has a fully interactive photo classified website," he said. "Most of our editorial content is from nationally and regionally known clinicians, and includes training tips on how to have a better relationship with your horse and how to ride better. We also have health and business tips for the equine industry." The magazine is distributed through Midwest tack and feed stores. Area outlets include The Stable in Winnebago, and Tractor Supply Company, Pet Expo, RCC Western Store, Stony Ridge Tack and Stable, and R Craig Leatherworks in Mankato.
"I like doing the magazine for two reasons," he said. "First, my passion is for horses, and second, it involves marketing. I got into it because it's something I can do in Blue Earth. For 15 years, I traveled all over the country, but with technology now I can have an office overlooking my own pastures. Also, due to my industry connections, I have a contract the next two years to produce all the print publications for the International Andalusian and Lusitano Horse Association."
Contact: horsedigests.com Telephone: 507-526-7189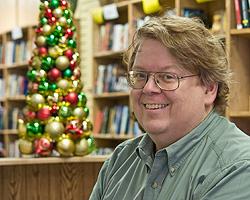 New Ulm:
Sven and Ole's Books
Sven—yes, there really is a Sven in New Ulm—came here in 2006 when New Ulm Medical Center hired his wife as an orthopedic surgeon. She had grown up in outstate Minnesota, in Mankato, and had always wanted to return to her roots. For the 16 years prior, he had been his wife's office manager, and before that had sold material handling equipment.
"New Ulm is a small town," said 55-year-old Sven Eelma in a telephone interview. His business opened in July 2008 at 202 North Minnesota. "In coming here, at first, we were concerned about being outsiders. However, those concerns were taken away rather quickly. This is a very friendly community—people are just downright friendly here."
He had no intention of starting a bookstore. But a year ago, he saw a man electronically scanning books at a library book sale. "I began investigating what he was doing," he said. "I love technology. His scanner had a database that taps into amazon.com's information. Each scan was telling him each book's worth on the used market and how fast of a mover it was. After learning everything, the man bought certain books and sold them on eBay or amazon."
So Eelma listed a couple hundred of his own books from home, and "dang if they didn't start selling," he said. "That led me to purchase my own scanner device. I kept selling what I had at home and each step of the way I kept thinking I could be good at it. There was work making sure online descriptions were accurate and packaging up the books for shipping."
He buys fast-moving books from library sales, auctions, and nonprofit fundraisers—such as a recent Boy Scout book sale in Minneapolis. About 65 percent of his sales are online; the rest are from walk-in traffic. At his store, he sells new and used books. For online sales, shipping costs $3 for the first book and 50 cents for the rest.
"Above all, I enjoy the walk-in customers," he said. "Having been in sales, I'm a people person. We've been open only since July, yet we already have regular customers."
Contact: svenandolesbooks.com Telephone: 507-354-6421.