So. Minn. Skydiving, So. Minn. Surgical, The Picker-Uppers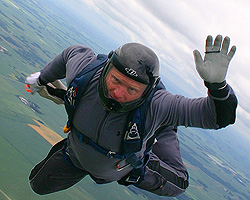 Submitted photo
Le Sueur: Southern Minnesota Skydiving
This company opened for business at Le Sueur Municipal Airport on May 15, 2010. Owner Cory Hanna became interested in skydiving after making his first "jump" about four years ago.
In a Connect Business Magazine telephone interview, 43-year-old Hanna said, "My daughter, who was 19 then, asked me to go to San Marcus, Texas, in order to do a tandem (skydiving) jump with her. It was such a thrill that I had to learn how to do it on my own. So I searched for a skydiving place locally and found one in Waseca."
Hanna grew up in Waterville, attended University of Minnesota-Waseca, and served in the Army. After majoring in law enforcement at Minnesota State, he joined on with Carlson Craft and worked his way up the ladder, including stints as supervisor at Carlson Craft, production manager and president of a 230-employee Taylor Corp. plant in Texas, and general manager of Navitor in North Mankato. Six months ago, he began a new position as director of business development.
Hanna said, "You do 25 jumps to get your "A" license, 50 for a "B" license, and at 100 jumps you can be a coach and teach others. At 200 jumps, you become a static line instructor. After my five hundredth jump, I drove to Chicago in person to get my tandem master rating. At that point, Waseca police officer Scott Girtler and I started our own business in Le Sueur."
Since beginning May 15, Hanna and equal partner Girtler (a pilot) have completed 125 tandem jumps with customers. They charge $190 per customer and offer group discounts. Hanna added, "We also offer static line progression classes and have radios so we can talk to you while you're in the air."
Last year, Hanna made Minnesota history by doing 100 jumps in one day as a fundraiser for a nonprofit organization. Southern Minnesota Skydiving is open weekends and by appointment during the week.
Web:  southernminnesotaskydiving.com
Telephone:  507-837-9350
—–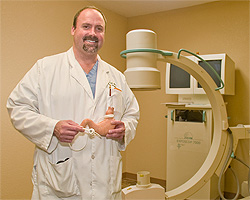 Photo: Art Sidner
Blue Earth: Southern Minnesota Surgical
Dr. William Lee of Blue Earth had quite a medical resume. He was an established general surgeon and a University of Iowa Carver College of Medicine graduate. Over the last five years, he began seeing potential in developing a niche market in southern Minnesota: Lap-Band surgery for weight loss.
"We started Southern Minnesota Surgical this July," said Dr. Lee in a telephone interview. "Most my time now is spent in Blue Earth, but I see patients in Fairmont and St. Peter. In the U.S., about 30 percent of the adult population is obese and 60 percent is overweight. Being overweight is a leading cause of death in the U.S. Nobody else in southern Minnesota right now is doing Lap-Band surgery and I believe there is a real need. It's a less invasive procedure, the anatomy is left intact, and I can adjust the band to how much the patient is eating to maximize weight loss."
Dr. Lee is board certified by the American Board of Surgery. Besides the Lap-Band surgical procedure, his independent clinic offers comprehensive general surgical care services. His team includes a registered dietitian, a licensed practical nurse, a scrub tech, an operations coordinator, and a coder/transcriptionist. He offers a strong aftercare program for Lap-Band patients, including support group meetings.
Dr. Lee said, "Growing up, I was always involved in baseball, hockey, and football—including being an offensive lineman for the University of South Dakota—and enjoyed being part of a team and interacting with people. That like for being on a team has transferred much to my surgery practice. I am only as good as the people around me. We try to keep a family atmosphere and that's one major reason we are successful. I have fallen into my niche and truly love what I'm doing."
Southern Minnesota Surgical has three clinic site locations, including 519 S. Galbraith in Blue Earth, River's Edge Hospital & Clinic in St. Peter, and Dulcimer Medical Center in Fairmont.
Web:  southernminnesotasurgical.com
Telephone:  888-925-3460
—–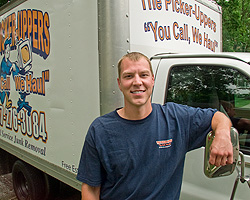 Photo: Art Sidner
New Ulm: The Picker-Uppers
The Picker-Uppers owner, Justin Keech, learned a lot from his mother, Sue Rothmeier, a New Ulm RE/MAX real estate broker. Said Keech, "I learned you have to work hard for everything you have. She started with nothing, was a waitress, earned her real estate license, and eventually became the broker for her own company."
About four years ago, Keech was in a funk. He wanted to "find himself," he said, and see the world and try something new. He went west to the state of Washington without a job lined up to join up with an old friend, Matt Bielke. After applying for work out there, Keech accepted his first job offer, with 1-800-Got-Junk. Over time, he learned the ropes of the junk removal business and eventually set his sights on bringing something like it back home to New Ulm.
"There is a 1-800-Got-Junk franchise up in the Cities, but there really isn't anything like it down here," Keech said of south-central Minnesota in general. " He looked into starting a 1-800-Got-Junk franchise here, but the company required a market size of 100,000, which was greater than New Ulm's 13,000.
So he began his own business in January 2010. What does he do? "It's simple," he said. "I just pick up junk and unused items people don't want. We go into people's homes, basements, and attics and take the items to our truck." For a vehicle, he uses a "U-Haul-like" 12x7x7 truck holding roughly 21 cubic yards of space. He picks up things like old or broken appliances, furniture, computers, and television monitors. To process the latter two items, Keech became a registered State of Minnesota e-waste collector.
"I like the variety of this work because I never know what I'm going to do each day," he said. "It could be a complete house cleanout or I could be picking up just one couch." The company has a $50 minimum and charges by truck space used. A full truckload costs $385.
Web:  thepickeruppers.com
Telephone:  507-276-3084