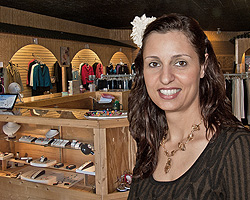 Photo: Art Sidner
St. James: Chez Alia Outlet
While growing up in Amman, Jordan, Alia Bostaji (Bose-tah-gee) enjoyed watching her aunt manage a home-based artwork business. It seemed intriguing. But Alia's father had other ideas.
"Where I come from, having a professional job was much more prestigious," said 33-year-old Bostaji in a Connect Business Magazine telephone interview. "My dad wanted me to be a banker. So I studied accounting and became a banker."
In 1999, she married, and in 2002 moved along with her husband to Montreal, Canada, where earlier he had earned an engineering degree and found work. Within a few years, her husband's employer went bankrupt. He tried starting his own business, but his lack of fluency in French became problematic. The solution was a job offer in 2006 with S-T Industries in St. James.
Said Bostaji, "I was shocked at first how small St. James was—it wasn't Montreal. I had never seen so many cornfields in my life."
After having her third child, over time, she became restless about working again. Her husband suggested banking. Then, to help out a friend, she began selling crystal bracelets to raise funds for a local cancer support group. One thing led to another, and before long Bostaji was organizing the "Marketplace of St. James," a monthly gathering of home-based businesses and community crafters and artists.
Last December, she purchased a clearance pallet of designer jeans from a high-end department store chain and sold 30 the first day during a snowstorm. Emboldened, in January, she opened Chez Alia Outlet at 510 First Avenue South. The business, in part, sells clearance items from the same department store chain, including quality casual, formal, workout, and business wear; shoes; belts; handbags; jewelry; lingerie; and men's items.
She said, "What I enjoy most about my business is seeing and caring for people. I really enjoy people—talking and connecting. It's all about personal relationships."
Chez Alia Outlet
Telephone: 507-621-1315
Hours: M-F 10-2:30 and 5-7; Saturday 10-4
Web: chezalia.com