Snell Powersports & Equipment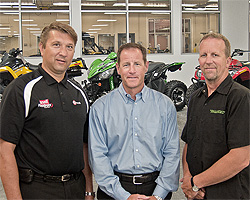 Photo: Art Sidner
Mankato: Snell Powersports & Equipment
"Snell Powersports & Equipment (Snell PSE) really began the day I was trying to get my (home) lawnmower fixed," said 48-year-old Todd Snell in a telephone interview. (Snell also owns Snell Motors in Mankato.) "I went to two places and found I would have waits of four to six weeks. I talked to my grass, but it wouldn't stop growing."
About the same time, a small engine dealer just happened to be buying a Snell Motors used car and expressed interest to merge or sell his dealership. From his personal experience getting a lawnmower fixed, Snell believed an underserved market existed and he could envision his service department filling the void. Besides, he said, most every Snell vehicle owner also owned a snow blower or lawn mower. In October 2010, Snell and the small engine dealer entered into a management agreement that was supposed to end in a sale. However, the dealer unexpectedly pulled out of the sell agreement, said Snell.
It was a blessing in disguise. "Through it, we got to know the industry," said Snell. "We began Snell PSE in mid-July (2011) with brands like Snapper, Snapper Pro, Simplicity, Ariens, eXmark, and more." Ariens, for example, originally wanted Snell to do warranty service work on its product purchased at places like Home Depot and Menard's. Now Ariens also uses Snell PSE as a regional service center of sorts for customers far from dealers.
Said Snell, "We're more of a professional grade sales outlet. We don't compete with big box stores—you don't see the same products here you see there. But we service both."
Recently, Snell PSE purchased Swenson Motor Sports (Gaylord) and its Bombardier Recreational Products franchise, which includes Sea-Doo, Ski-Doo, and Can-Am. The relationship between Snell and Swenson had been in place 25 years: Swenson had purchased vehicles from Snell Motors for that long. To help with transition, Swenson will stay on with Snell PSE one year.
Snell Powersports & Equipment
Telephone: 507-304-6756
Address: 1900 Madison Avenue
Web: snellpse.com