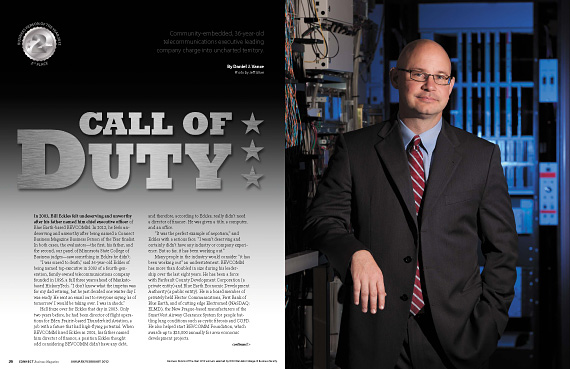 Photo by Jeff Silker
Call of Duty
Community-embedded, 36-year-old telecommunications executive leading company charge into uncharted territory.
In 2003, Bill Eckles felt undeserving and unworthy after his father named him chief executive officer of Blue Earth-based BEVCOMM. In 2012, he feels undeserving and unworthy after being named a Connect Business Magazine Business Person of the Year finalist. In both cases, the evaluators—the first, his father, and the second, our panel of Minnesota State College of Business judges—saw something in Eckles he didn't.
"I was scared to death," said 36-year-old Eckles of being named top executive in 2003 of a fourth-generation, family-owned telecommunications company founded in 1895, a full three years ahead of Mankato-based HickoryTech. "I don't know what the impetus was for my dad retiring, but he just decided one winter day I was ready. He sent an email out to everyone saying 'as of tomorrow' I would be taking over. I was in shock."
Hell froze over for Eckles that day in 2003. Only two years before, he had been director of flight operations for Eden Prairie-based Thunderbird Aviation, a job with a future that had high-flying potential. When BEVCOMM hired Eckles in 2001, his father named him director of finance, a position Eckles thought odd considering BEVCOMM didn't have any debt, and therefore, according to Eckles, really didn't need a director of finance. He was given a title, a computer, and an office.
"It was the perfect example of nepotism," said Eckles with a serious face. "I wasn't deserving and certainly didn't have any industry or company experience. But so far, it has been working out."
Many people in the industry would consider "it has been working out" an understatement. BEVCOMM has more than doubled in size during his leadership over the last eight years. He has been a force with Faribault County Development Corporation (a private entity) and Blue Earth Economic Development Authority (a public entity). He is a board member of privately held Hector Communications, First Bank of Blue Earth, and of cutting edge Electromed (NASDAQ: ELMD), the New Prague-based manufacturers of the SmartVest Airway Clearance System for people battling lung conditions such as cystic fibrosis and COPD. He also helped start BEVCOMM Foundation, which awards up to $25,000 annually for area economic development projects.
—–
For Eckles to claim a lack of company experience before becoming director of finance would be a bit like George W. Bush claiming he lacked any knowledge of what being President was like before his 2000 victory. Both had fathers that informally trained each for their positions. For Eckles that informal training began as a child when company business was regularly discussed each night over dinner and dessert.
Said Eckles, "I was interviewed by the (Faribault County Register) when I first began here and made the joke that I had an interview for my job that lasted 20 years. My family had been talking about the business with me that long. I grew up in the industry. My parents took me on vacations with their industry friends and through that I got to know them."
Eckles also learned from a father who valued personal relationships above business and measured success in terms of his personal relationships. For example, Eckles said, "The opportunity was there for (my father) several times to profit from someone's misery and he wouldn't. In a deal with him, everyone either ends up making out all right or loses together. He won't make a deal at someone's expense—and that was one of the best lessons I learned from him. When you look at what is important in life, employees and the people in the community need to be at the top of the list. If you take care of them, everything else will work itself out."
—–
He graduated from Blue Earth Area High School in 1994. After a year at Iowa State, Eckles went on to study finance at St. Thomas University in St. Paul, Minnesota, where the small-town boy could absorb a better big-city experience. Aviation soon became his passion. He took lessons and received his pilot's license, and while in college his last two years was a flight instructor. He was taking classes on Tuesdays and Thursdays and working at Thunderbird Aviation the other five days a week. He enjoyed college life with his close friends, three of whom today work in Blue Earth: one, an attorney; one a marketing consultant; the other, a police officer. After graduation in 1999, he became director of flight operations before landing at home in February 2001 as BEVCOMM's director of finance.
"I was pretty sure all along I would be working eventually in Blue Earth," said Eckles. "But I just had to explore this other direction to make sure it wasn't something I wanted to do for the rest of my life. Growing up, I always wanted to work here and had never thought about other opportunities until I went off to college. I wanted to make sure at age 50 I wouldn't have regrets about not doing something else."
As director of finance starting in 2001, he became the person in charge of acquisitions and growth opportunities. Many telecommunication firms, emboldened by deregulation the prior decade, were investing in a wide range of industries. Eckles was receiving calls from people regarding all sorts of investments. Most opportunities crossing his desk weren't the best ideas however, he said, and many seeming sweet at the time would prove sour. One potential investment was in Xtratyme, a technology company seeking investors for wireless broadband.
"(Xtratyme) was the first project I worked on and built business models for," said Eckles. "Fortunately, my education had been in finance, so I knew how to build proformas and how to analyze. I put the numbers together and figured it wasn't going to work for us. We didn't invest and now that company is gone. That turned out to be a good decision."
Then after two years, at age 28 in winter 2003, Bill and everyone at BEVCOMM received a high priority email from Bill's father Neil.
"I knew only that day he would be sending it out," said Eckles. "That was my only preparation for the announcement that I would be chief executive officer. I was in shock. But I had the advantage of being in a company that was doing well and had great people. They made up for my deficiencies. The first two years, I spent an awful lot of time asking questions and listening. We didn't do anything drastic because I've never been in favor of going into a company and shaking up everything. Besides, we were doing a lot of things right."
During those first two years as chief executive officer, he spearheaded a reorganization plan to streamline BEVCOMM's awkward bifurcation into regulated and non-regulated telecommunications. For example, BEVCOMM Blue Earth customers seeking both land-line telephone and Internet service had to visit separate retail offices, the former in downtown Blue Earth and the latter ten blocks away at the Ag Center on US 169. Eckles brought the two units together under one supervisor and location, which was a task requiring tact considering the vastly different cultures. Landline employees tended to be older and more experienced and Internet employees younger and not so experienced.
He sold under-performing Radio Shack franchises in New Prague and Wells. Into his second year as chief executive officer, independent telephone companies began placing themselves up for sale and Eckles worked overtime to vet potential acquisitions. The best was yet to come.
—–
The scope and vision of BEVCOMM began changing dramatically the day in late 2006 when the Federal Communications Commission approved the much-anticipated sale of Mankato-based Midwest Wireless to Alltel for $1.075 billion. It happened with Bill Eckles at the helm of BEVCOMM.
"Midwest Wireless had 69 member-owners, with many having as little as one percent of the company on up to New Ulm Telecom, which had around 10 percent," said Eckles. "As for us, let's just say we had less than what New Ulm had. Midwest Wireless had looked at all the strategic options and thought this was the best way to release shareholder value. We voted for the sale."
Around this time, BEVCOMM in five of its ten cities served had potential landline competitive pressures from cable giants Charter Communications, Mediacom, and Comcast. BEVCOMM needed to create fresh revenue streams in order to position the company for another profitable 20 years. In terms of population and potential business growth, Faribault County wasn't growing at all and New Prague was BEVCOMM's only city experiencing rapid growth.
Eckles and BEVCOMM sold its profitable, 1,000-line, Shell Rock (Iowa) exchange, which wasn't easy, as it appeared considering Eckles' great-grandfather literally began BEVCOMM there in 1895. The company purchased Cannon Valley Telephone, which provided telephone service to Morristown and the eastern half of Faribault County, and cable television to parts of Dakota County. This meant BEVCOMM, with its later acquisitions of the Delavan and Easton telephone companies, would have sole ownership of every telephone exchange in Faribault County except Kiester.
But the opportunity of a lifetime arrived when BEVCOMM partnered with New Ulm Telecom and ACS to buy out publicly held Hector Communications for $127 million. "We were buying one-third of a company twice our size," said Eckles. "But if you want to stay in business and go forward, you have to grow, and there isn't much growth in the markets we serve. If you can't keep growing in this industry, you start going backwards, and eventually you are forced to sell. During this time, we also had other opportunities to move into cable television, which we did, either by upgrading our own telephone lines for cable or as in the case of Blue Earth and Elmore by buying out Charter Communications and upgrading service."
The deal took Hector Communications private and split company responsibilities. ACS began managing Hector companies in northern Minnesota, New Ulm Telecom a company near Sleepy Eye, and BEVCOMM companies near Rochester and in Wisconsin. At its purchase in 2006, Hector Communications had nearly 30,000 landlines, and 8,000 cable television and 12,000 Internet customers. BEVCOMM still owns 33.33 percent.
—–
Pilot Eckles has flown high with BEVCOMM the last decade, and so have many organizations where he has served as co-pilot. For example, he was a co-founder of Faribault County Development Corporation, a private entity serving the breadth of Faribault County.
He explained, "In Faribault County, Blue Earth had an economic development authority (EDA) funded with a staff person and Wells had its EDA funded with a staff person. Faribault County had an EDA funded with a staff person. We had three full-time people serving a county of 15,000. To me that seemed a little ridiculous. Why not have one organization and have everybody pool resources? We went private to engage the private sector and have them contribute too. BEVCOMM serves practically every business in the county, so I don't care if a business locates in Wells, Winnebago, Blue Earth or wherever."
Although Eckles no longer serves on the FCDC board, he maintains contact with director Linsey Warnka. And he has kept BEVCOMM itself active trying to expand economic development in Faribault County. Partly funded by a "Midwest Wireless" sale endowment, BEVCOMM Foundation provides up to $25,000 annually in grants for county economic development. The latest grant benefited the City of Winnebago by providing marketing research funding and another helped Wells remove an abandoned trailer court.
On Eckles' dream list of economic development projects was seeing Faribault County differentiate itself from other southern Minnesota counties by putting up a spec building somewhere on I-90 to lure a new business to the area. He would like to replicate the phenomenal success of 75-employee Express Diagnostics, which moved into and has purchased a former spec building in Blue Earth's industrial park.
—–
Eckles has felt undeserving and unworthy about coming in No. 2 in Connect Business Magazine's Business Person of the Year award. However, he may have answered in part why he won the award when he said again, "Business all comes down to caring for your people first—care for them, and they will take care of you. It's something we have always done. That's the lesson I learned at the dinner table."
—–
Top Flight
CONNECT: What do you enjoy about flying?
ECKLES: The part I liked most was teaching people how to fly and I really enjoy interacting with people. I still fly. The best part of flying now is it makes the world a smaller place. I fly to our Hector Communications companies in Wisconsin. Two weeks ago, I was in New Orleans at a conference for telephone companies with cable television companies. I have a single-engine TBM that seats six and does 300 mph.
BevComm Services
Overall, the company offers a wide range of landline telephone services, cable television, Internet, business solutions (such as computer networking, alarm and surveillance, and teleconferencing), and computer sales and service.
BEVCOMM has landline telephone, broadband, and cable TV customers in Blue Earth, Winnebago, Elmore, Guckeen, Bricelyn, Easton, Delavan, Freeborn, Frost, Huntley, Morristown, Minnesota Lake, New Prague, Warsaw, and Wells. In addition, BEVCOMM has cable TV and cable modem service without telephone service in Kiester and parts of Dakota County
Future Shock
CONNECT: What do you see happening in the telecommunications industry right now?
ECKLES: The FCC has been pushing to reform rural broadband. Large parts of the country do not have rural broadband and primarily large companies like Windstream, CenturyLink, and Frontier serve them. Congress and the FCC want to fix this. Most rural carriers like BEVCOMM have done a really good job building up broadband. But somebody got the idea that the reason they have broadband and some others don't is because the smaller carriers must be getting too much funding and the larger ones not enough. So there is a move on to cut the funding to smaller carriers and give more to the larger ones. The rules are being written now. Rural telecom is going to have a difficult time the next five or ten years. We will have to raise rates and cut costs. We will be in better shape than most companies like ours because we run a tight ship. But many companies will have to make some hard decisions based on how the rules shake out.
The frustrating part for me is looking at these larger carriers that are paying out huge dividends to shareholders. The problem with them not offering broadband service is not that they aren't getting enough funding, it's that the money they make gets returned to shareholders rather than investing in the networks. Most rural carriers like us invest for the next 20 years. They are investing for the next two or three—and trying to get as much equity out of the company as possible and into shareholders hands. Frontier has been paying a 12 percent dividend. Other companies are doing stock buy-backs.
The Essentials: BevComm
Phone: 800-473-1442
Offices: 123 West 7th Street, Blue Earth, MN 56013
Web: bevcomm.net