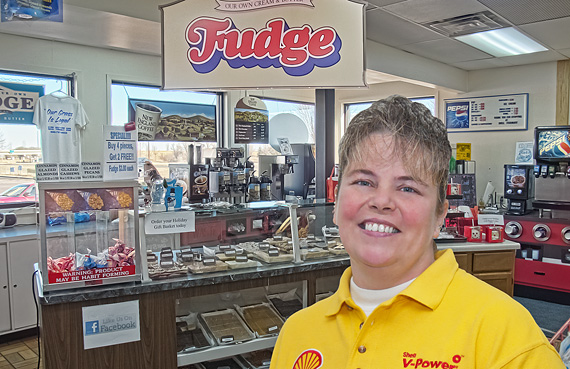 Photo: Art Sidner
Blue Earth: Little Giant Fudge
Little Giant Fudge, which operates inside Shell Food Mart at I-90 and US 169, has fast become a regional magnet for attracting I-90 travelers, said 45-year-old Kitchen Manager Patti Arends in a Connect Business Magazine telephone interview. The store literally has sold tons of fudge since opening less than a year ago. One traveling family from North Carolina said Little Giant Fudge's quality and selection were better than anything they had experienced on the East Coast.
Arends grew up in Hampton, Iowa. As a young adult, she took on being a full-time mother of three children and eventually worked as a baker, waitress, and restaurant manager, the last at Hamilton's Restaurant in Blue Earth for four years. She now works at Little Giant Fudge with fellow employee Sue Esser, with occasional oversight by owner Bob Weerts.
As for Little Giant Fudge, she said, "We make it fresh and do our own creating (with flavors). When I took over in March, we had maybe 40 different flavors, but now we have done over 100 different kinds. Some of our most popular are chocolate, chocolate walnut, and Blue Earth Dirt, which is very popular and tastes somewhat like a Snicker's Bar. We also have a salted nut roll. "
For those stopping in, Little Giant Fudge offers free samples. For Internet buyers, it will ship a small six-pack and/or an entire pan of any flavor—a pan contains 24 generous pieces of fudge that weigh roughly six pounds. A pan goes for more than $40 and a six-pack for about $12 plus shipping. Little Giant Fudge also ships nuts, cheese, and gift baskets, and assembles party trays for pick up.
Said Arends, "We haven't had a bad review. Everyone says it's very creamy. We have people saying the peanut butter fudge reminds them of their grandma's." For the Super Bowl, she said, she may make fudge in the different teams' colors. She added, "It absolutely smells great here. With the fudge and nuts, the aroma is incredible."
Little Giant Fudge
Telephone: 507-526-5066
Address: Shell Food Mart at 1-90 and US 169
Web: littlegiantfudge.com