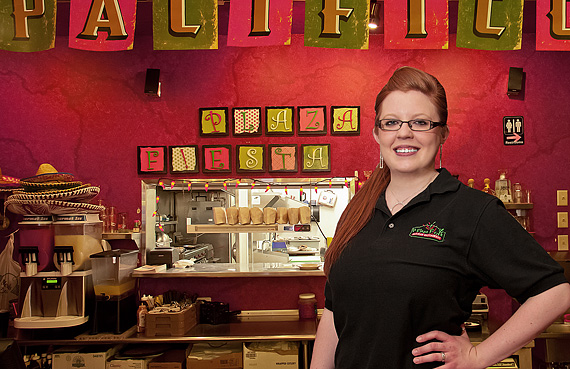 Photo: Art Sidner
Madelia: La Plaza F!esta
You won't find many people outworking 23-year-old Krystal Spinler, who purchased the Mexican restaurant in Madelia in January and renamed it La Plaza F!esta.
She began working at her parents' Owatonna roller rink at age 11 doing concessions, admissions, cleaning bathrooms, stocking shelves, and buying supplies. She ran the computer and was in charge of all private parties. At age 14, and after her parents sold the roller rink, she took a part-time restaurant dishwasher job at The Kernel. "Our family kind of had a string of bad luck, and my older brother and I had to get jobs to help my parents," she said.
After age 16 while attending high school, she worked three jobs—at The Kernel, a sports bar, and a Chinese restaurant. She loved everything about work and over time worked just about every position a person in the industry could. After high school, she finished a two-year degree at Minneapolis Business College in only 14 months.
To make a long story short, her best friend and co-worker, Fabian Martinez, lost his life in a tragic car accident on Christmas in 2008. Around the same time, Spinler lost two of her jobs when Vikings lineman Matt Birk closed his two restaurants after signing with Baltimore. Over time, Spinler became close to Fabian's parents, who owned several Mexican restaurants, including one in Madelia. She began working at the Owatonna location in 2009, and two years later moved to Madelia to manage it.
She said, "He (Fabian's father) asked me to buy it in October 2011. He said I was ready and owning a restaurant has always been my dream. I like helping and serving people. I am so happy when customers love their food." This cut-above restaurant has become known for its Mexican fajitas and authentic homemade recipes served in a fun and relaxing family atmosphere. Call for reservations.
La Plaza F!ESTA
Telephone: 507-642-8624
Web: laplazafiesta.com
Address: 15 West Main Street