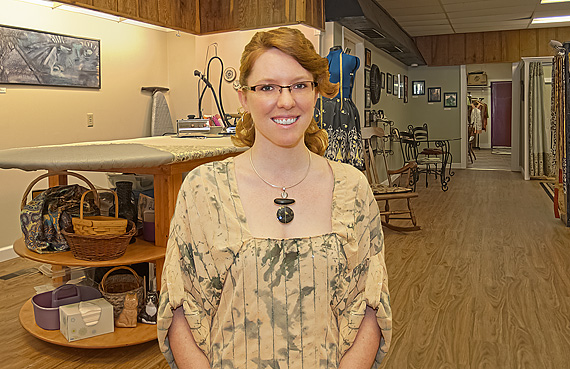 Photo: Art Sidner
St. Peter: Sew Boutique
When Kay Brandt was 10 and growing up in Tyler, Minnesota, her mother wasn't making Barbie doll clothing fast enough and that made Brandt anxious. Said now 35-year-old Brandt of Sew Boutique in a telephone interview, "I wanted more outfits and my mother would give me pieces of fabric and her safety pins and I made outfits for hours. I decided my first Barbie outfit would be a princess cut prom dress."
A love for Barbie dress-up morphed into Brandt in high school making half her personal wardrobe. Then her parents bought her a sewing machine as a graduation gift. While at Alexandria Technical College earning a degree in graphic art, she worked at a tailor shop. In time, she became a graphic artist at Home Magazine in Mankato and worked her way up to creative services manager. Although "really enjoying" her art department and co-workers, she left last year to pursue other interests, including painting and sewing, which she had been doing on the side for years anyway.
"I've been working on freshening up the building (in St. Peter) since January this year," said Brandt, "and I opened Sew Boutique on May 1. Besides being a seamstress/tailor, I make custom clothing for people with physical challenges or disabilities, including people who have lost their range of mobility and have trouble dressing themselves."
She makes wedding and prom dresses, does hems, mending, and zippers, and trims men's suits. No wedding or prom dress fits perfectly and everyone has a unique shape, she said.
"I love fabric, and fashion, and want people not only looking good in what they are wearing, but also feeling comfortable," she said.
Brandt also offers over 100 pieces of original local art for sale, including her own.
Sew Boutique
Location: 213 South Minnesota
Telephone: 507-934-7397
Web: sewboutique.biz