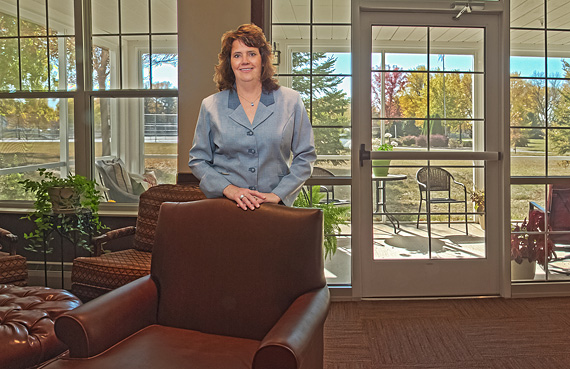 Photo: Art Sidner
Mapleton: Heritage Place
This community-owned, nonprofit business opened in January 2012 as a significant expansion to Mapleton Community Home. "(Heritage Place) is a combination of independent living and assisted living services in one building," said 50-year-old administrator RoxAnne Gosson. "The benefit of combining the two is that a person can move in as independent and receive more services (such as assisted living) when or if their needs change, all while staying in the same apartment. It has 20 full bedroom apartments." The facility is adjacent to the 65-bed Mapleton Community Home, a nursing care facility.
As for Gossen herself: "While going to MSU in the early '80s, I worked at a bank," she said. "Many of the people that had money to put into bank accounts then were the elderly population that I totally fell in love with." She realized banking wasn't the "nurturing and caregiving" work she wanted for the rest of her life, so she returned to MSU to earn a master's degree in gerontology, which she completed in 1987. After working for the Good Samaritan Society for about ten years, including stints in Mountain Lake and Waterville, and then at an assisted living facility in Mankato, she jumped at the opportunity to become administrator at Mapleton Community Home.
She said, "I had always had my sights set on working here, but they had a long-term administrator in for years. It has such a great reputation and was near my home in Mankato." She said other advantages include Heritage Place being adjacent to a park, the small-town feel of Mapleton, and the relatively small size of the business that enables employees to provide more personal service to residents.
HERITAGE PLACE
Website: mapletoncommunityhome.com
Phone: 507-524-3315