The Branch & Dandelion Rose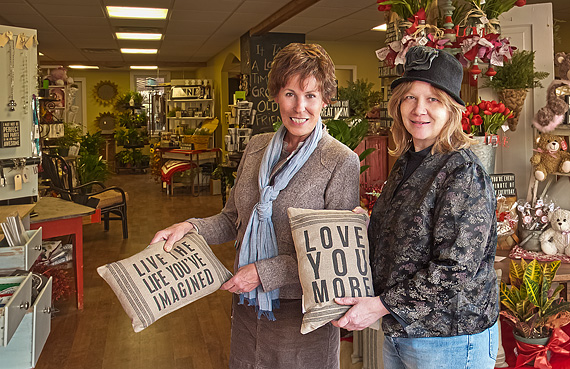 Photo: Art Sidner
Le Sueur: The Branch & Dandelion Rose
The Branch owner Bernie Ingersoll and Dandelion Rose owner Mary Sasse joined forces last May and now share the same building at 207 South Main.
The Branch is a full-service fresh flower shop handling parties, funerals, weddings, and bouquets and roses for customers. Ingersoll delivers in and out of town. She learned a great deal early on from her mother, who was "very creative, and always making us outfits and decorating our rooms," said 49-year-old Ingersoll. "She also was a chef and worked at the Holiday House, Mankato Golf Club, Adrian's, and Applewood."
After graduating from Mankato East in 1981, Ingersoll earned a degree in retail floristry. Eventually, she moved to Le Sueur and purchased The Branch in 1996. She said she especially enjoys working with flowers and the "warm and fuzzy" feeling she experiences seeing a person's face light up after receiving them.
Her building partner and friend, 54-year-old Mary Sasse, began working in retail as a high school junior when she helped start The Cellar in 1974 in the basement of the Lady Bug, a Le Sueur clothing store. The Cellar sold teen shirts and accessories. She graduated from Le Sueur High in 1976, and after a stint with Emma Krumbees General Store and years as a full-time mother, she started Dandelion Rose last May.
Sasse said, "In part, I sell unique delicious food, such as beer bread, special seasonings, Popdkerns, gourmet hand-crafted Jubilee candies, gourmet coffees, varieties of wild rice soups, and gluten-free dips and tortilla chips." The business also sells fine artwork, hand-carved walking sticks, Stuffies, Archipelago boutique lotions, wind chimes, birdhouses, and more.
She added, "I like the diversity of my job, such as being able to mix with people, doing customer service, and going to market. We can't compete with big box stores, so it's my job to find what isn't overused—to find what is unique."
The Branch & Dandelion Rose
Address: 207 South Main Street, Le Sueur, MN
Telephone: 507-665-2004
Hours: 9-5:30 M-F; Saturdays 9-3