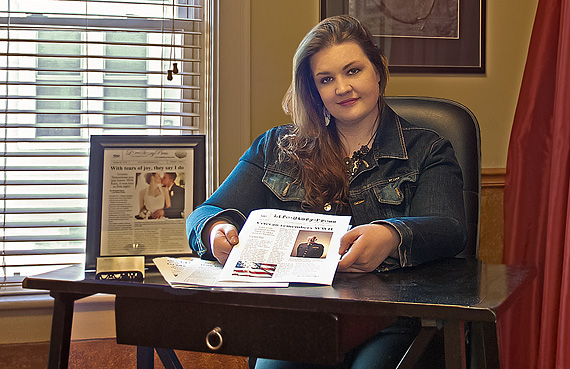 Photo: Art Sidner
Mankato: Life Story
As a child growing up in Fairmont, Amanda Dyslin was creative and always searching for fun things to do. However, she didn't have a career focus until attending Minnesota State and taking English and journalism classes.
A journalism professor there told her, "It's great to be good at writing, but you have to have some sort of trade to go with it," said 32-year-old Dyslin. "He suggested journalism was one way to be creative and was an actual marketable skill. Also, I'm most interested in meeting new people and am a people person, and getting to know people and their stories has always interested me."
While at MSU, she accepted a part-time Free Press job typing obituaries to get her foot in the door. An MSU adjunct professor and Free Press employee, Joe Tougas, had persuaded the newspaper to use her talents. She began full-time working there while finishing up a mass communications degree in 2003, and has been with the newspaper ever since.
"My absolute favorite stories have involved writing about the important events in the lives of everyday people," she said. "One story involved a man who called to tell (the newspaper) that his wife was dying of brain cancer. Before she passed away, he wanted to renew their wedding vows. He shared with me their love story and why it was important for him to (renew their wedding vows) as a symbol of his wanting to tell her he loved her no matter what."
Within the last year, Dyslin started Life Story part-time to help people preserve memories for their loved ones and friends—memories such as weddings, engagements, graduation, athletic achievements, a childbirth or retirement. Stories and photos look and read like newspaper stories. Cost begins at $175. One client has hired Dyslin to chronicle all the events of a child growing up. Another surprised her parents with a Life Story anniversary gift.
Life Story
Telephone: 507-327-7510
lifestorymankato.com