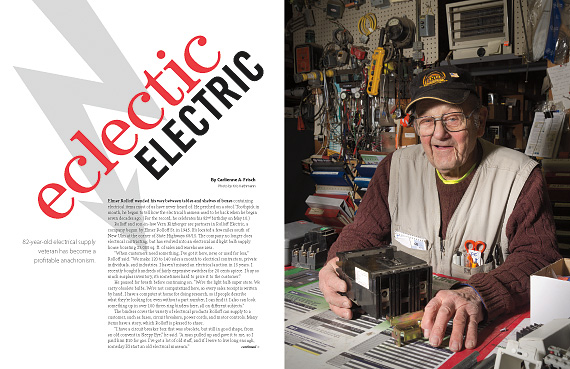 Photo: Kris Kathmann
Eclectic Electric
82-year-old electrical supply veteran has become a profitable anachronism.
Elmer Rolloff wended his way between tables and shelves of boxes containing electrical items most of us have never heard of. He perched on a stool. Toothpick in mouth, he began to tell how the electrical business used to be back when he began seven decades ago. (For the record, he celebrates his 82nd birthday on May 10.)
Rolloff and son-in-law Vern Kitzberger are partners in Rolloff Electric, a company begun by Elmer Rolloff Sr. in 1945. It's located a few miles south of New Ulm at the corner of State Highways 68/15. The company no longer does electrical contracting, but has evolved into an electrical and light bulb supply house boasting 23,000 sq. ft. of sales and warehouse area.
"When customers need something, I've got it here, new, or used for less," Rolloff said. "We make 120 to 140 sales a month to electrical contractors, private individuals, and industries. I haven't missed an electrical auction in 15 years. I recently bought hundreds of fairly expensive switches for 20 cents apiece. I buy so much surplus inventory, it's sometimes hard to price it to the customer."
He paused for breath before continuing on. "We're the light bulb super store. We carry obsolete bulbs. We're not computerized here, so every sales receipt is written by hand. I have a computer at home for doing research, so if people describe what they're looking for, even without a part number, I can find it. I also can look something up in over 100 three-ring binders here, all on different subjects."
The binders cover the variety of electrical products Rolloff can supply to a customer, such as fuses, circuit breakers, power cords, and motor controls. Many items have a story, which Rolloff is pleased to share.
"I have a circuit breaker box that was obsolete, but still in good shape, from an old convent in Sleepy Eye," he said. "A man pulled up and gave it to me, so I paid him $10 for gas. I've got a lot of old stuff, and if I were to live long enough, someday I'd start an old electrical museum."
—–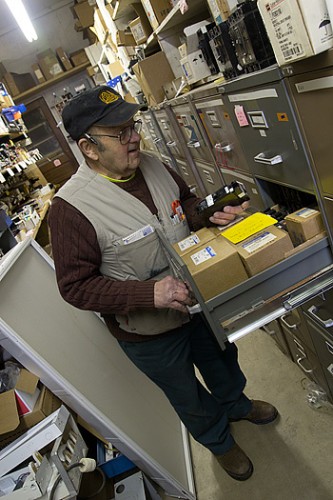 No one would argue the electrical industry has remained the same over the last seven decades, but that doesn't mean the parts Rolloff stocks or tracks down for today's customers are obsolete. He explained, "The basics of electricity are still the same. The methods of generating, controlling, and using it have progressed, so it seems there's no limit. But Ohm's Law is still in effect." (See sidebar below)
"I got a call from Mankato last night for a special type of fuse," Rolloff said, "a European style fuse for a denture manufacturer. They didn't want to wait until their shipment came. I gave directions to come here using Highway 68, which is what I do so people don't have to backtrack from New Ulm. I sent some fuses along and said, 'This'll get you going again.' That kind of thing happens a couple of times a day."
Rolloff launched into an explanation of family history. His parents, both from the New Ulm area, were married in Chicago, which was where they worked and where Rolloff Sr. attended Coyne Electrical School. After becoming a journeyman electrician, he installed burglar alarms. The couple returned to Minnesota in 1929, where Rolloff Sr. worked in government programs, first for the WPA (Works Progress Administration), and then the CCC (Civilian Conservation Corp), wiring military barracks. Rolloff Jr., born in 1931, remembers living on the family's mink ranch near Essig until he was four, then moving to New Ulm.
"In 1940, my father got a job with Minnesota Valley Canning (now Green Giant) in Le Sueur," Rolloff said. "When the war came, he was too old for the draft. He spent a year working on ocean-going tankers for Cargill in Savage, then at a local electrical shop and then at a power plant. He occasionally worked with farmers evenings and weekends. I helped on the farm jobs at a young age."
—–
Rolloff Sr. founded the business in 1945 in a chicken barn on the family property at 315 North Franklin Street in New Ulm. (The family later moved to 5th North Street and built a shop there.)
"In September 1945, the war was winding down," Rolloff said, "and the War Department was releasing copper and steel for civilian use. The REA (Rural Electric Association) was preparing to extend the power lines to many farmers that had endured the war years without electricity. We installed the electrical system on many of the area farms. For a few years, supplies were still scarce, and long-time customers got priority. My father was new in the business, so we had to scrounge to get enough supplies."
The only son of four children, the 14-year-old high school student was involved in the business from the first day.
"After the war, the City of New Ulm expanded the natural gas network and sold conversion burners," Rolloff said. "My father and I got connected with some of the installers. They would install during the day, and we could usually hook up the controls for two of them in the evening.
"In the wiring of farm houses, I was the little guy, so I got to go up and crawl in the attics," Rolloff said. "I loved the meals the farm wives served to workers, and a lot of the old farmers smiled when I spoke a little German to them. My grandparents spoke New Ulm German dialect, and I'd had German class a couple times a week in my Lutheran grade school."
In addition to working evenings, Saturdays, and during school vacations, Rolloff was allowed to skip afternoon classes occasionally. "I would jump into my 1935 Terraplane and head to a farm to help install one of the new systems," he said. (Terraplanes were cars and trucks built by the Hudson Motor Car Co. from 1932-38.) "A 60 amp main service on the yard pole was the norm. Mother could get an electric range and refrigerator. Dad and the boys could get a half-horse power surge milk machine in the barn. The little power left over was used for the windmill or the pump jack and lights."
Sometimes the father-and-son team worked ahead of the REA, which built electrical lines by hand. "We would sometimes wire a farm when the REA was still a mile away," Rolloff recalled. "Dad bought a Katolight generator, and we got electrical tools that gave us light when we worked winter nights. After we finished wiring a farm, we connected our generator to test the system, so when the REA got there, they were ready to go.
"I remember what one older farmer said when I asked him 'how many lights do you want, and where?' He said, 'See those two hooks? That's where we hang our kerosene lanterns, so that's where we need bulbs.' He wanted 25-watt bulbs, just two of them in the barn. When his son took over, things changed. I also wired a lot of houses for $350 after WWII. Now you can't even buy the main disconnect switch for that amount of money."
—–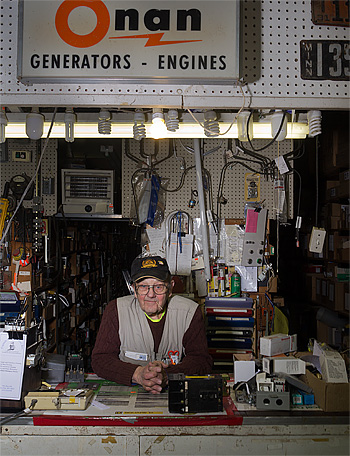 When Rolloff Electric moved to its present location, the family was quite familiar with the building. Rolloff explained, "It was built in 1950 as a roller rink, 150 feet by 50 feet, with an addition. My dad and I wired it, and I'm still working with some of the things I touched back then. It was an implement shop after the roller rink closed."
Shortly after graduating from New Ulm High in 1949, Rolloff got his journeyman's license. (He had officially begun his apprenticeship at age 16.) He also joined the Minnesota National Guard, which was federalized into the U.S. Army during the Korean War. He served with the 7th Infantry Division, seeing combat action in Korea, and earned the Bronze Star for valor before finishing his tour of duty in Japan as a Master Sergeant. Back in New Ulm, he served two more years with the local National Guard.
"When I got back from Korea in 1953, my dad put me to work the next day," Rolloff said. "I also took some classes paid for by the GI Bill. I attended the winter months and learned a lot of technical basics."
His first night home from Korea, Rolloff met his future wife, Marlene, on a blind date at the Kaiserhoff restaurant. They married in 1954, which led him to take a full-time job with Kraft.
"Kraft came to town in 1954 and built a cheese processing plant," Rolloff said. "I was hired in 1955 to do electrical maintenance on the night shift. I worked with higher voltages and more modern equipment. While working nights there, I did trenching (putting wires underground) for my dad. I learned a lot in 13 years at Kraft, had a regular paycheck, and got experience working with commercial voltage and equipment like that used on farms now. (I consider today's farms industrial complexes.) When the New Ulm brewery (Schell's) began making 1919 Root Beer, they carbonized it by hand. Then they got a carbonizing machine from out of state and called me as to how to use it. My experience at Kraft gave me the know-how."
—–
When his father retired in 1968, Rolloff left Kraft and took over the business, moving it to his country acreage before relocating to its present spot.
"We compete with the big box stores because of our rural location," he said. "Vern and I incorporated 10 to 12 years ago, around the turn of the century. Being partners eliminated dealing with a lot of government regulations. We sold a lot of do-it-yourself materials to homeowners. Over the past 15 years, we began to specialize in materials for commercial and industrial fields. I salvage electrical controls and wire from torn-down buildings. I quit contracting around 2008 and gave up my contractor license two or three years ago. I still maintain my master electrician license, which I got in 1958."
Rolloff admits to slowing down a bit—"I don't hunt anymore, and I never was much of a fisherman"—but added, "I've got projects, such as forestry, working on equipment, and I play with the great-grandchildren. In 1968, I bought a 1916 Model T Ford pickup truck and put it on blocks in the machine shed. I told my sons, who were young, that we'd restore it together when they got older. It's still setting there. Now it's the great-grandchildren who are too young."
He continued, "I grow walnut, ash, and conifers on 80 acres I bought in 1960. I don't do it for economic reasons. I just like trees. I have donated Christmas trees to schools. After WWII, while still in high school, I bought up about 200 acres of abandoned and tax-forfeited woodland and donated to the State of Minnesota 23 acres adjacent to the Millford Wildlife Management Area, which they now are part of."
Rolloff's interest in all things old led him to purchase kiddy rides that he hauled to community celebrations and company events, along with a kiddy train. "We went to Kraft plants, 3M plants, etc., for over 30 years, with my kids helping," he said. "Now the rides and train are in storage."
Rolloff recently became involved in a weekly Bible study group. He said, "I wish I had studied the Bible more, and now I'm in a men's Bible study that meets Fridays at 6 a.m. I'm learning things I didn't learn earlier, and I can't wait until next Friday, because I'm going to learn something new. I'm inquisitive."
Does Rolloff plan to retire or is he too busy to think about it? He looked straight at the reporter and answered, "You gotta have something to keep you going. I enjoy the business and enjoy meeting people. It's not the economics. I've never had the motive to get rich."
—–
THE ESSENTIALS
Rolloff Electric
Founded: 1945
Address: Junction Highway 68 and 15S
New Ulm, MN 56073
Phone: 507-354-4860
Plugged In
Member, New Ulm Chamber of Commerce.
Charter Member, Minnesota Forestry Assn.
Life Member, Korean Veterans Association.
Life Member, American Legion & VFW.
Life Member, National Rifle Association.
Wired In
Family: Wife Marlene and four adult children: Julie, Pamela (married to Vern Kitzberger), Paul (an electrical engineer), and Scott (a tool and die maker). "When I took over the business in 1968, the two boys helped me with it."
Favorite school subjects: "History, because I learned what people tried and how they did it, and mathematics, because I like challenges."
Accomplishment of which most proud: "I've always been proud of my work. Whenever I wired a house, I'd put a sticker with my name, the date, and something that happened that day, like a rainstorm."
Words that describe you: "Optimist, because there are so many opportunities. My wife would say I'm a workaholic."
If you could change one thing about life: (Rolloff just shrugged his shoulders and shook his head.)