Prairie Wind B&B and Retreat Center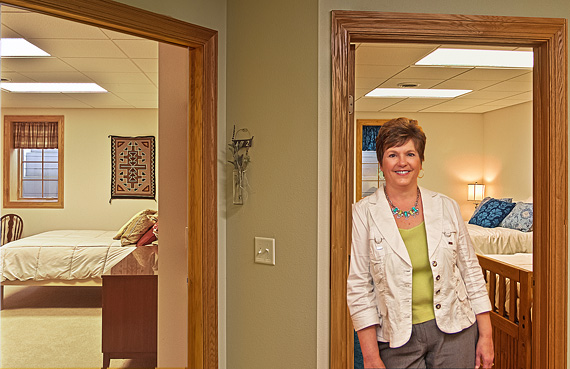 Photo: Art Sidner
Winnebago: Prairie Wind B&B and Retreat Center
Becky Krause and husband Dave have a new bed & breakfast and retreat center northeast of Winnebago near Bass Lake. Much of Becky's training to operate the facility came from being a pastor's kid.
"Growing up, we always had guests and visitors," said 55-year-old Krause in a telephone interview. "While on trips, we often didn't have to stay in motels because there was always another pastor that would put us up. (After church) we would often get treated to lunch. We learned to appreciate people by going into their homes and spending time with them."
After graduating from Minnesota State in 1980, and later earning a master's from St. Cloud State, she began a special education teaching career that continues to this day. On the side, years ago, she became a Creative Memories consultant and sold scrapbooking supplies at home. Ten years ago, the Krauses had a custom home built near Bass Lake with the intention of one day holding scrapbooking workshops inside. That "intention" became Prairie Wind B&B and Retreat Center, which was licensed this January.
"For scrapbooking, quilting or crafting groups, we can handle up to eight people," she said. "There's sleeping for three in each of two bedrooms, and for two in the other. Our focus is to host a small group of people that want a weekend event."
The home's 2,400 sq. ft. bottom floor has maple floors, a workroom and workspaces with equipment, a kitchen, and two large-screen TVs (for workshop videos). The home has geothermal, radiant floor heat, and abuts an 80-acre natural prairie. Rates are $100 per person for two weekend nights. Breakfast provided. The facility is open for traditional B&B guests in the summer. Given the proximity to Bass Lake, the facility would be ideal for groups of couples in which the men might prefer fishing and the women scrapbooking, for example.
Prairie Wind B&B and Retreat Center
Telephone: 507-893-4740
Web: retreatatprairiewind.com