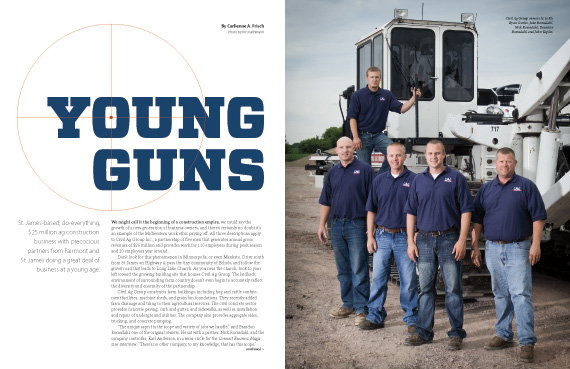 Civil Ag Group owners (L to R): Ryan Guritz, Jake Romsdahl, Nick Romsdahl, Brandon Romsdahl and John Taplin. (Photo: Kris Kathmann)
Young Guns
St. James-based, do-everything, $25 million ag construction business with precocious partners from Fairmont and St. James doing a great deal of business at a young age.
We might call it the beginning of a construction empire, we could say the growth of a new generation of business owners, and there's certainly no doubt it's an example of the Midwestern work ethic paying off. All three descriptions apply to Civil Ag Group Inc., a partnership of five men that generates annual gross revenues of $25 million and provides work for 110 employees during peak season and 20 employees year around.
Don't look for this phenomenon in Minneapolis, or even Mankato. Drive south from St. James on Highway 4, pass the tiny community of Echols, and follow the gravel road that leads to Long Lake Church. As you near the church, look to your left toward the growing building site that houses Civil Ag Group. The laidback environment of surrounding farm country doesn't even begin to accurately reflect the diversity and enormity of the partnership.
Civil Ag Group constructs farm buildings, including hog and cattle confinement facilities, machine sheds, and grain bin foundations. They recently added farm drainage and tiling to their agricultural services. The civil concrete sector provides concrete paving, curb and gutter, and sidewalks, as well as installation and repair of underground utilities. The company also provides aggregate sales, trucking, and concrete pumping.
"The unique aspect is the scope and variety of jobs we handle," said Brandon Romsdahl, one of the original owners. He sat with a partner, Nick Romsdahl, and the company controller, Karl Anderson, in a semi-circle for the Connect Business Magazine interview. "There's no other company, to my knowledge, that has this scope."
—–
Civil Ag Group was established on January 1, 2012, when Romsdahl Construction Inc. and Taplin Construction LLC joined forces. Nick Romsdahl originally began Romsdahl Construction as a sole proprietorship in 2003, doing small construction projects such as shingling, siding and roofing. Two years later, his second cousin Brandon Romsdahl joined him, and a limited liability partnership was formed. The cousins were only 18 and 19 years old respectively when they began their enterprise. Despite their youth, both had several years of construction experience. Brandon had been employed by his future father-in-law, Terry Koch; and Nick learned about construction through years of working with his father, Warren, a building contractor and construction supervisor. Both young men also had experience working for other companies.
"When we started, we had a couple trucks, a pickup, and some tools," Brandon said. "We paid for supplies with cash. We financed each job as we went. We did a lot of shingling and remodeling work of agricultural buildings. Odin State Bank eventually began financing us, once we started a successful track record, and they have been great to work with ever since. They look at the big picture, not just at numbers."
He continued on, "Romsdahl Construction was able to establish a relationship with some of the largest hog integrators in the Midwest, who have headquarters in southern Minnesota and we do work for the majority of them. Much of the company's revenue comes from the ag side because of where we're located and because ag construction was the original business. Our farm construction advertising has always just been word-of-mouth. We do 35 to 40 large jobs each year and many smaller jobs."
Nick added, "We have a lot of private repeat ag customers, and we've built some great relationships on the civil side."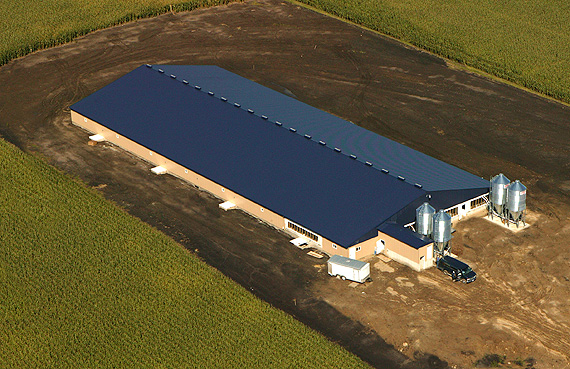 —–
Taplin Construction, founded by John Taplin, worked cooperatively with Romsdahl Construction for several years. Brandon explained, "We began working with John, hand-in-hand, back and forth. We decided it would be beneficial to throw it all into a hat and so we became partners. John's background was in street reconstruction and underground utilities. At that point in time, the civil sector of the company expanded. We then acquired three pits from which we draw aggregate materials—sand, gravel and rock."
Nick said, "We were then very fortunate to be able to work with more established companies in the civil sector, which provided us with an opportunity to grow in the market."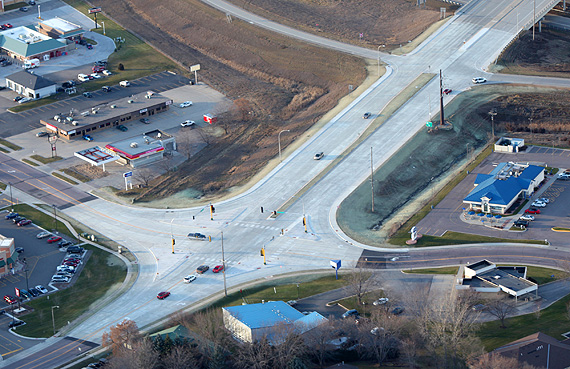 The three partners were committed to making a successful merger and sought out the talent they needed to reach that goal. They hired Ryan Guritz, a skilled and respected estimator and project manager, for the civil side. He later became a partner.
Jake Ebert was hired to provide his years of knowledge in the building of hog barns, in addition to experience he had gained at a local lumberyard estimating those types of projects. Two full-time mechanics were hired to take care of the large line of equipment, and Karl Anderson was added as controller to manage day-to-day financial affairs.
Later in 2012, Brandon's first cousin, Jake Romsdahl, bought into the business and brought with him the experience and equipment to do farm drainage and tiling. The company's owners all have brought solid and diverse experience to the enterprise.
"Everyone works just as hard as the next person," Brandon said. "Each helps the other partners. Weekly owner meetings are conducive to solving problems."
Nick said, "We get along amazingly well. The company often has up to fifteen projects going at the same time. Everyone has their own responsibilities."
—–
Civil Ag Group helps clients take their project from conception to completion. The company helps with design, budgeting and scheduling of each project, with a goal of providing timely, safe and cost-effective services. Projects range in size from $50k to $3 million. Because of the merging companies and the expansion of equipment, Civil Ag Group is able to start and complete projects under one roof efficiently and effectively.
Timing has played a key role in the company's entry into the municipal market. Many area communities have aging infrastructure that needs or soon will need replacing. Another key role in the success of Civil Ag Group, Inc. is a strong local and national agricultural economy that requires construction of new animal confinement facilities to meet an increasing global demand for pork and beef.
"We try to do as much of the work ourselves as possible, about 90 percent, with very few subcontractors," Brandon said. "We can control the schedules and the quality of work, and customers like dealing with one person. We do turnkey projects, from start to finish—all the excavation, all the concrete work, and all the building construction. However, we do contract out our pre-cast materials, electrical work, asphalt work, and landscaping."
Nick added, "We realized early on it takes quality people, which we have, and quality workmanship with quality equipment. This makes for a successful business. We learned what our strengths are, and we try to focus on those strengths in the performance of our company. During the busy construction season, the company's employees work up to 70 hours a week to complete projects in a timely manner. We make every attempt to be an exceptional employer and to treat our employees well. Most employees are from rural southern Minnesota, with the same backgrounds and values we have. Our company has a lot of great people, and that's been 99 percent of what helped us get to where we are today. We're well aware that, while acquiring many assets in the growth of our business, the greatest asset we have is our field employees and our office staff. They all contribute to our goal of providing the quality workmanship and the customer service that we believe will continue to strengthen our reputation. This will, in turn, continue to make our business profitable not only for us, but also for our employees and our customers."
—–
It's not only the construction crews that have an intense work schedule. The partners check on each job at least twice a day. They often have three or four projects going at the same time, usually within a two-hour radius of St. James, about which Brandon commented, "We drive from site to site, addressing issues and putting out fires."
Although both Nick and Brandon were reluctant to come up with three words that describe each of them, Controller Karl Anderson answered the question, saying, "Both of them are workaholics, dedicated, and honest."
Brandon explained, "I think listening to the customer's ideas and needs, along with working with a team of suppliers, has led to strong word-of-mouth referrals. We know customers expect the highest quality craftsmanship, along with the latest building technology, such as octoform concrete wall systems and PVC liners. We have a solid demand for our services. We display the company logo and signage on all of our vehicles and have a website (civilaggroup.com) where people can learn about us."
Nick said, "We do believe the best advertising is a satisfied customer. By making every attempt to honor our stated commitments, with timely completion of projects and quality work, we'll continue to generate business through word-of-mouth advertising. We've developed strong relationships with area general contractors, distributors, and suppliers of concrete and building materials. Our goal is for these businesses to refer us to their customers who are seeking construction services."
—–
Building Community
The partners of Civil Ag Group belong to the Minnesota Pork Producers, the Minnesota Utility Contractor's Association, the American Ready Mix Association, and the Concrete Paving Association, with the latter involvement in Minnesota and Iowa because they work in both states.
On the local level, in addition to being members of the St. James Chamber of Commerce, they are involved in numerous organizations and activities. "We support local events, 4-H and county fairs, Relay for Life, the building of Toddler Town, and other organizations," Brandon said. "We give monetary contributions and often donate CAG tee-shirts and sweatshirts for prizes."
The company's expertise is showcased in their support of the annual
St. James School District 840 Foundation Auction. "We build a playhouse or a storage building each year with supplies donated from a local lumber yard," Brandon explained.
Off the job
Nick Romsdahl: Age 28
Hometown: St. James.
Marital status: Not married.
Recreation: Boating on Long Lake, golfing, season tickets to Vikings games.
Brandon Romsdahl: Age 27
Hometown: St. James.
Family: Wife Maegan and two children.
Recreation: Spending time with family and friends.
John Taplin: Age 41.
Hometown: Fairmont.
Family: Wife Heather and two children.
Recreation: Ice fishing and watching children's sports.
Jake Romsdahl: Age 25.
Hometown: St. James.
Family: Wife Felicia and two children.
Recreation: Boating and fishing.
Ryan Guritz: Age 34.
Hometown: Fairmont.
Family: Wife Bianca and three children.
Recreation: Motorcycling.
THE ESSENTIALS:
Civil Ag Group
Address: 41172 695th Avenue
St. James, Minnesota
Phone: 507-736-2187
Web: civilaggroup.com