Mankato Independent Originals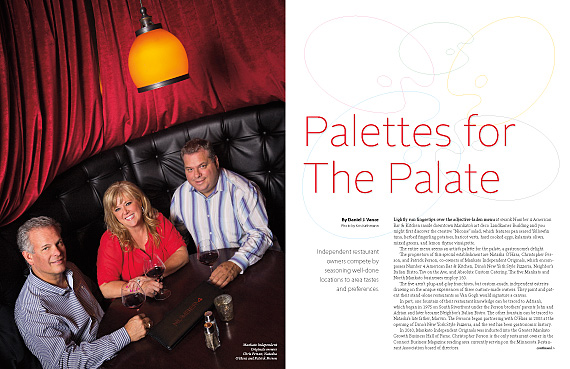 Mankato Independent Originals owners Chris Person, Natasha O'Hara and Patrick Person. Photo: Kris Kathmann
Palettes For The Palate
Independent restaurant owners compete by seasoning well-done locations to area tastes and preferences.
Lightly run fingertips over the adjective-laden menu at swank Number 4 American Bar & Kitchen inside downtown Mankato's art deco Landkamer Building and you might first discover the creative "Nicoise" salad, which features pan seared Yellowfin tuna, herbed fingerling potatoes, haricot verts, hard cooked eggs, kalamata olives, mixed greens, and lemon thyme vinaigrette.
The entire menu seems an artist's palette for the palate, a gastronome's delight.
The proprietors of this special establishment are Natasha O'Hara, Christopher Person, and Patrick Person, co-owners of Mankato Independent Originals, which encompasses Number 4 American Bar & Kitchen, Dino's New York Style Pizzeria, Neighbor's Italian Bistro, Tav on the Ave, and Absolute Custom Catering. The five Mankato and North Mankato businesses employ 150.
Their four restaurants aren't plug-and-play franchises, but custom-made, independent eateries drawing on the unique experiences of three custom-made owners. They paint and patent their stand-alone restaurants as Van Gogh would signature a canvas.
In part, one fountain of their restaurant knowledge can be traced to Adrian's, which began in 1975 on South Riverfront under the Person brothers' parents John and Adrian and later became Neighbor's Italian Bistro. The other fountain can be traced to Natasha's late father, Marvin. The Persons began partnering with O'Hara in 2005 at the opening of Dino's New York Style Pizzeria, and the rest has been gastronomic history.
In 2010, Mankato Independent Originals was inducted into the Greater Mankato Growth Business Hall of Fame. Christopher Person is the only restaurant owner in the Connect Business Magazine reading area currently serving on the Minnesota Restaurant Association board of directors.
—–
I've interviewed many restaurant franchisees. They generally are told what to do by the franchise. On the other hand, you have to reinvent the wheel every time you open a new restaurant. How do you go about doing it?
Pat: You don't have to reinvent the wheel. We could have gone to Owatonna, for example, and opened a Tav on the Ave there and done well. But opening in Owatonna, because we are so hands on, would have been much harder than opening a restaurant in Mankato with a different concept.
Tasha: We ourselves have a personal interest in our items and concepts. For example, we all love pizza—and so we opened Dino's. We love steaks and seafood—so we opened Number 4.
Pat: When Chris and I opened Tav on the Ave in 1988, I was 22 and he was 24. As people, we were young, looking for a bar with food, and wanted to watch sports. At the time, no Mankato bar sold food after ten at night. So we served a full menu of food open to close—because that's what we would have wanted personally. It was a little different with Neighbor's, which used to be Adrian's. It was April 2000, my dad had passed away, and one Sunday night at dinner our mom said she was done working at the restaurant. She literally walked away from a restaurant she had owned for years.
You didn't know she would walk out?
Pat: It just happened. If you want the restaurant, she said, go in tomorrow and take over. We had to figure out how to compete with the chains opening then. We couldn't do what they were doing. In Mankato then there was a void with Italian food.
Chris: She had been in the restaurant industry her whole life and it had become hard for her. The fun was gone.
Pat: Some people think their dream is to open a bar or restaurant until they open one. It's hard work. She had done it since age 12, when she began working for her mom at The Coffee Cup on Second Street.
Chris: The advantage we have over chains is we don't need to call Kansas City to change the music or the inside temperature. If our customers want something different, it can be on the menu tomorrow.
Tasha: It's our independence.
Chris: They're battleships. We're speedboats.
Pat: We're in touch with the industry, go to seminars, and hear owners talk about what they're doing. Six months later what they talked about shows up in the chains. The chains are six months behind independent restaurants.
Yet so much of what you go off has to be gut feeling. You don't have the multi-million dollar research budget of a chain.
Tasha: I agree with you on gut feeling. You have to feel it, know you can do it, and have to have confidence in doing it. As for Dino's opening in 2006, the three of us had to know what to do. We had that feeling, took it, and had the confidence to run with it.
Chris: Same with Number 4. It was developed during a bad economic time.
The year 2009 was the worst possible time to start Number 4, especially after another restaurant had failed in the same location.
Chris: With Number 4, we had a four-year vision of developing the business and put a lot of money into it. We put money into Dino's too, but Pat and I owned the building.
Pat: We also had equipment in storage to open Dino's, which came from the Corner Malt Shoppe, which our mom and dad used to own, Neighbor's, and Tav on the Ave. Our family dining room table from my parents' house is at Dino's.
Tasha: We changed the plans at Number 4 maybe ten times during construction. For example, we were going to have a coffee shop in front and a bar on the side. We decided to go 100 percent bar.
Pat: We were thinking how much fun a coffee shop would be. Finally, we looked at each other and realized we shouldn't be doing it for the fun.
Tasha: We also thought how gorgeous those windows were at the front of Number 4. Why not keep that area open and not blocked off with a coffee shop?
Chris: So at the last minute right before the bar was ordered, our contractor Dave Pfeffer said, Why not move the bar? In comparing what we do to chains, I call it magic. It takes magic to do these places. We've seen many chains close in Mankato over the years: Ground Round, TGI Fridays, Quizno's, Famous Dave's, Hardee's, Green Mill, and more. They were heavy hitters and put money into advertising and promotions. We competed with them. We have always had to be as good as what they come to town with.
Years ago, I interviewed someone for this cover who said one key to success with a franchise was having local ownership, where the owner worked in the business or was close by. Do you agree?
Pat: The chains blow into town. We go to charity events, but don't see the owners of hardly any of the chains there. But they are doing business. The Free Press puts the Olive Garden above the fold to announce they are coming to town. They get that kind of free advertising. When Starbuck's changes the size of a coffee they get free national advertising. Their owners don't need to be here. We draw a clientele that likes to meet each of us at our restaurants. They really think it's neat to meet an owner. That's why we didn't go to Owatonna with Tav on the Ave or expand to the Twin Cities. We can't physically be there.
Give examples of relationships with customers.
Chris: Tasha could talk about that more. She's more the hugger and birthday girl. We celebrate birthdays, anniversaries, and weddings. It's fun to get to know people and to hear their life stories.
Tasha: Two couples set up their engagements at Dino's—one in a booth, the other at the front window. So we dedicated the booth to one, and the table to the other. They have their stories up, and pictures, and come back to make special announcements. One now has two children, and the other has twins and sends email updates. We enjoy creating experiences for customers. It brings me so much joy to see customers happy when they leave.
Pat and Chris, what was it like growing up in a family owning a restaurant?
Chris: We started working at a young age, and were required to be there after school to mop the floor of five-booth, 13-stool Adrian's Cafe. We liked being there, it felt like home, and the food was good. You couldn't get a better beef commercial. That's where the core of our family spent time. Even then, we learned work came first before play.
What else did you learn from them?
Pat: My dad was a good people person, but not as good at managing. Mom handled the money and was usually the one to drop the hammer.
Drop the hammer?
Pat: If an employee had to be fired, my dad wouldn't do it. He'd go to my mom outside the restaurant and tell her what had happened and she'd take care of it. She was the creative one that came up with the menu ideas. Everyone thought my dad did it because he was the cook. We'd go places on vacation, for instance, where my mom would learn about menu ideas.
Give an example of her doing that.
Chris: Quesadillas. We all went to Mazatlan 30 years ago, and afterward my mom began putting quesadillas and chili on the menu.
Pat: People called them quesadillas (kay-suh-dilluhs) back then.
Chris: When Pat and I were opening Tav on the Ave in 1988, the first two weeks we just served cocktails to get our feet under us while finishing the kitchen. Two nights before opening the kitchen, we had this item on the menu and asked our mom what to put in it. She rattled of all kinds of things off the top of her head, such as a cup of this, a cup of that, a bit of shrimp, use this crab stuff, put some dill in, put it on an English muffin, and put cheese over it. We called it the blackjack melt. It's not on our menu today, but was in the Star Tribune as a requested recipe. My mom brought buffalo chicken wings to Mankato after reading a recipe in a magazine.
Does she still help out?
Patrick and Chris: Oh no.
Tasha: She retired.
Pat: The smoke still hasn't cleared from the street from when she ran to get away from Adrian's. (Laughter.) Those last few years, she was involved only because of Dad. He wouldn't wind down. He just worked, worked, worked. She will give suggestions now, but the industry has changed.
Chris: I call her every year on St. Patrick's Day to ask her what goes in the Irish stew. I have it written down, but still ask her. For me, that's part of the fun. What she says changes from time to time because she cooks by taste, not recipe.
You think you'll ever walk away—like your mom did? Do you feel like that some days?
Pat: Some days I do. Some days you work 14 hours and are running circles around 21-year-old employees complaining about how their back and feet hurt. Some days I feel like they are making more money than I am. Some days I just want to leave.
Chris: I definitely feel like my mom some days. I want to still feel good about it and still have the passion. I've seen owners that wait too long. Their business has gone downhill and they've rolled everything back in to keep it going. I don't want to get to that point. We've done things to stop burnout. We have to hire the right people. We have to work with each other.
What else do you do to stop burnout?
Chris: We take time off, but probably not enough.
Tasha: When it's time to take time off, you take it. If you need to go on a vacation, you go. We have to communicate.
Pat: We've all invented our job. Right now Tasha has thrown herself into catering, which is different than what she had been doing. I've taken over the training and marketing. We have a marketing and human resources staff to do some tasks. If you have four restaurants, and get burned out at one, you can always go to another and feel better about your day.
Chris: We hired Randy Rigdon as director of operations less than two years ago. I looked at what he was making and we all talked about how we couldn't afford him. Then we did the interview and started talking about how we couldn't afford not to hire him. He has taken over many things we don't like, such as hiring, multiple interviews with each potential employee, training, and helping our management team improve.
Tasha: He and others are doing things that need doing. It would burn us out having to do all that on top of everything else. That has helped us expand and become better.
Chris: We were all doing things we hated. (Laughter.) When we hired Randy, Tasha, Pat, and I gave everything we hated to him. We felt relieved. He was magic.
What about your background, Natasha?
Tasha: Before moving to Mankato, I worked in restaurants for family friends in Palatine and Barrington, Illinois.
Chris: She needs to tell you she was fired.
Tasha: (Laughter.) The "mean" brother fired me from Tav on the Ave. (Laughter.)
Pat: I don't know who the mean one could be. (Laughter.)
What happened?
Tasha: In 1995, I was hired as a server at Tav on the Ave. Shortly after being hired, I took off a weekend to see my mother in Chicago and went on to New York for family issues. When I came back, I saw the schedule and noticed a "T" next to my name. That meant I had been terminated. I really wanted this job, and went to talk to the "nice" brother first, but he wasn't there. So I knocked on the "mean" brother's door. Slowly it opened. I took a deep breath, and said, "I want my job back." I had to promise I would uphold the policies and not be late again. And now here we are.
I grew up with family friends that owned restaurants, including a pizzeria. I graduated from high school in 1991 and went to community college there full-time. I loved the restaurant industry, knew I would do something in it, but didn't know how that would evolve. When my father passed away in 1992, I quit school. My mom said I had to get back to school. I said, fine. I'm going to Minnesota State.
What happened to your father?
Tasha: I was three when he was diagnosed with cancer, and even though given only four years to live, he lived 16. (Silence.)
Your dad fighting cancer must have been a big part of your life.
Tasha: Huge. (Silence, tears.) His name was Marvin, which is my son's middle name. He taught me hard work. He said you have to work to get what you want. What I am today is because of him. My parents were amazing. They were a beautiful loving couple, and both worked very hard. There wasn't a day they didn't work hard.
The sense of life being temporary must have always there with your father.
Tasha: He was an extreme fighter. He went an extra 12 years and never gave up. He said he lived to watch us grow. I work hard because that is what my father would want me to do. The day I turned 15 he made me get a job at a local grocery store as a bagger. At 16, when I got my license, he said I had to make more money in order to fill the tank on the car and pay insurance. I became a checker. So when coming to Mankato, I worked at Tav on the Ave six years, including three as a manager.
Why leave?
Tasha: Family friends opening a pizzeria in Chicago offered me an opportunity. So we moved. But the pizzeria didn't open. They opened a car dealership instead, where my husband worked. We weren't happy there. Mankato was home and we wanted to come home. We moved back in 2003. It's the community I always wanted. As Chris said earlier, I'm a social bug. I love talking with and seeing people, and it's fun running into people at the Mall or gas station.
How did Dino's get started from your end?
Tasha: (Laughter.) Chris and Pat knew I had a passion for opening a pizzeria. They had the same passion. They had been researching it a couple years before I came back. I was at the YMCA one day when Pat walked up. We had stayed friends. At a meeting later, he said he wanted to open a pizza place, but didn't want to be manager. I didn't stop talking for 20 minutes. They knew I wanted to be a partner. That's when my dream started coming true.
You are three very different people. My guess is there is tension sometimes between you because of those differences. What was the last big thing you argued about?
Pat: We don't argue about big things. That's not how we work. We discuss, put out our side, and try convincing the others.
Chris: Then you go with it, and leave united.
Is it a 2-1 vote sometimes?
Tasha: Sometimes.
Chris: But it's mostly 3-0. We often let each other do what they want as a trial.
Pat: If it's something I feel strongly about, they say go for it. Digging your feet in and refusing to change isn't productive, especially if one person is passionate about an idea. Sometimes I say don't include me, but I'll let you do it. Sometimes we just get sick of seeing each other and go on a trip to get away. Chris goes to the lake, I ride my motorcycle, and Tasha does her thing.
So part of your success is in how you've learned to get along.
Pat: He's my brother. We lived in the same room for years. We had to learn compromise.
Chris: I'm still training him. (Laughter.) It never ends.
Pat: At Tav on the Ave, for years, he and I basically cooked every day at lunch. Then it got busier and busier. Around the time we needed a remodel, we knew we could push the other guy only so much before he would throw down his spatula, leave, and you would be cooking alone.
You need each other.
Tasha: I look at them not only as business partners, but also as family. They bicker, and I do it too, but they are like brothers. We don't have screaming matches.
Chris: Partnerships can be difficult, but we make it look easy sometimes. We've known of brothers going into business as partners and years later still aren't talking to each other. However, there are days when I go out the front door, he goes out the back, and we come back the next day to work through it.
How many employees do you have?
Chris: 150.
Are you set up as four separate companies or one?
Pat: Four separate companies. As for Obamacare, though, it doesn't matter if our companies are separate because they have "similar" ownership. Obamacare will affect our part-timers most because of their being unable to work more than 30 hours a week. We've had some people working 20 hours at one location and 20 at another. They will now be limited to how much they can work. They will lose out. We can't afford to pay their health insurance because it's not in our margins. Minimum wage is $7.25 an hour. Minnesota is one of seven states that doesn't have a tip credit. We have servers earning minimum wage but make over $30 an hour with tips. Most of that is cash. When I say there are days when they make more than me—there are.
You're on the Minnesota Restaurant Association board, Chris. What are the big issues there?
Chris: Minimum wage is a big issue. Just like the cigarette tax last year, a liquor tax increase is coming up probably next year. There is also sales tax on equipment purchases—another issue.
Pat: Another issue is the legal alcohol limit going from .08 to .06.
Chris: That legal limit really would be problematic for a 110-pound woman ordering a glass of wine, for example. She won't really know where she's at in terms of blood alcohol level and so won't drink. Those are the main issues.
Pat: When I say there is no tip credit here, what I'm saying is Wisconsin, Iowa, North Dakota, and South Dakota have one. The minimum wage there is between $2.35 and $3.35 for servers. We are at $7.25 or whatever we go to.
Chris: We've not figured out how this will affect us. All our back-of-house people are already paid more than that already. It's the front-of-the-house that make minimum wage. We don't want to take wage away from anyone in the front, but our servers do really well. We have busy locations.
If in your shoes with a minimum wage hike, I might consider laying off someone from the front.
Pat: You can't do that because the people out front sell your product. You have to have them to sell. There are lots of people wanting $30 per hour jobs, though. The people in the back working hard in the heat—not many people want those jobs.
A liquor tax: Where is that right now?
Pat: They were trying to raise the liquor tax about 500 percent. People don't understand that when we buy liquor we already pay a tax and when we sell it we also charge a sales tax higher than the regular sales tax. So the state is getting two taxes.
It doesn't take a rocket scientist to figure out if you raise prices too much people will drink less and tax revenues will go down.
Tasha: People will drink at their homes.
Pat: That's why we continually focus on our food quality. For example, we patty our own burgers at Tav on the Ave. Could we buy cheaper frozen burgers already pattied-out? Of course. Our business is becoming less and less about alcohol.
Chris: It's the new way of doing prohibition. They are raising taxes to get you to stop drinking. So in the future you will come in, have a great meal, and drink only one glass of great wine.
I interviewed the owner of Dan's Appliance in Fairmont for this issue. He said his biggest fear in business was another September 11 event.
Chris: When the Afghanistan war broke out about 2002, it was like we were in the middle of a blizzard. No one came in.
Pat: We have many things we could fear. Meningitis isn't good for business. 100-degree heat isn't good for business. The patio gets real slow when it's that hot. (Laughter.) Blizzards on New Year's Eve aren't good either. That business is gone and will never come back. I don't have any control over the weather, Iraq or meningitis. I only have control over our four walls at each place.
Did anyone say you were crazy starting Number 4? You came in with a bad economy. The restaurant here before had closed down. When you opened, I thought you would be closed within two years.
Pat: Nobody said that to our face.
Chris: As part of our opening strategy, we offered a VIP card to about 15 select people, who wrote checks to us for a large amount of money. We put those checks in our account. We let them use the VIP card at any of our restaurants. They didn't have to wait in line. That brought influential people into our restaurants and created a buzz.
Tasha: They were mini-partners helping us.
Did you think you would fail?
Tasha: I didn't.
Pat: There are times, yes. I get that feeling every morning when I wake up and think which restaurant will fail. It's not one thing that makes you fail, it's 100 little things, so you're constantly trying to fix little things to make your place better.
Chris: The Tav was done on an SBA loan. When first starting, we had to come up with sales projections. We've never had a sales day as low as our minimum projections. But we didn't know that then. We were wondering if we'd ever make the minimum projections. We were scared. The same thing happened with Dino's. That place is tapped out. We didn't build it to do what it's doing now.
What well-known people have eaten in your restaurants?
Chris: Ted Nugent and his band came to Number 4 after a concert.
Pat: I get Justin Morneau at Neighbor's regularly.
Tasha: We get President Davenport at Dino's.
Chris: We get Clark Judge with CBS Sports during Vikings camp at Number 4. He gave us a "Top Two" places to eat for NFL training camps.
Pat: Zygi Wilf brings people to Neighbor's. The first week Number 4 opened, we had Jim Marshall, the ex-Viking.
Where do you go from here?
Tasha: Our catering company is our fifth business. It gives people one place to contact all four restaurants. We have become the Minnesota Vikings caterer of choice. We have served two to 3,500 people. We do catering at Chankaska Creek Winery. Catering is now five percent of our total business.
Chris: As for the future, there are times we'd like to start another place. It takes that magic. It takes all our great employees and management stepping forward. It takes someone like Tasha. There are opportunities downtown, lower North, and upper North. We have dreams. But there are only so many hours in a day.
Pat: Independent restaurants give this town personality. There is only one Number 4, Dino's, Neighbor's, and Tav on the Ave.
—–
Getting to know you: Natasha O'Hara
Born: September 26, 1973, in Barrington, Illinois.
Education: Barrington High School '91, and Minnesota State (speech communications major and sociology minor).
Getting to know you: Christopher Person
Born: December 11, 1961, in Mankato.
Family: Wife Sarah, and children Carter and Maria.
Education: Mankato West '80 and attended Minnesota State.
Getting to know you: Patrick Person
Born: December 7, 1963, in Mankato.
Education: Mankato West '82 and attended Minnesota State. Also, three years in U.S. Army as military police officer.
Children: Taylor and Johnathon.
THE ESSENTIALS: Mankato Independent Originals
Phone: 507-382-2133
Web: MankatoIndependentOriginals.com
Web: AbsoluteCateringMankato.com