Kyle Smith, Tailwind Group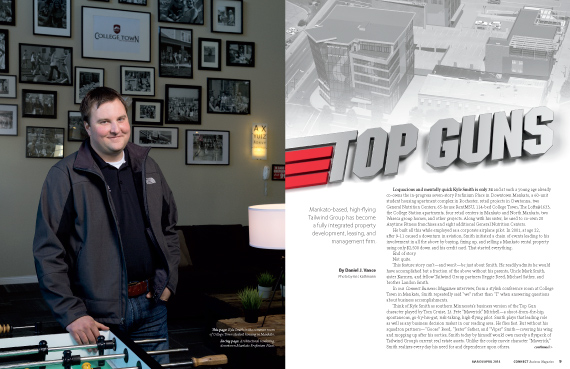 Photo by Kris Kathmann
Top Guns
Mankato-based, high-flying Tailwind Group has become a fully integrated property development, leasing, and management firm.
Loquacious and mentally quick Kyle Smith is only 34 and at such a young age already co-owns the in-progress seven-story Profinium Place in Downtown Mankato, a 60-unit student housing apartment complex in Rochester, retail projects in Owatonna, two General Nutrition Centers, 65-house RentMSU, 114-bed College Town, The Lofts@1633, the College Station apartments, four retail centers in Mankato and North Mankato, two Waseca group homes, and other projects. Along with his sister, he used to co-own 20 Anytime Fitness franchises and eight additional General Nutrition Centers.
He built all this while employed as a corporate airplane pilot. In 2001, at age 22, after 9-11 caused a downturn in aviation, Smith initiated a chain of events leading to his involvement in all the above by buying, fixing up, and selling a Mankato rental property using only $2,500 down and his credit card. That started everything.
End of story.
Not quite.
This feature story can't—and won't—be just about Smith. He readily admits he would have accomplished but a fraction of the above without his parents, Uncle Mark Smith, sister Karmen, and fellow Tailwind Group partners Reggie Reed, Michael Sather, and brother Landon Smith.
In our Connect Business Magazine interview, from a stylish conference room at College Town in Mankato, Smith repeatedly said "we" rather than "I" when answering questions about business accomplishments.
Think of Kyle Smith as southern Minnesota's business version of the Top Gun character played by Tom Cruise, Lt. Pete "Maverick" Mitchell—a shoot-from-the-hip, spontaneous, go-by-his-gut, risk-taking, high-flying pilot. Smith plays that leading role as well as any business decision maker in our reading area. He flies fast. But without his squadron partners—"Goose" Reed, "Jester" Sather, and "Viper" Smith—covering his wing and mopping up after his sorties, Smith today by himself would own merely a flyspeck of Tailwind Group's current real estate assets. Unlike the cocky movie character "Maverick," Smith realizes every day his need for and dependence upon others.
—–
What is happiness to you?
Happiness for me is staying busy, having fun, and doing what I'm passionate about. Happiness is having a work environment where people want to work. It's giving your customer a special experience. I don't think a correlation exists between happiness and material possessions.
How were you raised?
Conservative—in a conservative farming community in northern Iowa. Where I grew up, you better do what you say you are going to do and you better be accountable for your own actions. From there, I learned not to forget where I came from. Dad has been a row-crop farmer since the mid-1970s, and my mom has been a long-time supporter of the farm. My parents taught us we could do whatever we wanted in life. All we had to do was put our minds to it. I also learned growing up what it meant to work hard, take risks, and be rewarded. You had better get going in the morning. My dad was a hard worker from when the sun rose until it set.
What do you remember best about growing up in Hartley, Iowa?
I graduated in a class of 50 and had the opportunity to know everyone and everyone's family. It was no different than what life is probably like in Nicollet, Minnesota. I would raise my family in a small farming community like that—if I could. However, Mankato is where we have our business, so we're here.
Your uncle Mark Smith co-owns Northstar Aviation at Mankato Regional Airport. Your relationship with him must have been excellent in order for you to move here to school and later pursue a career with him.
When I was in high school, we would always throw around the idea of me moving up there. He would fly us up to see all the opportunities and fly us around Mankato. I remember doing aerial photo shoots when Hubbard Milling had a plane in Mankato.
My Aunt Vivian and Uncle Mark literally drove me up to Mankato for school. I went to Minnesota State Mankato in 1998 and never left town, majoring in aviation, with a business minor. I give Aunt Vivian and Uncle Mark credit for helping me—so here is a shout out to them. I went through the MSU flight program, worked for Mark all through college, and after receiving my private pilot's license in 2002 stayed on working for him. Because of Mark I landed my first corporate flying job. I was also a flight instructor a few years for him.
What came out of working for Mark was I began seeing a bigger world. I was flying for corporate clients into all 50 states, and the rest of North America and the Caribbean. After flying clients to their destinations, instead of sitting in a hotel room waiting to return home, I would rent a car and drive, drive, drive. I saw what other people were doing. I believe you don't have to have good ideas to succeed. You just have to have the guts to copy people that have good ideas. So that's what I did.
What ideas did you glean from flying around North America?
We took the idea for College Town (in Mankato) from a project in Columbia, South Carolina.
We saw student housing that had more amenities. Besides a bedroom, many college kids now want a place with a hot tub, swimming pool, basketball court, and volleyball court. They are demanding more. It's a technology-driven generation, too. College Town was a concept that defied a traditional location. It's not close to campus.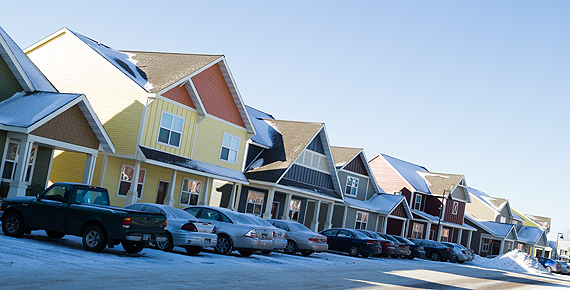 What about ideas from other places you've flown?
I've learned a lot about retailers by flying to other parts of the country. We learned about Dickey's Barbecue by flying into Dallas, Texas. They occupy part of our retail space (along with Jimmy John's and Cherry Berry) at Victory and Madison. We knew Dickey's was coming north and were in Minneapolis already. We reached out to them. We told them that if they ever had a franchisee wanting to site in Mankato to let us know.
Where did you get the money for all this?
I started in 2001 buying one rental property. After 9-11, and the ensuing decrease in air traffic, a lot of pilots were being furloughed. I thought I better not depend on flying my whole life or put all my eggs in one basket. So I bought a duplex on Fourth Street. I had only $2,500 to my name, but qualified as a first-time homebuyer with Wells Fargo. I bought the house, used my credit card to fix it up, found renters, and sold the property. I parlayed the profit from that sale into doing the same with two more properties.
When selling that first company in 2004, I took all the money and became involved with my sister Karmen in Wisconsin. At the time, she was a municipal bond underwriter with Piper Jaffray and working in downtown Minneapolis. She had an idea to start a business and wanted to know if I had any money to invest. I had just sold part of my housing business. The timing couldn't have been better.
The economy was doing well in 2005.
She and I met with executives from Anytime Fitness in the Twin Cities. At the time, they had sold only 120 franchises and were still in their infancy. Nearly all the franchises for Minnesota were already taken, so we bought every franchise from Northern Milwaukee all the way to the Upper Peninsula of Michigan, about 20.
How did you pull that off financially?
I leveraged cash along with the remaining real estate assets to get the first five clubs operating. We started with five fitness clubs, and over the next year did five more. We ended up doing all 20. Looking back, the timing could not have been better.
You were only 26 when you started as an Anytime Fitness franchisee.
Yep.
When you went into bankers for funding, did they doubt you because of your age?
I think they doubted me. Sometimes in life you are probably too naïve to know better, but the one thing we had going for us was our work ethic. We don't take no for an answer. If it takes 20 hours a day to get a job done, we get it done. I use the word we, because really my sister was the one who did it. She did a great job making everything from nothing. In 2009, she was "Operator of the Year" for Anytime Fitness.
When you talked to a banker, you had to make a sales pitch. What were your top selling points.
I still had a stable flying income and I had liquidity. As the fitness clubs evolved the story became more sellable. Community Bank (Quentin Beadell and Jon Kietzer) were very influential in the early years. We didn't have much of a story and those two seemed to listen.
What about RentMSU?
Between the four partners, we have today about 65 rental homes. The four partners of RentMSU are my brother Landon Smith, Reggie Reed, and Michael Sather. Reggie used to fly for Delta, and now flies for the same company I fly for. Not only do we work together at Tailwind Group, but we also sit in the cockpit next to each other about six days a month. Landon, Reggie, and I built the company up, and then we became associated with Michael, who was buying property from us. He bought four or five homes from us before we decided to merge our companies in 2005-06. That's when we started calling the company RentMSU.
Is Michael related to the Sather Candy company family?
Yes, he is the son of one of the owners.
Has the Sather family had a hand in the success of Tailwind Group?
Absolutely.
What's it like at age 34 to be the most active developer in our reading area?
That's your opinion, but I don't look at it that way. I don't get out of bed in the morning thinking I have to be the biggest developer in Blue Earth County. I just want to return a fair profit to my investors and the people who back me, build a successful product, and do what I say I am going to do with my tenant base—and everyone from the general contractors all the way through. It's more important for me to get out of bed in the morning making sure bills and employees are paid.
Keep an eye on Mike Drummer because his company has a large number of projects in the works.
What about the different roles of your partners?
Reggie takes care of all the employees and is in charge of operations, Landon and I do leasing and development, and Michael does all the finance. There is some overlap. We all have a common financial interest in the company in terms of management and development income, and income off deals.
As we have brought in outside capital over the last 12 months, I have challenged all of the partners to ask the question: Are you going to ask someone for a dollar when you don't have any money in a project yourself? That's my hard-line stance. We are going to be involved in every deal going forward, not only as investors, but also all the way through the project.
You have been heavily invested in southern Minnesota, with projects in Owatonna, Rochester, and St. Peter, too. (The St. Peter project was recently sold.) In 2001, you were worried about having all your eggs in one basket. Are you putting all your eggs into one basket again?
That's only because we were here in southern Minnesota already. We see lots of opportunity here.
But there has to be a limit to your exposure.
Many of our deals start two years before we break ground. Right now, we are already planning projects in other cities, such as Rochester, for example. We are planning in a city in Iowa right now, too.
As for Profinium Place, some of the investors in the building are also leasing. They have the same vision for the property that we have. Having some of your owners rent space eliminates much of the risk. As for rental rates, we took a rent barrier in Mankato and completely broke through it by 20 percent because of the pent-up demand for quality space.
What business opportunities remain for you in southern Minnesota?
They are primarily in the retail sector. We have put up over 60,000 sq. ft. of retail over the last four years. When we were in Wisconsin, we made connections with retailers there, and some of them have leased retail space here for us. We know all the players, brokers, and franchisees. In addition, Greater Mankato is now a metropolitan statistical area, and that new designation attracts some companies. Also, student housing is our passion and how the company started. Opportunities still exist.
There is a pent-up interest for good, quality retail space, especially from national players, who are coming into this market. It's one thing to build a retail center or provide an opportunity on the retail level, but now you've got people willing to pay for it. This is the first time Mankato has seen this kind of demand from national players since River Hills Mall began.
Explain more about the planned, much publicized, $15 million, seven-story Profinium Place building downtown. Construction is underway. In order to begin building that project, I'm sure you had to have most of it leased before moving ahead.
We had 72 percent of the building leased. In this new financial world, a project isn't getting done unless it's coming out of the ground at a break-even point.
The project probably would not have been accepted by the tenant base had it not been for the successes of other downtown projects, such as those led by Mike and Cathy Brennan, Rob Else and Tony Frentz, the Dave Schooff/Fisher Group's Northwestern Building remodel, and all the other successful downtown repositions. Many businesses had left Downtown Mankato, but because of these projects and others we are seeing businesses gravitate back downtown again. Downtown is becoming more popular.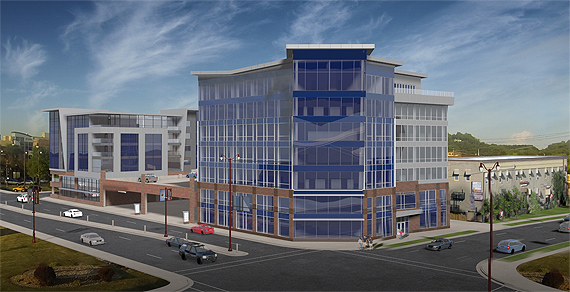 Did you approach Profinium, your anchor tenant?
It was mutually done through Turning Point Management. Profinium was looking for space in Mankato and we had purchased the Miller Motors property. We always thought an opportunity would exist there. We were challenged to think bigger on that (Profinium) building. We started out with the project being a corner freestanding opportunity, similar to what MinnStar Bank had across the street. The project ended up becoming bigger and bigger. Before realizing it, we had Abdo, Eick, and Meyers, Lidstrom Commercial Realtors, Turning Point Management, Met-Con, Profinium, and others all there.
When you are putting any deal together, what are the things you have to have in place before moving forward to completion?
Number one is a good gut feeling. Number two is sustainability.
Give an example of a project that made sense on paper, but you didn't have a good gut feeling about it?
One thing we won't do is spec build, which is build a building without tenants. That sort of project happened a lot in the early 2000s. People got away with it because the economy was good. Banks today would never let that happen.
Everyone has a bad deal. What was your biggest failure?
I bought a piece of property on the northwest part of Mankato and was going to do a group home there. But I was premature and too aggressive on the site. We acquired the property in 2004-05 without city approval and that was a big mistake. The zoning was there, but they couldn't get a license in Blue Earth County.
Define sustainability in terms of your projects.
Sustainability involves how a project changes in five or ten years, from traffic patterns to the tenant base to the building. In defining sustainability, we would be ignorant in not also mentioning our return on capital. Sustainability refers to longevity, such as whether it's a one-hit wonder or will it be an equally good or better asset 25 years from now.
Review for our readers all your projects.
In Rochester, along with another local company, we just purchased a 60-apartment student housing complex. Many of our deals have occurred through scraping capital together from one deal to finance the next. We also have created capital through partnerships. It's not like our family involvement has been on a large scale.
We have retail projects in Owatonna. I'm also still involved with my sister in two Complete Nutrition (General Nutrition Centers) franchises, in Green Bay and Grand Rapids, Michigan.
In Mankato, we're involved with RentMSU, College Town, College Station, and The Lofts@1633. On the retail side, we have retail space at Monks and Stadium, Madison and Victory, near Madison and Highway 22, and Commerce Drive in North Mankato, which has the Erbert's and Gerbert's.
We sold a development in St. Peter. We did the Dollar Tree in the former Ray's Market. We're doing Profinium Place in downtown Mankato, and we have two group homes with Phoenix Recovery Programs.
We have other developments coming soon. My sister and I have four retail centers in Wisconsin, with tenants such as Jimmy John's.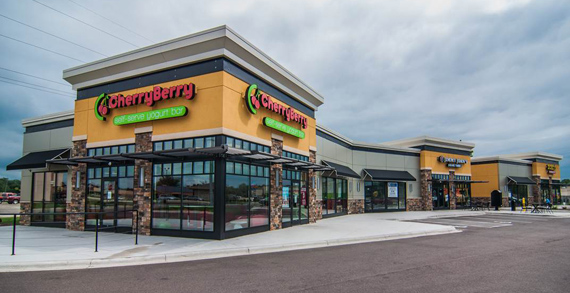 Would you give us a dollar figure in terms of your size?
We have between $50 million and $100 million in owned/managed real estate assets.
Tell me about your relationship with your sister.
Karmen is married, and working for herself now—and should be. She works hard and is being rewarded for it. We talk over the telephone about once or twice a week. I'm proud of her. When we were developing the Anytime Fitness franchises, she stepped outside the box and lived hotel-to-hotel while we built the company. The fitness business isn't like a fast food place where people walk in and start ordering product immediately. It took about eight months or more to break even on some of those locations.
You do all this and you are still a corporate pilot. Why?
I get more done on the road than here. Reggie and I fly together and talk a lot about business over dinner—especially student housing. Then we will get in a car and drive through student housing projects just to see what is going on and to get ideas. The idea for a project is one thing, but the operational and management pieces are key, too.
You found a template for building College Town, but where did you find one on how to operate it?
You get good people. Reggie does a phenomenal job. Having so many 18-year-old clients isn't easy. At that age, the world tends to revolve around you. As for communicating with 18-year-olds today, it has reached the point where many of them no longer want to talk face to face. If unable or unwilling to text or talk into your telephone or do something electronically, you will have difficulty communicating with that age group. So we now allow them to pay their rent and send maintenance requests online. It's all technology driven.
You mentioned earlier the importance of copying or tweaking the ideas of others. Why do it that way?
We haven't copied everything. We have developed or pioneered many great processes regarding student housing. But as for copying some ideas, by taking a proven, outside-the-box concept, we eliminate much of the risk. It's not easy being first to market.
Tell me more about your partners.
I met Reggie at flight school in Mankato. He is detail oriented. He loves the process. Good partnerships involve people with different strengths and weaknesses—and I don't like the process or the details, such as with human resources. If not for my partners, I would simplify everything by only building and selling projects. I can't imagine managing the whole process, such as all the expenses, payables, and receivables.
What about your brother, Landon.
He has his niche. He started with us while going through college here in Mankato. At the beginning, he was paid per diem by the amount of property he rented. He would get out of school in the afternoon to lease apartments for us. Landon has done an extremely good job of finding a way to fit in and has a great relationship with Reggie and Michael. He really understands student housing. When you are doing so many other things, like I am, you sometimes get removed from the reality of what's going on in day-to-day operations. In that way, Landon isn't removed.
And Michael?
He also is detail oriented. He comes from a background of not being afraid to get things done and he understands the big picture. He understands risk, and has seen what his family (Sather Candy) has done. You have to commend the family for what they have accomplished. He is very good at risk management, which includes making sure we come out of the ground on budget, staying on budget, and positioning ourselves with low-interest loans.
What strikes me as odd about you is that you came from a conservative farming background and you are now this guy flying jets all around the country and doing deals left and right. What do your parents think of you?
I think they think we are pure-bred crazy. My dad is ultra-conservative. When we went through down times because of the economy, he thought we were nuts for what we were doing. However, he has seen our business evolve to where he invests in some deals and now picks up the phone to ask about the next opportunity.
What about housing opportunities in downtown Mankato? That seems to be another opportunity.
We have two apartment projects slated because we are big believers in downtown. We have done our research and feel comfortable about what downtown can support.
You are developing, owning, and managing property. That sounds a lot like what Curt Fisher began doing 40 years ago. He went to MSU, like you. He began his real estate career by buying one property, like you. And you both started at a young age.
I respect Curt. Though not really knowing him, I did have lunch with him once. He was way ahead of his time and I commend him for what he has done.
Most of your investments are in Mankato. Name one thing you believe Mankato could do to get to the next level with St. Cloud and Rochester. What's missing here? You travel a lot and see cities all over the country.
That's a complicated answer. For one, I don't think we are any less than St. Cloud. I'm not convinced of it. Secondly, I don't think we will ever be able to duplicate what Rochester has done. That said, the biggest missed opportunity Mankato has is in not utilizing the Minnesota River. I have never in my life, ever, been to a river town where the town has almost completely ignored the river. However, we have seen a change or two in that regard, mainly with the new Riverfront Park and its success.
I've been to Pittsburgh, Cincinnati, Chicago—where do you want me to stop and start? The river in all those river towns is a primary focus. Can you imagine what downtown would be like if the Mankato Moondogs moved downtown near the water? It's a missed opportunity in Mankato. Incorporating the river more into the town would do so much for the bar and restaurant trade, for entertainment, for the quality of life.
Anything else?
My wife is an amazing and understanding women who has sacrificed so much for our business. Her help has made the company growth that much more enjoyable. And I want to thank all the many people who have helped make our success possible, such as our great staff, Fisher Group, Lidstrom Commercial Realty, a network of great local banks, a network of great local bankers, and all those who have partnered/shared in the same daily risks. I give a special thanks to Jon Kietzer, our partner at College Town, and all those investing initially to make that project a great success.
—–
Getting to know you: Kyle Smith
Born: August 22, 1979.
Hometown: Hartley, Iowa.
Education: Minnesota State Mankato, '02, aviation major.
Family: Wife Abbie, and three children.
THE ESSENTIALS
Tailwind Group
Address: 530 South Front, #100
Mankato, MN 56001
Telephone: 507-388-4722
Website: thetailwindgroup.com