Roger Kienholz – Crystal Valley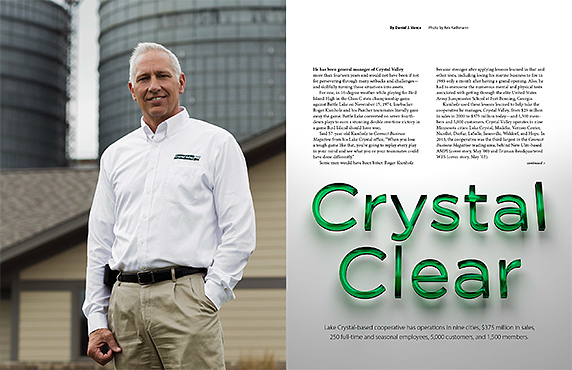 Photo: Kris Kathmann
Crystal Clear
Lake Crystal-based cooperative has operations in nine cities, $375 million in sales, 250 full-time and seasonal employees, 5,000 customers, and 1,500 members.
He has been general manager of Crystal Valley more than fourteen years and would not have been if not for persevering through many setbacks and challenges—and skillfully turning those situations into assets.
For one, in 16-degree weather while playing for Bird Island High in the Class C state championship game against Battle Lake on November 15, 1974, linebacker Roger Kienholz and his Panther teammates literally gave away the game. Battle Lake converted on seven fourth-down plays to earn a stunning double overtime victory in a game Bird Island should have won.
Said 57-year-old Kienholz to Connect Business Magazine from his Lake Crystal office, "When you lose a tough game like that, you're going to replay every play in your mind and see what you or your teammates could have done differently."
Some men would have been bitter. Roger Kienholz became stronger after applying lessons learned in that and other tests, including losing his marine business to fire in 1985 only a month after having a grand opening. Also, he had to overcome the numerous mental and physical tests associated with getting through the elite United States Army Jumpmaster School at Fort Benning, Georgia.
Kienholz used these lessons learned to help take the cooperative he manages, Crystal Valley, from $25 million in sales in 2000 to $375 million today—and 1,500 members and 5,000 customers. Crystal Valley operates in nine Minnesota cities: Lake Crystal, Madelia, Vernon Center, Nicollet, Darfur, LaSalle, Janesville, Waldorf, and Hope. In 2013, the cooperative was the third-largest in the Connect Business Magazine reading area, behind New Ulm-based AMPI (cover story, May '00) and Truman-headquartered WFS (cover story, May '03).
—–
Where did you grow up?
I grew up on a farm south of Bird Island, about 80 miles northwest of Lake Crystal, along with my parents, two brothers, and two sisters. It was a typical small family farm of 320 acres in the '60s and '70s, raising corn, soybeans, alfalfa, sweet corn and peas for Green Giant, oats, wheat, and, until I was 10, sheep. My younger brother still lives on the home farm and rents out the acreage and I was the fourth of five children. I was involved in 4H and softball, with the latter often involving going to a neighbor's farm, clearing some cow pasture, moving rocks to make bases, and playing.
Dad was hardworking and Mom was always on the farm. We had as morally upright of an upbringing as possible in terms of my parents' example. Dad was very conservative and an astute businessman with a strong work ethic. There was a time in my life when I thought I hadn't learned anything from him because he didn't seem to be a very good communicator. But I realize now that I'm older there was no way I could have learned as much as I did except for growing up on the farm and hanging around Dad.
He was on the school board, the church board, sang in the church choir, taught Sunday School, and was a 4H leader and gun safety instructor.
As for his being on the school board, when I was in grade school, the superintendent would give me a large manila envelope filled with checks to take home for Dad to sign and bring back to school the next day. My dad was the school board treasurer. I don't think anyone would do this with a 10-year-old kid nowadays, but back then you could even bring your .22 rifle to school for show and tell.
We lived within our means. I don't know if Dad ever borrowed any money except for buying his first quarter of land on a contract and for planting his first crop in the '50s.
You're a big man. Were you involved in sports?
I played high school basketball and football, and played baseball my junior and senior years when my younger brother was old enough to help my dad with spring work.
We had 54 in our graduating class in Bird Island, a town of 1,200. Because of the small school size, I could play sports, and be in band, choir, school plays, musicals, student council, and honor society. We made the state football playoffs my junior and senior years, losing to the eventual state champions (Gaylord) in the quarterfinals my junior year and to Battle Lake in the championship game my senior year, in two overtimes.
You were that close to being state champions. What happened?
(Laughter) We played Battle Lake in Willmar for the Class C championship on November 15 in 1974 and it was 16 degrees outside. We were ahead 20-6 at halftime. They tied it up in the second half by converting on seven fourth down plays. I played linebacker on defense and tight end on offense. Back then, in overtime, each team took the ball on the 10-yard line and had four downs to score. We scored first and failed the two point conversion. Then they scored and failed to convert. Then they scored and we didn't, and we lost 34-26.
How did that affect you?
(Laughter.) We were that close, but I learned more by losing than if we had won. I learned you don't always get what you want and things don't always go your way. I learned life isn't always fair. I learned the importance of maintaining your cool in pressure situations. They ran a fake punt and we panicked instead of keeping our heads on straight. There are a lot of things learned in tough defeats that you don't learn through easy wins.
Mostly, I learned in pressure situations to simplify versus complicate matters, especially if you're working with a team of 11 guys. We ran a number of series where we converted for first downs but had jumped too soon because of trying to run the snap count on three instead of one. If we had run every play on one in the fourth quarter, we would have been fine. When you lose a tough game like that you're going to replay every play in your mind and see what you or your teammates could have done differently.
You talked about the importance of simplifying. How have you applied that principle, for instance, to Crystal Valley?
With the cooperative, we have stopped doing business in some areas. For example, we have exited the convenience store business, the automobile service and tire business, hardware stores, the self-storage rental business, dust control for gravel roads and parking lots, seed cleaning—these were things we had been involved in. We discontinued that to focus our attention and resources on what we do best: agronomy, energy, feed, and grain. We simplified. These are the things we do to serve our customer base of farmers and livestock producers. Not that those other things couldn't serve them, but our primary core business, and why we were founded, was for those areas. We have become better at our four divisions because we have focused on fewer things rather than being highly diversified.
Your career path?
I went to North Dakota State University and majored in civil engineering because my high school counselor suggested it and said I was good in math and physics. After two and a half years, I realized I didn't like engineering because I thought it would lead to a desk career. So I switched to agricultural economics. And, I got involved with ROTC.
As for football, I was a walk-on in college. As a team, we didn't have the best experience my freshman year. The coach and his assistants were let go with two games left my freshman year, so we played those last two games without a coaching staff, only with graduate assistants to lead. The next year, Jim Wacker, who later coached the Minnesota Golden Gophers, became the head coach. In retrospect, it would have been different playing for him. He showed up in December to meet with all the players, but at that time I thought college football wasn't for me.
Before I earned an ROTC scholarship, I had to pay my way through school and so became the football team equipment manager the next season. My friends tried to get me to come out for the team but, in part, I kind of lacked confidence in my abilities. It was a totally different team with Wacker at the helm.
You were in ROTC?
An Army ROTC scholarship paid my way through three years of college, which allowed me to graduate from college without any debt. I spent four years on active duty, first at Fort Belvoir, Virginia, in engineer officers basic training, and the remainder of the four years at Fort Bragg in North Carolina in a combat airborne unit. In the Army, I made 55 parachute jumps. The military is where I learned the most about leadership and human nature. I feel like I gained ten years of life experience wrapped up in those four years of active duty. Quitting isn't an option in the Army. It's called desertion. You are forced by the nature of the business to work with people you would not necessarily have chosen yourself. They were different than the people I was used to while growing up in rural Minnesota. I served with people from the Bronx, Philadelphia, Alabama, Hawaii, Samoa and the Philippines, and their cultures and backgrounds were not the same as my farm upbringing in Minnesota.
When I was younger, I lacked confidence in general. When I was in college and realized I could play football better, I wanted to go back to high school and do it all over again.
In the military, besides gaining valuable work experience, I was put in situations in which I was stretched and where I was either going to fail or gain confidence. I gained a tremendous amount of confidence there. Again, if you're forced to do something, you don't have the choice to quit, so you have to do it.
In the Army, we climbed Mt. Rainier. Not everyone can do that. Not everybody is willing to jump out of an airplane. It's literally mind over matter. If your mind says you can't do it, you aren't going to do it. There were things I normally wouldn't have tried, but in the military I had the opportunity. 
What did you learn in the Army in terms of human nature?
I learned how people react under all kinds of circumstances, especially under pressure. For example, we would have to get up at midnight to board an airplane at 4 a.m. that would fly us to California, where would jump out of another airplane to build an airstrip. I saw how people reacted. Paratrooper training at Fort Benning had a 40 percent graduation rate. I saw people that lacked the necessary physical or mental capabilities get washed out. At jumpmaster training, we graduated only 27 out of a class of 64.
In terms of seeing people and how they react, do you believe you are good today at reading people?
I think so, but again, while reading people in peacetime, non-stress situations are one thing, but deadline or pressure situations are another. That's where a person's true colors come through. I left active duty as a captain after four years and served six more in the Reserves.
Ever thought about going on for 20 or 30 years?
As much as I respect the military, a large, governmental, bureaucratic institution was not where I wanted to be during peacetime. I had no intention of making the Army a career.
Your career after the Army?
I got out in 1984, and went to Pierre, South Dakota. My older brother and I opened a boat dealership on the Missouri River selling boats, motors, and trailers.
That doesn't seem to fit you. There was nothing in your background that had anything to do with marketing or sales.
(Laughter.) After getting out of the Army and having saved some money, I was confident and thought I could do most anything. My brother and I bought a building, remodeled it, and opened April 1, 1985. On May 2, it burned to the ground. A fire had started in an upstairs apartment. We had put a lot of sweat equity into it and had started the season with a bang. We got a call at 4:30 a.m. from the police saying that America Marine was on fire. We watched them hose down the neighboring buildings while ours burned to the ground.
You must have been devastated.
Not really. It was all stuff. We weren't crushed. Nothing was destroyed that couldn't be replaced. No one died. I had a mechanic living in an apartment upstairs and he lost everything he had. He got out with just the clothes he was wearing. It was a definite setback and an expensive tuition paid to learn a business. After the fire, I decided to rebuild and my brother went back working with the State of South Dakota. I spent the next three years on my own in the boat business.
I would imagine you learned as much from that fire as you did from losing the state championship game.
Yes. I learned "things" weren't all that important. I learned about insurance. We were insured, but the price we paid for the business from the bank and the cost of buying the building was far less than the cost to rebuild. This was the first money I had borrowed in my life. I continued on with much higher operating costs. That was my business education. I sold the business in 1989 just to get out from under the debt load.
What did you do then?
My wife and I moved to Fargo, where I worked in construction 16 months. In 1990, I came to Lake Crystal as a management apprentice trainee with Land O' Lakes and Crystal Cooperative, working a year in the different departments, sitting in on every board meeting with the general manager, and attending management-training sessions. I learned the ropes of managing a co-op.
In 1991, I went to Greenbush, Minnesota, near the Canadian border, to manage a co-op for three years, and from 1994-99 managed Ada Co-op Oil Association in the Red River Valley. After Ron Held retired as manager of Crystal Co-op in 1999, I took over on January 1, 2000.
Had you been waiting for him to retire that whole time?
No. We came here because we had been living in South Dakota, North Dakota and northern Minnesota for years and were six hours from my parents in Bird Island. Earlier that year, my father, at age 82, fell down the basement steps and nearly died. I thought it would be a good thing to move closer to mom and dad for a few years and have them closer to our children. Also, my dad had been born in Amboy and I had relatives in the area. I had trained in at Crystal Co-op and knew many of the employees and board members. The area was familiar. It was a financially strong co-op, so I applied and was hired by the board.
How big was it in 2000?
About $25 million a year in sales, with locations in Lake Crystal, Vernon Center, and Nicollet. Last year, we did $373 million out of nine locations. Besides organic growth, we have grown by way of two mergers. In 2002, we merged with Southern Valley Cooperative, and in 2006, with LaSalle Farmers Grain Company. We have 160 full-time employees and hire about 90 seasonal. We try to do what we do well, and focus on customer service and performance. We have a superb board of directors, the best I've had at any time in any place.
What makes that so?
They are good, sound businessmen running good farming and livestock operations themselves. They realize the co-op is bigger than them. They don't come in with the idea that this is their personal company.
Has that happened to you before?
I've seen that at other places, where a long-time board member might think he has more of a say than others. I don't have any dominators or wallflowers on the board. Everyone participates, has a different perspective, and has respect for one another. I want board members to contribute. I like being challenged at board meetings—respectfully, though. (Laughter.) In sports, the better competition you play with, the better you get. Likewise, the better our board is, the better our company will be, the better I will be, and the better our management team will be.
Take me through your four business segments and tell me the top issue currently in each. Start with grain.
We handle corn and soybeans, almost exclusively. Our biggest issue right now in grain is the performance of the railroads. We have shuttle loaders in Madelia and Hope, Minnesota, both built for the purpose of shipping out 110 car trains. But the railroads are struggling, and currently can't meet our needs because of the demands of their having to transport oil and oil products out of North Dakota or Oklahoma. Plus, they had to deal with one of the harshest winters in 30 years. Snow and ice slow down the capacity and movement of the trains.
Do you feel if the Keystone Pipeline were constructed it would relieve some of this demand for trains?
Absolutely. It would play a part and would be huge. We are transporting so much of this oil with train cars. There is no more efficient means to move oil or refined fuels than by pipeline. In the eastern part of our trade area, many acres didn't get planted last year. Ethanol plants and feed mills needed to reach farther for corn in order to supply their needs. There was less grain for us to handle, even over on the western side of our trade area. We are on the UP Railroad, and through it we can reach California, Idaho, the Gulf, and export to Mexico.
Does any of your corn go to Poet or Guardian Energy ethanol plants?
Not much of our own corn goes to Poet and Guardian because they like to access grain directly from farmers. They will buy from us at certain times of the year. We have a better market usually by putting our corn on a train to California, Idaho or other domestic markets. Our soybeans go to crush plants in Mankato or Fairmont.
What is the big issue with agronomy?
Sustaining trend-line crop yields. We are very focused on precision ag, meaning offering many agronomic options to our farmers, such as soil testing, grid sampling, tissue sampling, plant health research, crop protection (insect, disease, weed pressures), and variable rate fertilizer applications, and see prescriptions. It's all very capital intensive now for grain and agronomy. For example, a brand new dry fertilizer spreader may cost $450,000. To justify that expense for our members, we have to cover a lot of acres. 
What about energy?
Propane sales are highly variable because it's all seasonal and weather related. This year, for example, we had a cold, long winter and sold two million gallons of propane more than the
year before. We also had a heavy corn-drying season. We can vary up to four million gallons of propane from one year to the next, not because of anything we do, but because of weather and crop moisture.
We have to prepare for the worst-case scenario, but if farmers don't need propane, we can't force it on them. If you contract at your home for 1,000 gallons with us, and you use only 800, we have to do something with the remaining 200 gallons. So we have to cover ourselves with hedging or other means.
Gasoline and diesel isn't a growing market because as farm equipment gets larger and more efficient, it can cover more acres using less fuel. The number of gallons it takes to farm an acre of ground has been diminishing every year.
The fourth area, feed?
The biggest issue facing livestock producers is the PED virus, which has affected southern Minnesota pork production. It has reduced the hog numbers in our area, which means less feed volume through our mills and it puts a pinch on hog producers. Corn and soybean meal prices have come down considerably the last 12 months, which provides some relief in terms of feed costs to livestock producers. But the five years of corn at $5-7 a bushel and soybeans at $12-17 made it expensive to produce a pound of pork. 
There are far less hog producers today than when I was young. Back then, just about every farmer had livestock and crops. Hog production has become more consolidated and integrated so there are people raising hogs that don't grow a bushel of corn. Of course, there are some who grow corn and feed it to their hogs. Some farmers like that diversification.
Would you personally pay $12k for farmland?
(Laughter.) My first answer is no because I don't have that kind of money, nor would I borrow it. But I've seen many people do it. Depending on how much land they already own, perhaps free and clear, they can leverage it to buy more. In terms of the future of farming, we still feed the world. To be part of that, in some way, is exciting for this farm kid from Bird Island.
I talked with one farmer who lost 60 acres to the wet spring. Will that affect your business?
I don't know exactly how many acres in our trade area were drowned out and how much production will be lost. It's probably less than five percent. It won't dramatically affect our business. Hopefully, the bushels produced on the remaining acreage will make up for the shortfall.
What are the factors keeping southern Minnesota from diversifying beyond corn, soybeans, and pork?
Economics is all about employing the highest and best use of your resources. That's what's driven us to corn, soybeans, and hog production. There are other areas better suited for small grains and  other crops. In areas where you have canning factories, you are going to have vegetable crops, such as Sleepy Eye, Blue Earth, and Le Sueur. You have the packing plants in Austin and Worthington. True economics and free markets should drive demand rather than government mandates. In my opinion, any artificial government intervention in the market is usually disruptive, not productive.
What about merging with a company like WFS? They are nearby, in Truman. The history of your industry has been one of mergers.
We have done two mergers since I've been here. Other co-ops have merged as well, and I can see that trend continuing. We all need to grow, but people often ask, Why? As our customers and farmers get larger, our ability to serve them in the way they need will require us to get larger, in order to offer specialized agronomy services and access markets for their grain.
We have been able to do some things without merging, such as building our new shuttle facility in Hope, Minnesota. We looked at different partnership opportunities while researching that project, such as with ADM, Cargill, CHS, Columbia Grain or Bunge, but decided on doing this ourselves. 
Our board has looked at merger opportunities, but there has to be a mutual consent of purpose. There has to be value for our members. Our past mergers have given us great opportunities to serve customers better, improve facilities, and upgrade equipment necessary going forward.
What do you like best about what you do?
I like building things and love construction projects. If not a co-op manager, I likely would be a building contractor. Here, I get to help build a business. I like answering to a board of directors and making many of the decisions regarding people, resources, and the organization. I prefer that to being second in command.
I like building a business. We've had a fair degree of success here, and continue getting good people. I like team sports—I wasn't in individual sports, I loved football, basketball and baseball—and like being part of a team achieving something.
Southern Minnesota has great farmland. We're fortunate to surround a city like Mankato, too, which helps us attract good people. Some employees want to live in a regional hub or find spousal employment here. It has helped us get and retain some excellent employees. Also, our co-op has been here since 1927. It really had a good base from which to grow.
—–
Student Teaching
I've heard you homeschool your children. Why?
My wife was a public school teacher by training and trade before and after we married. She had an opportunity when we lived in South Dakota to teach in a two-room schoolhouse 55 miles west of Pierre. She had nine students total in kindergarten through fourth grade and lived in an apartment that was part of the school building. The other teacher had fifth through eighth grade. My wife had the experience of teaching multiple grade levels in a single-room setting. She saw the value she could offer as a one-on-one tutor, rather than having to teach up to 30 students. 
Both my wife's parents were public school teachers. We came across other families that had chosen to teach their children at home and saw the number of opportunities that open up in terms of customizing a child's education and being able to give more individual attention.
My participation has been as the math, algebra, trigonometry, and calculus corrector/explainer when they run into difficulties. Teaching has been largely my wife's doing. Our children have known nothing else other than homeschooling. We have graduated three so far, with each going on to college, and have two to go. From our perspective, we have a greater freedom to choose the curriculum and type of training, and have greater control over what to teach at certain ages.
Getting to know you: Roger Kienholz
Born: November 13, 1956
Education: Bird Island High School, '75. North Dakota State University, B.S., agricultural economics, '80.
Family: Wife, Kristin; and children Joseph, Adrienne, Andrew, Gretchen, Natalie.
Professional Involvement: Minnesota Managers Association (made up of co-op managers; past president and vice president); Pillar Insurance Limited (board chair); Cooperative 401k Plan (fiduciary board member).
Personal Involvement: Grace Baptist Church, Mankato.
The Essentials: Crystal Valley
Address: 721 West Humphrey, Lake Crystal, MN 56055
Telephone: 507-726-6455
Web: crystalvalley.coop