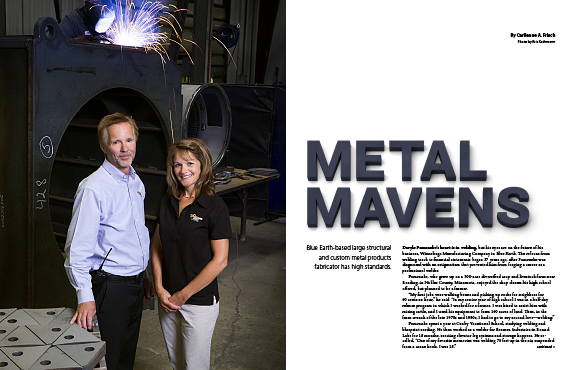 Metal Mavens
Blue Earth-based large structural and custom metal products fabricator has high standards.
Daryle Pomranke's heart is in welding, but his eyes are on the future of his business, Winnebago Manufacturing Company in Blue Earth. The refocus from welding torch to financial statements began 37 years ago, after Pomranke was diagnosed with an astigmatism that prevented him from forging a career as a professional welder.
Pomranke, who grew up on a 300-acre diversified crop and livestock farm near Reading, in Nobles County, Minnesota, enjoyed the shop classes his high school offered, but planned to be a farmer.
"My first jobs were walking beans and picking up rocks for neighbors for 60 cents an hour," he said. "In my senior year of high school I was in a half-day release program in which I worked for a farmer. I was hired to assist him with raising cattle, and I used his equipment to farm 160 acres of land. Then, in the farm crunch of the late 1970s and 1980s, I had to go to my second love—welding."
Pomranke spent a year at Canby Vocational School, studying welding and blueprint reading. He then worked as a welder for Berreau Industries in Round Lake for 18 months, erecting elevator leg systems and storage hoppers. He recalled, "One of my favorite memories was welding 75 feet up in the air, suspended from a crane hook. I was 18."
—–
Then the light went out on Pomranke's welding career. He began having issues with his vision: an optometrist said his astigmatism would only get worse. So on the advice of a brother, he enrolled in the two-year accounting program at the vocational school in North Mankato, now South Central College. During this time, he worked at Carlson Craft, churning out wedding invitations on a Heidelberg press. He also became acquainted with another accounting student, Connie, whom he married in April 1981.
After graduating, Pomranke spent the next 11 years crunching numbers for three different employers. He spent his next 11 years at North Star Concrete, a then locally-owned company through which he advanced to the operation manager's position. When the company was sold to a Texas corporation in 1998, he applied for the general manager's position at Winnebago Manufacturing and interviewed with Lyle Jacobson and Tom Richards, who were in charge.
Pomranke recalled, "After I passed the first interview, Lyle and Tom asked about my personal finances. I said, 'Are we talking about the job now, or are we talking about buying the company?'" The response was a buy-out offer.
Over the next couple of weeks, the company's general manager, Bob Preston, asked Pomranke if he would share in the deal, and another business acquaintance of Pomranke's agreed to become a silent partner. So the deal was made. Pomranke continued in his job at North Star Concrete while the trio spent the next year arranging SBA, bank, and personal loans. They completed the purchase in May 1999, with Pomranke taking the president's position, and Preston acting as vice president and sales manager. They bought out the silent partner in 2004. Pomranke bought Preston's shares two years ago and now co-owns the company with Connie.
—–
Three years after the purchase, a customer accounting for 65 percent of the business's sales "pulled the plug on us," Pomranke said. "I had to get our feet on the ground. I became plant manager, laid off a few employees—not many—and saved every dime we could. We even unscrewed light bulbs from the pop machines. Within a few years, we became profitable again."
The company took on fewer repair and feed mill jobs, getting into longer-run fabrications and working with original equipment manufacturers (OEMs). He explained, "With OEMs the work is steadier. No longer are there 25 people working on a project and then waiting for something to do after it's completed. We have about 150 customers that specialize in mining, machinery, construction equipment, transportation equipment, and waste management. We have worked very closely with these industries over the years, which has allowed us to grow to our present sales of $9 million a year. We have sales reps in South Dakota, Wisconsin, Illinois, and Minnesota who continually find new business opportunities for us."
As a subcontractor for a Twin Cities company, Winnebago Manufacturing had its largest project to date—construction of entire feed mill structures that were shipped to China.
The company website lists these services: welding, rolling (making a flat sheet of steel into a cylinder or other shape), torching, shearing, forming, and sawing. In 2011, Winnebago Manufacturing achieved ISO 9001:2008 status, a nationally recognized system of quality standard, audited annually by International Standards Organization. Certification ensures services and products are safe, reliable, and of good quality, and provides opportunities for the company to enter new markets and opportunities to apply strategic planning in use of machinery.
A walk through the shop, while wearing the requisite safety glasses, takes a visitor past computerized machines, such as the torching machine that runs on tracks, and offers a view of the manufacturing process of the huge frames that will hold generators for ships, oil rigs, and mining haul trucks. In another part of the shop, workers form cylinders destined for assembly into massive clothes dryers with 550-850 pound capacity that will be used on ships, by uniform companies, and in hotels.
Two signs in the office provide down-home contrast: "$15 minimum—anything you do will take at least 15 minutes, including the clerical billing" and "$55 hourly labor rates."    
Pomranke explained, "Farmers and local business people bring in repair jobs. We get maybe a dozen a month. Most companies our size don't do those because it's disruptive to business. Here at Winnebago Manufacturing Company, we view a customer not as an interruption of our work, but as the sole purpose of our work and as our responsibility to service our community. Therefore, we might work on something like a broken door latch from the local locker plant."
"Being a diversified company also allows us to work on fun projects," he said, "such as a 40-foot fabricated Christmas tree and a 100-foot aluminum lighted drive-through tunnel we donated to the Salvation Army in Willmar for the Celebrate the Lights of the World event. We also can have an immediate response to the changes in a customer's product design. Our employees freehand the assembly of the products rather than using jigs and fixtures."
He continued, "We train most of our highly skilled staff ourselves because what we do is unique. We have 42 full-time employees and three part-time. It's encouraging to have area colleges and high schools incorporate welding classes in their curriculum. This is a critical craftsman skill in our business, and it looks to have a promising future for graduates."
Pomranke no longer crunches numbers on a daily basis, having passed along the financial responsibilities to office manager Janet Hassing. His main focus is driving the growth of the company, which provides endless variety in his daily schedule.
He said, "I never stop thinking about what's next. I work with the sales department to learn what is lacking on the local level in better design or delivery of the product. We cross-train employees on equipment, and I help wherever needed, such as loading a semi or fixing equipment. But mostly I analyze activity on the floor and don't get directly involved. Working through Enterprise Minnesota, I organize our company for maximum production for lean manufacturing. I also oversee liability insurance, employee benefits, and service awards."
—–
The Pomrankes live near the Cobb River, south of Mankato, which adds a two-hour daily round trip to Pomranke's 65-hour workweek. It's a routine he looks forward to changing. He explained, "I plan to cut back in one-and-one-half years, when I'll be 59 and a half. That has been my vision (of semi-retirement) for 30 years. But I'll still be involved with the company because I like what I do, and especially because our 31-year-old son, Matt, is being groomed to take over the company."
Matt, who has a two-year vocational school degree in air conditioning and heating as well as an accounting education, worked as a fabricator for Minnesota Elevator for seven years. After welding and fabricating at Winnebago Manufacturing three years, he has overseen part of the production area, worked as the plant manager, and spent time in the office. As general manager, he now oversees purchasing.    
Connie's responsibilities also are multi-faceted. With 15 years experience at Southern Valley Co-op and 17 years as secretary to the St. Clair school district superintendent, she now applies her administrative background in a half-time position at Winnebago Manufacturing, occasionally working from home. There she fills another role as grandmother to Matt's children. She commented, "Working part time provides the flexibility to spend time with seven-year-old Hunter and five-year-old Brooklyn."
Connie handles the employee handbook, website updates, obtaining advertising and promotional items such as umbrellas and coolers, and staying abreast of state and federal requirements on such issues as storm water permits and core sampling. She makes herself visible in the plant by detailing the employee water fountains and restrooms, although they are maintained by a cleaning service.
That tradition goes back to the time Pomranke and his partners took over. He explained, "We saw a lot of areas that needed attention and organization, so we cleaned and painted—hands on. We reorganized the plant. It improves the employees feelings about working here. Now there's pride in the equipment."
Connie added, "I don't put myself above other employees. As the second oldest child in a family of nine, I grew up taking care of people. I did cooking and housework. I was babysitting at 11, and at 16 was a nurse assistant in a nursing home, my most rewarding job to this day." Her quintessential role with Winnebago Manufacturing, however, has been as a sounding board throughout years of dinner table conversations.
—–
Another source of varied business perspectives is a peer council arranged by Enterprise Minnesota, which sponsors a half-day meeting every month in Owatonna. Professional speakers discuss a variety of topics such as insurance, company succession planning, tax credits, the background to look for in hiring a new president, things to consider in building expansion, how to implement proper procedures in hiring and terminating employees, selling the business, etc.
"It's not part of our game plan," Pomranke said, "but they teach us 50-year-old, gray-haired Baby Boomers how to make our company attractive for sale. The group provides an opportunity to collaborate with owners who deal with similar situations. The discussion makes you think about things you might not think of otherwise. There's openness in the sharing, so it makes you consider all angles."
One aspect Pomranke is seriously considering is the $1 million purchase of two pieces of equipment next year: a stress-relief oven and a shot blast system. These will provide options for new business opportunities. His vision of the future continues to be bright.   
"With our equipment and our trained staff of 42 dedicated full-time and three part-time employees, I feel we have a successful future," he said. "We have the continuity of 94 percent retention. I appreciate being able to give back to employees. Last year we were blessed to be able to give a multi-thousand dollar bonus to each employee. We have given a bonus based on company profits since Day One. Our business philosophy is customer satisfaction, quality work, and on-time delivery. Because most of the generators we make go into ships or oilrigs, we're not as affected by the ag economy as some companies. We are forecasting a 5-10 percent increase next year over this year's numbers. I'm rather optimistic about metal manufacturing over the next two years."
He added, "I'm living my dream, which fits my interests and experience. It's fun to see a 500-pound capacity clothes dryer come together and to recognize our ability to manufacture a variety of products for mining, agriculture, the military, and the food industry."
—–
Company History
In 1950, Fred Hicks opened Hicks Repair, a farm repair and blacksmith shop on US 169 in Winnebago. The shop was bought seven years later by three Mankato businessmen: Cecil Jones, the founder of Mankato manufacturing companies Jones Metal Products, Kato Engineering, KatoLight Corporation and Ka-Win; and Ray Stifimer and Al Thisius. With the new name of Winnebago Manufacturing, the company did OEM (original equipment manufacturing) work for Jones' companies in addition to continuing with farm repair jobs.
In 1986, Jones's sons-in-law, Tom Richards and Lyle Jacobson, took over the company, while continuing to manage Jones Metal Products and KatoLight, respectively. The following year, Winnebago Manufacturing moved to its present location, a 58,944 square foot building in the West Industrial Park in Blue Earth.
Fitting Parts Together
Winnebago Manufacturing is a member of the Blue Earth Chamber of Commerce.

The Pomrankes take part in economic development associations, where discussions vary from road sign improvement to grants for new hires.

Pomranke has served 20 years in his church council finance office.
Constructing Details
Favorite classes? He: "I liked shop classes and FFA, but disliked reading because I'd rather be hands on." She: "I loved English because I love reading, and I like math because there's a definite answer, a solution to each problem."
What do you wish you had studied? He: "I wish I had more background in computers and technology because everything is gearing to that in our shop for competitiveness." She: "Science and how things work. I also wish I knew more about taking things apart and putting them together."
Family? Two sons: Matt, and his two children; Corey (a chiropractor) and his wife.
Hobbies? He: "Doing yard work together and detailing our vehicles, which helps me shut down my 'management mind.'" She: "I love to garden and I'm taking a new interest in cooking creatively with herbs."
Valued accomplishment or intangible? He: "Being a successful businessman and sponsoring programs for children in Haiti." She: "The opportunity to help others, and my Christian faith."
Describe yourself. He: "Visionary." Both: "Hardworking, caring and giving."
If not doing this? He: "Business consultant." She: "I might be a hospice volunteer."
THE ESSENTIALS: Winnebago Manufacturing
Phone: 507-526-7456
Address: 870 Welk Drive, Blue Earth, Minnesota
Web: bagomfg.com