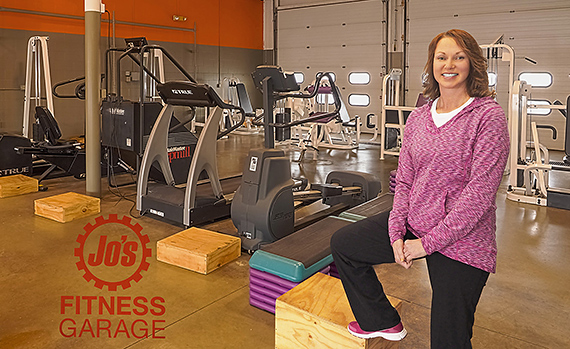 Photo: Art Sidner
Mankato: Jo's Fitness Garage
Jo Ann Radlinger was an all-conference, high school basketball player in Butternut, Wisconsin, and while finishing a business degree at University of Wisconsin-Superior chose to return home to coach junior varsity basketball. In a telephone interview, she said, "By doing it I found out how much I loved coaching and that set the stage for my (later) love of training."
After college, she would work for the State of Minnesota 13 years as a grants manager to oversee funding approved by the Senate and House that applied to chemical dependency programs. After marrying, her husband relocated to Mankato for work and she followed him, but could not find the same kind of work she had enjoyed in the Twin Cities.
"By then, I had been into fitness my whole life, starting out in the weight room at age 26," she said. "I began training people on the side. About ten years ago, I competed for the first time on stage in figure and body building."
Eight years ago, she began working as a contractor with several Mankato-area gyms, and while working at theirs took note of what she would want her own to look like and what she would offer.
She opened Jo's Fitness Garage at 1859 Madison Avenue on August 1, 2014. She does one-to-one and private group training, drop-in classes, corporate wellness, training for children young as nine, and was the trainer for the Mankato-based Panic semi-pro football team.
She said, "I've been super blessed to have a very loyal clientele, and my passion is my business. Recently, we threw a going-away party for a client. He had come in rotund and left in peak physical condition. He thanked me for changing his life, and I thanked him for changing mine. I have gratitude he chose me as his trainer."
Jo's Fitness Garage has a fully equipped gym.
Jo's Fitness Garage
Address: 1859 Madison Avenue (between Walmart & Arby's)
Telephone: 507-995-0317